OBITUARY
Most Reverend Vincent M. Rizzotto, D.D.,J.C.J.
September 9, 1931

–

January 17, 2021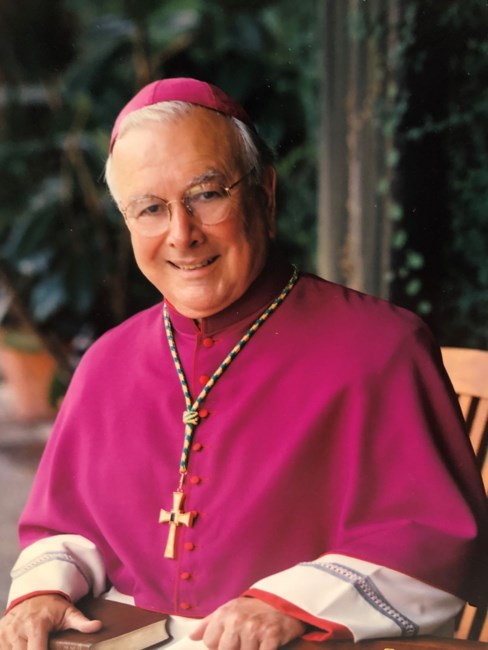 Most Revered Vincent M. Rizzotto, D.D., J.C.L. Vincent Michael Rizzotto, 89, died on January 17, 2021. He was born on September 9, 1931, in Houston to Catarina Calamusa Rizzotto and Salvatore Rizzotto. Born the youngest of nine children, Vincent grew up in a tight-knit traditional Sicilian family that was close to each other and the Church. He was the last child born to Catarina and Salvatore at 902 Maggie Street in Houston with the help of a mid-wife, Mrs. Schiro. In the presence of his father and siblings, Vincent was baptized at Holy Name Catholic Church. He attended Holy Name Catholic School and then went onto St. Thomas High School. He had such Eagle pride as a student and alumni, '49. He and his brother Manuel were the only two children to attend St. Thomas High School and he often shared stories about how they would ride the city bus to and from school and work on campus to help pay for their tuition. The Basilian priests never turned them away and he made sure to create a scholarship to help young men afford a Catholic education. Vincent had an inclination to the priesthood in his early years. He often played "priest" and served "communion" to his siblings and the neighborhood kids, serving Necco wafers. At St. Thomas, Fr. James Wilson, who also coached the baseball team, pulled Vincent out of class one day and said, "What are you going to do with your life?" At age 15, he hadn't given much thought to his future. Fr. Wilson then said, "I want you to write these words down and ask yourself this everyday – Dear God, what do you want me to do for you today?" Vincent complied, and it began to shape him. He attached the card to his bathroom mirror, consulted the text every day when brushing his teeth and washing his face. He was aware that a vocation to the priesthood was growing in him, but with this exercise, it became clearer. Sensing the direction that Vincent's life would take, his parents never tried to dissuade him. Following his graduation from St. Thomas High School in 1949, he enrolled at St. Mary's Seminary in La Porte, where he became good friends with the future Archbishop Joseph Fiorenza. He would often tell stories about how he and his 11 classmates were the first class to move to the new seminary campus located in its current location on Memorial Drive and how they experienced the old and new of St. Mary's. Vincent was ordained a diocesan priest on May 26, 1956 with his family by his side at St. Mary's Cathedral in Galveston. Following his ordination, his first assignment was at St. Mary's in Port Arthur from 1956-1961. While there he often visited his brothers and their families who lived in Beaumont. He was then selected by Bishop Nold to pursue a graduate degree in Canon Law at the Catholic University of America in Washington, D.C. He was excited to go, but had never traveled outside of the state before. He obtained a Licentiate of Canon Law graduating in 1963. In 1964, Vincent became involved in the social issues of the time at the invitation of Fr. John McCarthy (later Bishop McCarthy) who asked him to establish an Interracial Council. Civil Rights were an important issue of the time and certainly within the Catholic Church. About that time, Vincent, Fr. Fiorenza (later Archbishop Fiorenza), and Fr. McCarthy, decided to join Martin Luther King in a civil rights march in Selma, Alabama to give witness to their beliefs. Knowing that his mother would be concerned for his safety, Vincent made sure that she never knew. The three priests flew to New Orleans, rented a car and drove to Selma. Concerned for their personal safety, they donned their collars in an effort to keep themselves from perceived harm. They met other priests and sisters standing on one side of a barricaded area at a compound near the Catholic Hospital singing, "We Shall Overcome," while the state police were on the other side. While in Selma, the three priests attended the funeral at Brown's Chapel of Minister Reeb who had been killed. The Reverend Martin Luther King, who preached at the service, had been given permission to lead a march from the chapel to the courthouse to lay a wreath in the minister's honor. During the march, the nuns and priests prayed the rosary aloud and were yelled and spat upon. Being a part of this historic moment in the Civil Rights movement and hearing Martin Luther King preach was not anything that Vincent ever thought he would experience. It was an honor and a very special moment in his life. Upon his return to Houston from Catholic University of America, he worked at the Diocesan Tribunal from 1964 to 1972 visiting with people to pursue annulments which were not very common at this time. Bishop Morkovsky asked Vincent to move to All Saints Catholic Church in The Heights in 1964, where he remained until 1967 and still worked at the Tribunal. He was then assigned to Sacred Heart Co-Cathedral to become the parish administrator all while continuing his work at the Tribunal. In 1967, he became the Officialis (head) of the Tribunal. In 1972, Vincent was asked to become the pastor of St. Francis de Sales Catholic Church where he served until 1982. Vincent agreed to move to the parish, but could not be the full-time pastor and continue his role at the Tribunal. Committed to building an active faith community at St. Francis, he, with the involvement of the parishioners, implemented the teachings of the Second Vatican Council, built a new church, expanded the parish and its ministries, and created one of the most exceptional parishes in the Archdiocese. He was named a Monsignor on September 14, 1978 by Pope John Paul I whose reign lasted only 32 days. After ten successful years at St. Francis de Sales, Vincent was named the pastor of St. Cecilia Catholic Church in 1982. Vincent was at St. Cecilia for two decades, from 1982-2002, and while there he continued his commitment to build a faith community and created with the parishioners, an outstanding parish. He added new facilities, expanded the parish school, built a community center and gymnasium, auctioned many dinners where he was the chef, and built a new rectory. In 1987, Vincent had the great honor of leading the preparations in San Antonio for the outdoor Mass celebrated by Pope John Paul II. It was a truly memorable experience for its successes, as well as for its mishaps. The success of the Mass was that it gathered a half a million Catholics from around the State of Texas. Every little detail was to be attended to, e.g., having enough Eucharistic ministers to give communion. However, the mishaps were equally memorable. On the night before the Mass was to be celebrated the setting was all in order. At approximately 6:00pm, a strong windstorm blew through knocking down a major part of the huge liturgical banners at the back of the stage. As a result, a major adjustment in the staging was put into operation. The Holy Father never knew the difference. While eating his lunch at his desk at St. Cecilia, Vincent was told Archbishop Fiorenza was on the phone. Vincent answered and was asked to go to a place where he could have a private conversation. Archbishop Fiorenza said, "Pope John Paul II wants you to be one of the Auxiliary Bishops in our Archdiocese." Vincent could not believe it as he was almost 70 years old. He asked Archbishop Fiorenza if he could say no and he said that he could but knew he would not! Since Bishops retire at the age of 75, Vincent wondered why he was to be made a bishop for five years. Then, typical of Vincent's commitment to the Church, he answered the call to be a Bishop and also continued his work at St. Cecilia for another year in order to complete the new rectory which he had begun. On July 31, 2001, Pope John Paul II appointed Vincent as an Auxiliary Bishop of the Archdiocese of Galveston-Houston and Titular Bishop of Lamasba. He received his episcopal consecration from Archbishop Fiorenza, with Archbishop Flores and Bishop McCarthy serving as co-consecrators. He selected as his episcopal motto, "Make Us One In Christ." And for his personal coat of arms as His Excellency, Bishop Rizzotto adopted a design that reflected his heritage and life of priestly ministry that had been deeply and profoundly interwoven with issues of justice and social ministry. He chose two arms extending a golden bowl of white rice as he believes that before all else, people must be fed…fed physically, emotionally, and spiritually. It is worthwhile to note that this representation is significant as Vincent's last name is a variant of the Italian word for a seasoned rice dish, "risotto." While working for the Archdiocese as an Auxiliary Bishop, Vincent assumed multiple roles including Vicar General, Vicar for African American Catholics and Secretariat Director for Chaplaincy Services and Clergy Formation. As a priest and pastor at numerous parishes in the Archdiocese, Bishop Rizzotto was renowned for making liturgy the center of parish life. "I have a passion for the Church's liturgy and its grace filled possibilities," he said. "The liturgy is not a thing to do, it is the celebration of the presence of Christ in our lives." During his priesthood he was able to baptize most of his nieces and nephews, as well as great and great-great nieces and nephews. The gratitude for his commitment to service was reflected strongly by the number of people who attended his episcopal ordination and the many more who were unable to get in. Pope Benedict XVI granted him retirement on November 6, 2006 upon reaching the mandatory retirement age of 75, following a half-century of esteemed priestly service. Although retired, he still continued to preside at confirmations, preach, remained on the Archdiocesan Personnel Board and committees involved in the building of the new Co-Cathedral of the Sacred Heart. Archbishop Fiorenza asked Vincent to chair the committee on Liturgical Design for the new Co-Cathedral. He was excited to oversee this effort and traveled back and forth to Italy and Europe often. The Co-Cathedral was dedicated in April 2008 and one can see his wonderful work displayed in the church. He has received many prestigious honors over the years such as Catholic Charities Monsignor John J. Roach Award, the inaugural Italian Flame Award from the Federation of Italian-American Organizations of Greater Houston, was bestowed the Honorable title of Protonotary Apostolic, inducted into the St. Thomas High School Hall of Honor and received an honorary degree from the University of St. Thomas. He has shaken hands with Robert Kennedy, Martin Luther King, Pope John Paul II and Pope Francis. He has been in the presence of John F. Kennedy, George H.W. Bush, and Cardinal Ratzinger (later Pope Benedict XVI). He has met and worked with many ecclesiastical and civil servants. A lover of golf, he was the founder of the Bishop Rizzotto Golf Classic, which benefits the residents of St. Dominic Village, the only Catholic retirement facility in the Archdiocese. Vincent's pride was his Sicilian heritage and family. He spent many years researching and building the Rizzotto family tree and finding his Sicilian family members that did not migrate to America in the 1900's, including his father's brothers in Corleone, Sicily. He found many cousins and stayed in touch with them over the years. He led numerous trips to Italy with family and friends and was able to introduce his Sicilian family to each other; he was named an honorary citizen of Corleone. He later put together a book with his great nieces to showcase and document the family history and photos. Survivors include longtime friend, Susan Stromatt and numerous nieces and nephews and their families. He was preceded in death by his parents and siblings Little Lena Rizzotto, Joseph Rizzotto and wife Mary, Giovanna "Jenny" Rizzotto Cuccerre and husband Frank, Lena Rizzotto Tritico and husband Sam, Jack Rizzotto and wife Virginia, Carlo Rizzotto and wife Mary, Peter Rizzotto and wife Rosalie, and Manuel Rizzotto and wife Darnella. The family would like to thank and acknowledge his doctors and caregivers, the staff at the Archbishop Joseph A. Fiorenza Priest Retirement Residence and at St. Dominic Village. Memorial contributions for Bishop Rizzotto may be made to St. Mary's Seminary, St. Dominic Village and Casa Juan Diego. Friends are invited to visitation with the family from 5:00 pm until 7:00 pm on Wednesday, January 20, 2021 at St. Cecilia Catholic Church, 11720 Joan of Arc Drive, Houston, TX 77024 with a Vigil for the Most Reverend Vincent M. Rizzotto to follow at 7:00 pm with Rev. Francis Macatangay presiding. A Mass of Christian Burial will be at 10:00 am on Thursday, January 21, 2021 at The Co-Cathedral of The Sacred Heart, 1111 St. Joseph Parkway, Houston, TX 77002, with His Eminence Daniel Cardinal DiNardo as principal celebrant and the Most Reverend Joseph A. Fiorenza, D.D. as homilist. The Rite of Committal to follow in the Garden of Gethsemani at Forest Park Lawndale Cemetery, with Rev. Dominic J. Pistone presiding. Both services will be livestreamed; the link may be accessed by selecting the "Join Livestream" icon in the service information section on EarthmanHuntersCreek.com website.
See more
See Less
FAMILY

He was preceded in death by his parents and siblings Little Lena Rizzotto, Joseph Rizzotto and wife Mary, Giovanna "Jenny" Rizzotto Cuccerre and husband Frank, Lena Rizzotto Tritico and husband Sam, Jack Rizzotto and wife Virginia, Carlo Rizzotto and wife Mary, Peter Rizzotto and wife Rosalie, and Manuel Rizzotto and wife Darnella.
Past Services
Wednesday,
January 20, 2021
Friends are invited to visitation with the Family
Wednesday,
January 20, 2021
Vigil Service
Thursday,
January 21, 2021
A Mass of Christian Burial
Thursday,
January 21, 2021
The Rite of Committal following Mass of Christian Burial
In Memory Of
Most Reverend Vincent M. Rizzotto, D.D.,J.C.J.
Help tell the story of your loved one's unique life. Leave a memory or share a photo or video below to show your support.