OBITUARY
Viola Gaddy
July 27, 1926

–

September 20, 2022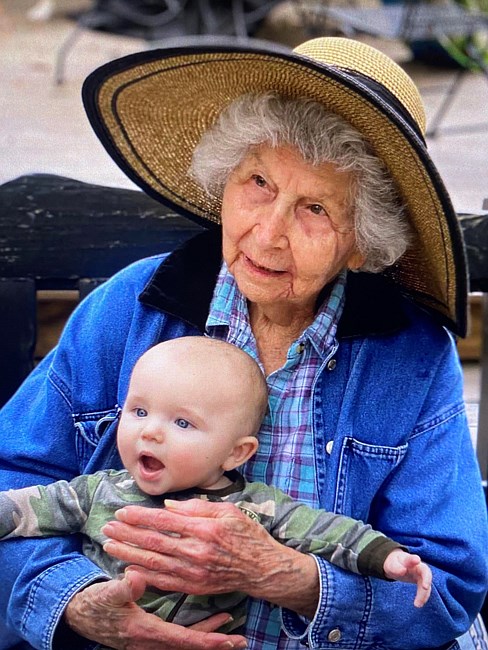 Viola Alice Gaddy Our Queen and Maestro 1926 – 2022 The citizens of England lost their queen on September 8; we lost ours on September 20. Our Vi died peacefully at her home in Spring at the age of 96. Viola Alice was born July 27, 1926 in Rock Island, Texas, the fifth of six children of Mary Ida and Louis Fred Siebe. Three brothers—John, Raymond and Louis and two sisters, Lillian and Mary Jane preceded Viola in death. Vi was a charter member of Tom Brokaw's Greatest Generation who weathered a Great Depression and helped defeat fascism in World War II. Vi would merit a chapter in his book. The Siebe family was very poor, and like many of that era, had to scramble to make ends meet. Louis Fred did odd jobs; Mary Ida kept house for the mayor of Crystal City, Texas. The Siebe children, including Viola from age six, picked spinach in Texas and later, moving north looking for work, sugar beets in Michigan. Her job resume as a teenager includes stints at an athletic shoe factory and a tomato canning plant. She also inspected parachutes for the war effort. Back in Texas, in Houston, she finished high school and enrolled briefly at business school. She worked for a time at Bemis Bag and then at Hughes Tool Company where she met Ted Barr who she married in 1946. That union lasted 14 years and produced four kids—Bobby, Candy, Patti, and Ronnie. Viola lost Ted in 1960 from a brain aneurism. She married her childhood sweetheart, Bill Gaddy, in 1962, and the two were blessed with three more children--Mark, Kay, and Maryann. She lost her second husband in a decade, when Bill passed from a heart attack in 1968. Viola reentered the workforce as a single mother around age 50, employed as a line worker for Maxwell House in 1975. Her duties included climbing boxcars to inspect coffee and rice inventories until her retirement. Viola is survived by six of her seven children: Bobby Barr/ wife, Shirley; Candy Joyner/ husband Robert; Patti Craddock/husband John; Mark Gaddy/wife, Kristina; Kay Gaddy; Maryann Feddersen/husband, Kenny. She lost a son and we lost our brother, Ronnie far, far too soon in 2004. She also adopted Wade Hetherington (unofficially), since he is as much a son and brother as if Vi were his birth mother. Grandchildren—Laurie/ husband Rick; Holly; Shane; Matthew/wife, Irma; Tyler; Carrie, Emily/husband Tyler; Ryan, Sophia; Abbie, John Michael; Chloe/husband, Cameron; Lucas/ wife, Jane. Great grandchildren—Jeremy, Joel; Hannah, Ashlie, husband Geven; Grayson/father, Rafael; Malachi and Devon/mother, Elizabeth; Jessica, Iris, and Owen; Jack, Samuel, and Wyatt; Great, great grandchildren—Gannicus and Oliver. Lucas and Jane will present a "Baby Girl" Feddersen sometime in February. And finally, Vi loved animals and now other grieving species with gaping holes in their existence include: her 20-year-old feline hairball, Nolan; two parakeets, Petey and Pauley, one she adopted and one who adopted her; and her canine personal protector, Michael. From October 11,1947, the birth date of her firstborn until September 20, 2022—roughly 75 years—Viola's existence was defined by a commitment to her family, both nuclear and extended, her cousins, nieces, nephews, as well as friends. The only thing stronger than that dedication and allegiance was her unqualified devotion to an abiding faith in God, which she lived and practiced daily. She never sought, nor expected any acknowledgement, recognition or thanks, other than to hug her grandbabies. Viola Gaddy would scoff and grumble at all the folderol, the "pomp and circumstance", and "Queen Vi" allusions to royalty. So, with Vi's permission, we'll cadge a lyric or two from Dan Fogelberg's tribute to his musician father. Technically, with the possible exception of Mark and Shane, not a single member of your current ensemble can play you a tune. But Mom, we all know that you, through your tremendous faith in and devotion to God, composed and crafted the chord that wends its way through all of us—with the precision of any maestro. And you conducted it "with a thunderous velvet hand". As ole' Dan fashioned it perfectly, "Your blood runs through our instruments and your song is in our souls". So with your permission Vi, we "Thank you for your 'music'/And your stories from the road/Thank you for the freedom/When it came our time to go/Thank you for your kindness/And the times when you got tough/But Mama, we don't think we said/ 'We love you' near enough." So, Queen Vi, as you can see, our fealty is genuine and devotion complete—and the memories are splendid. And the artist captured it perfectly in the final refrain: "We're all just living legacies to the leader of the band". The family of Viola Gaddy would like to express our heartfelt thanks to Silverado and nurse/caregivers Terri Stewart, Dan O'Hara, Lynn Hollis, Deborah Charles, Melissa Garcia and Sandra Colquitt as well as Chaplain Francis. We so appreciate your professionalism and understanding over this ordeal, particularly toward the end when we knew we were losing our matriarch. God Bless!
See more
See Less
Services
Tuesday,
September 27, 2022
Visitation
9:15 am - 10:00 am
Brookside Funeral Home
Tuesday,
September 27, 2022
Graveside Service
10:00 am
Brookside Memorial Park
In Memory Of
Viola Gaddy
Help tell the story of your loved one's unique life. Leave a memory or share a photo or video below to show your support.