OBITUARY
Dolores Irene Frazee
November 5, 1931

–

May 10, 2022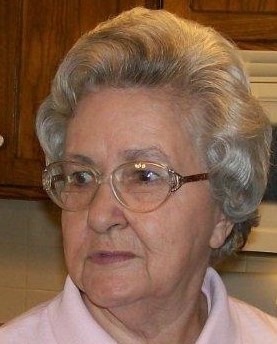 Dolores Irene Dudley Frazee started out her life as a born-at-home preemie weighing in at 2 lbs and fitting in the palm of her daddy's hand. She was not expected to survive. Her parents used handkerchiefs as diapers and wrapped her in a small towel and put her in a shoebox as a makeshift bed and put it behind the potbelly stove to keep her warm. She survived and the doll clothes given to her parents as a joke were the clothes that she wore as an infant. Dolores grew and lived a very full life. She grew up as a child in a poor but very close-knit family with her parents Albert "Mike" and Mary Dudley, brothers, Albert "Dusty", Larry, John and sister Joyce. She was also blessed with a very large extended family. Later as her siblings married her family grew, Dusty married Deannie Earles, Larry married Sue Kindler, John married Janet McMaken, and Joyce married Don Herndon and with these marriages came several nieces and nephews she loved dearly. Adding in Ike's siblings, their spouses, and children her world was full of people she cared deeply for. Dolores enjoyed woodworking and playing the banjo while a student at Turner High School. She worked as a waitress at Fred and Ruth's Cafe in Muncie, Kansas and at Kresge's Dime Store. She met her future husband "Ike" Frazee, first at a school football game and then again at a basketball game. She worked for an Insurance Company in Kansas City Missouri after High School. In 1950 she and Ike were married at Stoney Point Christian Church in Kansas City, Kansas. They made the move to California due to Ike being stationed there. While in California Dolores worked in a Dime Store and then at Consolidated Aircraft Factory. In 1952 they found that they would soon be parents. During the pregnancy, Dolores and Ike made the trip back to Kansas City due to the illness of Ike's father. After his passing, they did not have the finances to return to California so they remained in Kansas City. Their daughter Debbie was born in November 1952 and approximately 4 years later in August 1956 their son, Mark, was born. For the most part, Dolores was a stay-at-home mom but she did work for a time for Southwestern Bell Telephone Company and then when Debbie and Mark were a little older she worked for Gates Rubber Company. She and Ike started Frazee Tow Low RV business and Dolores also received her Real Estate License and worked for Caldwell Banker, ReMax and Reece-Nichols Real Estate Companies. Her family was Dolores's greatest treasure. She was involved in PTA and was a Room mother. She was a Cub Scout Den Mother and Guardian of Bethel 51 of Job's Daughters. Dolores always wished she could have been a nurse and even though that dream was not realized she lived her life being a "caregiver" She helped raise her two younger brothers Larry and John, raised her own two children, babysat in her home, was the primary caregiver for her mother who lived with her and Ike for 26 years. Dolores was also the primary caregiver for Ike when his health started to fail, until her own journey with Alzheimer's progressed to the point that she also need care. Even though she was no longer able to be the caregiver to Ike, she was always by his side and did what she could, including sitting at his bedside holding his hand as he made his journey home. Dolores loved her grandchildren, Michelle (Dirk) Kaufman, Sara (Francis) Nyaforh, Mary Clark, and Aaron (Tiffani) Clark, and could never get enough of them or them of her. When they would get mad at their mom they would "runaway" and it was always across the field to grandma and grandpa's. Grandma's food was always better even if their mom fixed the same thing using the same recipe. Even store-bought candy bars were better at Grandma's! Then came the great grands, Ellie Binkley, Marin and Wyatt Kaufman, Beyla Nyaforh, Reece and Drake Napier, Raider Maxwell, Griffinn and Xander Clark. Thankfully she got to enjoy that new title for a while before Alzheimer's slowly stole her memories. Dolores and Ike enjoyed Camping and they progressed from a tent and pickup truck with plywood sides to tent campers, to Tow Lows and, then to their Fifth Wheel. After opening the Tow Low business, they started the Tow Low Camping Club and enjoyed many years of camping with new and old friends and family. They also traveled. Besides the many camping trips, Hawaii was a favorite destination and visiting Ike's brother Herb and his family in Australia was another favorite trip. Comments from Mark and Debbie - Through her journey with Alzheimer's mom taught us a lot. We learned patience we didn't know we had, forgiveness for the personality changes that were not our mother but this dreadful disease, that it is still necessary to find laughter in life, that it is easier said than done to love someone with dementia, to give ourselves grace on the many days we did not do our best, to take time to make sure mom always felt safe, loved, and that everything will be ok. Being a caregiver to someone with dementia gives us options every day to look for a positive perspective in very confusing conversations. If they don't remember who you are you can choose to still enjoy the conversation instead of being upset that they don't know you. Lastly, we learned how to accept that we would lose our mother twice, once when Alzheimer's took the mother who loved and raised us and no longer knew who we were and finally when her earthly journey was done and she made her journey home to be reunited with her beloved husband, parents, brothers and sister, in-laws, nephews and most of all her God. So not a bad life for a tiny 2 lb baby that was not supposed to make it! A visitation for Dolores will be held Tuesday, May 17, 2022, from 5:00 PM to 7:00 PM at Chapel Hill - Butler Funeral Home, 701 North 94th Street, Kansas City, KS 66112. Funeral services will occur Wednesday, May 18, 2022, from 11:00 AM to 12:00 PM at Chapel Hill - Butler Funeral Home. The burial will be in Chapel Hill Memorial Gardens. Fond memories and expressions of sympathy may be shared at www.chapelhill-butler.com for the Frazee family.
See more
See Less
PALLBEARERS

Michelle Kaufman

Pallbearer

Dirk Kaufman

Pallbearer

Sara Nyaforh

Pallbearer

Francis Nyaforh

Pallbearer

Mary Clark

Pallbearer

Aaron Clark

Pallbearer
In Memory Of
Dolores Irene Frazee
Help tell the story of your loved one's unique life. Leave a memory or share a photo or video below to show your support.