OBITUARY
Karla Joy O'Malley
September 14, 1960

–

December 8, 2022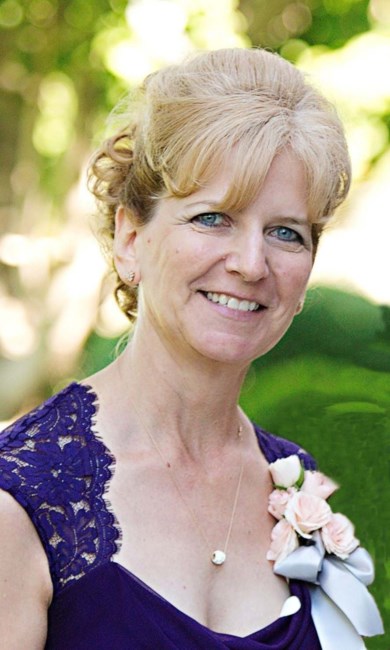 Karla Joy (Dye) O'Malley, 62, a light of joy for so many, made her way to heaven on December 8th, 2022. She was surrounded by her loving family at St. Luke's Hospice House as she took her peaceful journey home to the arms of God. The evening before Halloween, Karla had dinner with her daughter and granddaughters – the two little lights of her life. She never missed an opportunity to be with her grandbabies. She helped with bath, playtime and bed before heading home, only to be hit from behind by a drunk driver on a residential street near her home. In an instant she went from being a vibrant, healthy woman to enduring severe full-body injuries. Her medical team at Research Medical Center took heroic measures to save her life and heal her body. She fought courageously for nearly 40 days to survive for her family, but she never again regained consciousness. She is now fully present with her Lord and her beloved parents, whom she greatly missed. Funeral visitation for friends and family will be 5:00 to 7:00 pm on Tuesday, December 13th at Mt. Moriah, Newcomer & Freeman Funeral Home at 10507 Holmes Road in Kansas City, MO 64131. A mass of Christian burial will be held at 11:00 am on Wednesday, December 14th at Holy Spirit Catholic Church at 11300 W. 103rd Street, Overland Park, KS 66214. A funeral service will be held at 11:00 am on Thursday, December 15th at Broadway Baptist Church at 15570 North Hwy 68, St. James, MO 65559. Followed by burial at the O'Malley Cemetery in Beulah, MO. Memorial contributions in Karla's honor may be made in lieu of flowers to Operation Breakthrough or Children's Mercy Hospital, both in Kansas City, MO. Online condolences may be offered at www.mtmoriah.net Karla Joy Dye was born on September 14, 1960 in San Antonio, TX to Kenneth W. Dye and Rose Mary Dye. Her parents rightfully gave her the middle name Joy, a title which she lived up to in every facet of her life. She spent every day sharing her joyful energy with anyone she met. As an Air Force family, her childhood spanned both sides of the pond – from Texas and California, to England and Scotland. She learned early how to make new friends everywhere she went, and her infectious friendliness left a giant wake. When her dad retired from the Air Force in 1972, the family settled in Vichy, MO to be closer to family. Her dad found work as an aircraft mechanic and her Mom as a receptionist for a local eye doctor. Karla attended Maries R-2 High School in Belle, MO where she made lifelong friends as a Belle Tiger. Liking Karla wasn't hard – she was warm, kind, and active in basketball, track, and student government. It was her role in student government that introduced her to Tony O'Malley, a farm-raised upperclassman whom she was immediately smitten by. Years of dating Tony and spending time at both Southwest Missouri State University (Missouri State) and later University of Missouri-Rolla (Missouri University of Science and Technology), to be closer to her love, led to a marriage proposal atop a lookout tower. Karla and Tony snuck far past the "do no enter" sign and countless stairs to share in a proposal and promised life together. They wed in 1981 and moved to Grandview, MO for Tony's new engineering job. Perhaps the greatest chapter of Karla's life began 36 years to the day prior to her passing, when she had her first born, Megan. Karla lived for her role as mom. She worked full-time while raising Megan and her sons to follow, Ryan and Justin. Between sports tournaments and endless practices, Karla was devotedly always there, with a smile, a camcorder and snacks in hand. She was the queen of crafts and made-up games. She made their childhood magical. Karla valued education and set an example to her children by finishing her college degree from Mid-American Nazarene College in Olathe, KS. Ryan and Justin went on to become engineers like their dad, while Megan pursued a career in marketing communications. To say that Karla was proud of her kids would be an understatement. More than any educational accomplishments, she was proud of the people they became. Karla spent her career in Human Resources and DOT compliance. Her final years were spent at a freight brokering company, AgForce, a division of CGB, as their Carrier Compliance Manager. Her caring attitude and compassion helped her become the unofficial office mom to many younger co-workers and unofficial party planner for the office. Karla was always the first to volunteer to organize an end of season party for her kids' sports teams, plan office celebrations, or support any other charitable endeavor. Few people know that Karla was an accomplished clown that would apply full costume and make-up to regularly entertain children at Children's Mercy Hospital. She even wore a full-size bunny costume to bring the lighter side of Easter to young kids. She enjoyed assisting with Children's Church at Holy Spirit Parish for many years. Karla put the lessons she learned from her daily bible readings to practice for the children in her classes, and in everyday life. If you ever wanted to see kindness and God's will at work, just watch Karla in front of children. Her last few weeks since the car crash brought forward so many uplifting stories of the friendship and support Karla provided to friends, co-workers, and family members. She was a strong Christian woman who prepared every day to join God in heaven. She read her bible with her favorite tea every single day. But she didn't just read scripture, she lived it. She left no unfinished business here on earth. She will live on through her children and grandchildren. Becoming a grandmother to two beautiful girls, Luciana "Lucy" (3) and Josephine "Joey" (1) put Karla in near heaven on earth. She reveled in helping care for her grandbabies and her family will carry forward in teaching all her grandchildren what a wonderful woman she was. She was preceded in death by her parents Kenneth W. Dye in 2014 and Rose Mary Dye in 2017, an infant sister Tamra Lyn Dye, grandparents Travis and Vera Lowery and grandmother Kelva Jones, Uncle John Lowery, Uncle Ronald Lile, Aunt Iva Mae Case and Uncle Frank Case, Uncle Walter Dye and Aunt Juanita Dye. Karla will be greatly missed by her surviving family, including her husband of 41 years, Anthony ("Tony") Peter O'Malley of the home, her daughter Megan Hillen and husband Joshua with granddaughters Luciana and Josephine of Leawood, KS, her sons Ryan O'Malley of Prairie Village, KS and Justin O'Malley of Arvada, CO, her brother Kevin Dye and wife Nancy of Roanoke, VA, sister Karen (Dye) Goodman and husband Phil of Kailua, HI, her Aunt Pansy Richardson and husband Roy of Vichy, MO, her Aunt Fern Lile of Lynnville, IN, her Uncle Alvin Lowery and wife Dottie of Laquay, MO, her uncle Carl Lowery and wife Marilyn of Montreal, MO and numerous brothers-in-law, sisters-in-law, nieces, nephews, cousins and extended family members and friends. We would also be remiss to not mention her beloved dogs she's leaving behind – her own Chief, and other grandpups, Murphy, Zeus, and Bentley. Like so many of us, they will miss being spoiled by Karla. She leaves a giant void in our lives, but we will forever remember her joy, her warmth and her caring spirit every day. Rest in peace, sweet Karla. You have many seats to save at that banquet table. Serving as pallbearers are Ryan O'Malley, Justin O'Malley, Josh Hillen, John O'Malley, Thomas O'Malley, James O'Malley, Scott Dye, Joseph O'Malley and Kevin Dye.
See more
See Less
FAMILY

Kenneth W. Dye

Father (deceased)

Rose Mary Dye

Mother (deceased)

Tamra Lyn Dye

Infant Sister (deceased)

Travis and Vera Lowery; Kelva Jones

Grandparents (deceased)

John Lowery, Ronald Lile, Iva Mae Case, Frank Case, Walter Dye & Juanita Dye

Uncles & Aunts (deceased)

Anthony "Tony" Peter O'Malley

Husband of 41 years

Megan Hillen (Joshua)

Daughter

Ryan O'Malley

Son

Justin O'Malley

Son

Luciana and Josephine Hillen

Granddaughters

Kevin Dye (Nancy)

Brother

Karen (Dye) Goodman (Phil)

Sister

Pansy Richardson (Roy)

Aunt

Fern Lile

Aunt

Alvin Lowery (Dottie)

Uncle

Carl Lowery (Marilyn)

Uncle

Karla also leaves behind numerous brothers-in-law, sisters-in-law, nieces, nephews, cousins,extended family members and friends, as well as her beloved dogs, her own Chief and grandpups Murphy, Zeus and Bentley. Like so many of us, they will miss being spoiled by Karla.
PALLBEARERS

Ryan O'Malley

Pallbearer

Justin O'Malley

Pallbearer

Joshua Hillen

Pallbearer

John O'Malley

Pallbearer

Thomas O'Malley

Pallbearer

James O'Malley

Pallbearer

Scott Dye

Pallbearer

Joseph O'Malley

Pallbearer

Kevin Dye

Pallbearer
Past Services
Tuesday,
December 13, 2022
Visitation
Wednesday,
December 14, 2022
Mass of Christian Burial
Thursday,
December 15, 2022
Funeral Services
In Memory Of
Karla Joy O'Malley