OBITUARY
Leo J. Sweeney
January 7, 1927

–

April 25, 2022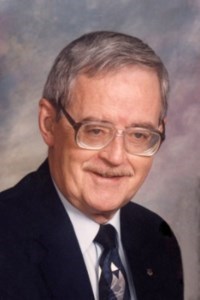 Leo J. Sweeney, 95, passed away on April 25th, 2022 in Overland Park, Kansas. The Mass of Christian Burial will be held at 11:00 am on Monday, May 9th, 2022 at Cure of Ars Catholic Church, with Visitation from 9:00am to 11:00am. In lieu of flowers, the family suggests contributions to The University of Missouri-Kansas City for grants to international students by contacting them at contact@umkcfoundation.org. Leo was born January 7, 1927 in Mason City, Iowa. He graduated from St. Joseph High School in Mason City in 1944 and then attended Mason City Junior College until he was drafted for military duty in March 1945. Like most men of his generation, he spent much of his early life as a member of the Armed Forces. He was commissioned as a second lieutenant in the U. S. Army Transportation Corps in January 1946 and came to Kansas City to serve as Depot Transportation Officer at the Kansas City Quartermaster Depot. This assignment, for which he was specially selected, was to coordinate the transportation aspects for the Return of World War II Military War Dead from overseas to states in the Midwest. After separation from active duty in September 1948, he served in the active Army Reserve until 1972, and then in the inactive Army Reserve until 1987. He then retired as a lieutenant colonel with a total of over 41 years of service. He graduated in 1951 with Top Honors from the University of Kansas City (now the University of Missouri-Kansas City) with a Bachelor of Arts degree in History and Government. In 1955 he earned the Diploma in Traffic Management from the La Salle Extension University, after which, he served for several years as Transportation Officer with the Defense Department offices in Kansas City. While Leo spent much of his early life in active and reserve military service, the majority of his long work career was in the field of education. In 1957 he joined the staff of the University of Kansas City (now UMKC) as Director of Admissions and Registrar. During his tenure, he became an expert in the evaluation of foreign student education and in 1967 was recruited by the U.S. Education Foundation in India to become a Fulbright Lecturer/Consultant. He and his family spent his one year sabbatical in India, during which he established student advising centers throughout India. He later was the author of three books and the co-editor of a fourth book on the educational systems of Bangladesh, India, Pakistan, and Sri Lanka. He served as an educational consultant in over 40 countries and was cited by the U. S. State Department in 1994 for over 21 years of consulting service to American-style overseas schools throughout the world. The countries included Afghanistan, China, Egypt, Iran, Israel, Pakistan, Syria and Turkey. Leo held the position of Director of Admission and Registrar at UMKC for 32 years until 1989, when he became Assistant Vice Chancellor for International Student Affairs. He retired from full-time status at the university in 1992, but continued as a part-time senior consultant for international student affairs. He retired fully in 2008 after 51 years on the staff at UKC/UMKC. Following his retirement from UMKC, Leo went on to serve on the Board of Directors of the St. Luke's College of Heath Sciences/SLCHS, after having served for 19 years on the Governing Committee of the St. Luke's Nursing College. As a result, in 2014 he was the first retired UMKC staff member to be awarded the UMKC Retirees Association Recognition Award for Exceptional Achievement in Retirement. Leo valued education and was especially proud when, in 2013, the UMKC Alumni Association presented him and 18 members of his family with the Sweeney Family Legacy Award. It was awarded to this group of graduates, who collectively, earned a total of 25 degrees from the University of Missouri System and went on to have significant careers after graduation. In addition, one of his most prized possessions was a portfolio that included copies of the 19 degree diplomas earned by his grandchildren. It was presented to express appreciation for the financial support that he and his wife, Annabelle, provided to them during their college education. Leo had a full and wonderful life with his wife of 70 years, Annabelle. They traveled extensively visiting 70 countries and sailed on 14 cruises. In his spare time, Leo enjoyed reading, writing, traveling and time with his cherished wife, children, grandchildren, and great grandchildren. He looked forward to his Tuesday coffee meetings with two longtime friends and weekly luncheons with retired UMKC colleagues known as the ROMEOs (Retired Older Men Eating Out). In his long career in education, Leo received numerous awards for his work, was known for his generosity to numerous charities and participated in countless professional organizations. He is survived by his three daughters, Kathleen Orford, Overland Park; Janice Woods and husband Michael, Lee's Summit; and Susan Sweeney and husband Kent Bowers, Kansas City; and son, Dr. Michael Sweeney and wife Ellen, Leawood; seven grandchildren and their spouses: Meghan (Orford) & husband Justin Stigge; Timothy & wife Megan (Spurling) Orford; Danielle (Woods) & husband Aaron Reed; Amanda (Woods) & husband Kurt Klusmeyer; Matthew Sweeney & wife Margot (Dickson); Todd Sweeney; Anna (Sweeney) Vandenboom; and fourteen great-grandchildren: Jackson, Weston, Beckett & Tucker Reed; Cooper & Thea Klusmeyer; Coleman & Ian Stigge; Reid, Alice & Ben Orford; Sloane & Graham Sweeney; Ary Vandenboom. Awards/Achievements/Professional Affiliations • Top 40 Achievers in the UMKC Top 100: 1929-99 • President American Association of Collegiate Registrars and Admissions Officers and NAFSA • President of Association of International Educators • Founding president of the Queen of the Holy Rosary parent teacher organization. • Leadership Circle of the United Ways of Greater Kansas City • Charter Members of the National WWII Museum and Commanders Club Members of the Disabled American Veterans • Founding Sponsor of the National Museum of the United States Army and • Charter Member of the Eisenhower Legacy Society at the Eisenhower Presidential Museum • Lifetime member of the Phi Kappa Phi Honor Society • Lifetime member and vice president of the UKC/UMKC Alumni Association; • President UMKC Retirees Association • Founding Member of the UMKC Emeritus College • Trustee of the World Education Services • Military Officers Association and Association of the United States Army • UMKC Outstanding Administrative Award • Honorary Member, American Association of Collegiate Registrars and Admissions Officers • Life Member, NAFSA: Association of International Educators • American Association of Collegiate Registrars • Admissions Officers' Award for Excellence in International Education • Alumnus of the Year, University of Kansas City • MENSA member • Who's Who in American College and University Administration • Who's Who in the Midwest; Outstanding People of the 21st Century • United Way Diamond Donor.
See more
See Less
DONATIONS

The University of Missouri-Kansas City

(for grants to international students), email: contact@umkcfoundation.org
In Memory Of
Leo J. Sweeney
Help tell the story of your loved one's unique life. Leave a memory or share a photo or video below to show your support.