OBITUARY
Sharron Louise Olsen
July 17, 1939

–

April 8, 2023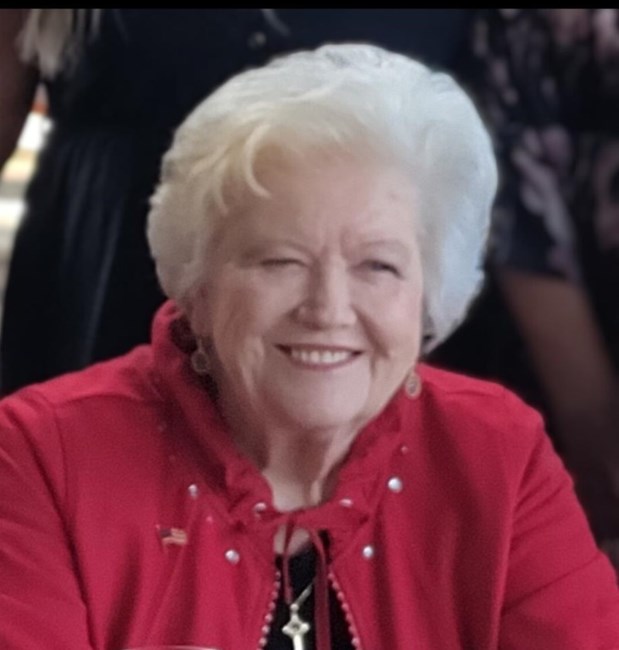 Sharron Louise Olsen, 83, of Gladstone, Missouri, passed away on April 8, 2023 at her home in the loving arms of her four children after a gutsy battle with cancer. Sharron was born on July 17, 1939 and was the middle of three children born to Thomas J. (T.J.) and Angeline (McCarthy) Stapleton. Along with her siblings Shirleyann & Frank, she was raised in the Northeast part of Kansas City, Missouri. She grew up in Holy Cross Parish attending Holy Cross Grade School and was a 1956 graduate of Glennon High School in the Kansas City-St. Joseph diocese. She went on to study at the College of Saint Mary in Omaha, Nebraska. Founded by the Sisters of Mercy the college is dedicated to academic excellence and service-learning opportunities that help women develop a greater sense of self and self-worth and a confidence that they can take out into the world to make a difference for all. She incorporated these teachings making her mark on the world and leaving lasting impressions on lives that she touched. Sharron's varied professional career included working for the Veteran's Administration, Social Security Administration, Internal Revenue Service and North Kansas City Hospital Medical Records . Her proudest work was done when she began working with Missouri Pacific Railroad (MoPac) in 1970 (which later became the Union Pacific Railroad). She rose through the ranks starting as a clerk until she became one of the first women officers in management when she was named the manager of field support, process control department, and train management. She moved to Omaha with the railroad when she took over the role of the Manager of Training until her retirement when she returned to Kansas City. Sharron's life revolved around her beloved children, grandchildren, great-grandchildren and their families and friends enjoying their many escapades and shenanigans. A life-long sports enthusiast she was an exuberant fan at any and all of the family sporting events and activities, birthday parties, christenings, Snake Saturday and any gathering. Sharron treasured staying active with the Transportation Communication Union and was the champion at all union picnic card games throughout her career. She continued that enthusiasm and enjoyed weekly card games with cherished friends. She frequented Kansas City area casinos as she loved the appeal of the sound of a coin landing on a slot machine tray or bells ringing in the air and sharing time spent with her family and many friends. An active golfer she enjoyed summer play with the Tiffany Greens Golf Ladies League and outings with her sons-in-law and grandchildren, was a member of the St. Gabriel's Archangel Parish for over 50 years, was an avid reader, loved her cats, her Coca-Cola, games and cards, crossword puzzles, the Kansas City Chiefs, the Kansas City Royals, eating out, trysts with Shirley and the little girls, and Notre Dame. She was treated to a bucket list trip to Ireland in October of 2016 by generous family members who escorted her. Sharron was a driving force working with the Ladies Ancient Order of Hibernians in the Padraig Pearse Division I based in Kansas City, Missouri serving in various roles. She was most proud to have served as the President of the Missouri State Board and represented her chapter at many national conferences. She loved doing all things with this Irish Catholic Woman's Organization as they worked to uphold and defend the teachings of the Catholic Church, to aid and support the Irish people as they strive for a united, and peaceful independent Ireland, and to foster and perpetuate the history, culture, and traditions of the Irish people. Sharron embraced their mission through living their motto of Friendship, Unity, and Christian Charity in her daily living. Sharron left her mark within this organization by founding their annual trivia contest and being an active and fully decked out participant in the Kansas City St. Patrick's Day Parade. Sharron is preceded in death by her brother Frank and her parents T.J. and Ann, and many adored family members and friends. She is survived by a woman whose heart and soul has been joined together by laughter and tears, her sister Shirleyann Dumolt with her family; her companion Finn Whiskers the Cat (who loved to pray the rosary with her); and her children Sean Olsen and his wife Terry with their children, Angelique, Meggie and Siobhan, Veneise, and Dwayne and their families; Kathleen Steele Danner and her husband MG (retired) Steve Danner with their children Aryn, Andrew, Alexander, and Audrey and their families; Maureen Latta and her husband Brad (who is now the Head of the Household) with their children Nicholas, Mary Frances, and Molly and their families; and Christeen Cardiff and her husband Roger, with their children Jesse, James, Colleen, Joseph and Cielleen and their families. A doting grandmother of 17, Sharron was looking forward to welcoming her 32nd great grand-child in the fall. Visitation will be held at McGilley Antioch Chapel Wednesday, April 12, from 5-8 pm with the Rosary at 5 pm. Mass will be held at St. Gabriel Church at 10:00 am on Thursday, April 13 with burial at Forest Hill and Calvary Cemetery. In lieu of flowers, donations can be made in her honor to Ladies Ancient Order of Hibernians Padraic Pearce Division I, 4921 N. Kansas Avenue, KCMO 64119.
See more
See Less
FAMILY

Frank Stapleton

Brother (deceased)

T.J. and Ann Stapleton

Parents (deceased)

Shirleyann Dumolt

Sister

Sean Olsen (Terry Olsen)

Son

Kathleen Steele Danner (MG (retired) Steve Danner)

Daughter

Maureen Latta (Brad Latta)

Daughter

Christeen Cardiff (Roger Cardiff)

Daughter

The doting grandmother of 17: Angelique, Meggie, Siobhan, Veneise, Dwayne, Aryn, Andrew, Alexander, Audrey, Nicholas, Mary Frances, Molly, Jesse, James, Colleen, Joseph and Cielleen; and of 32 great grandchildren.
PALLBEARERS

Nicholas Latta

James Flanders, II

Jesse Cardiff

Joseph Cardiff

Dwayne Sabrsula

Andrew Danner

Alexander Danner
DONATIONS

Ladies Ancient Order of Hibernians

Padraic Pearce Division I, 4921 N Kansas Avenue, Kansas City, Missouri 64119
Past Services
Wednesday,
April 12, 2023
Rosary Prayers
Wednesday,
April 12, 2023
Visitation
In Memory Of
Sharron Louise Olsen