OBITUARY
Walter Henry Monahan
March 21, 1946

–

March 25, 2020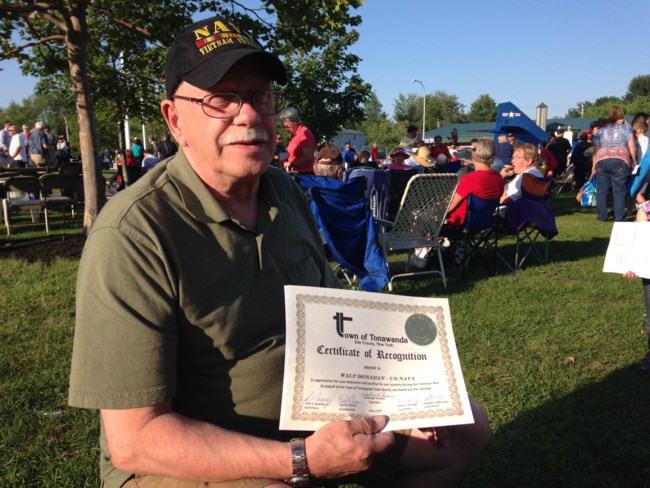 One night last week, Valerie Monahan looked at her husband of 50 years – the Vietnam veteran, the grandfather of three, the Eucharistic minister, the docent at Buffalo's naval museum – and noticed his fingertips were purple.
"I am not a medical person, but I said, 'You are not getting oxygen,' " she recalled in an interview Thursday. After the ambulance crew hurried her husband to Kenmore Mercy Hospital, she thought he would recover from pneumonia, or bronchitis, or whatever was sapping him of air, and return home.
Walter J. Monahan of Kenmore did not recover. He died in the hospital around 10 a.m. Wednesday, 11 days after his 50th wedding anniversary, five days after he turned 74 and 14 days after he first noticed what he thought was a bad cold.
He is the second Erie County resident to die from Covid-19. The first was a woman in her 80s, whose death was announced by the county health department the previous day.
"People might think, 'Oh that person has lived this long life,' and they might think that it's OK that these people passed away. But it's not," said Kelly Frothingham, Monahan's daughter. "They were taken far too soon."
The outpouring on social media, and memorials left at the Monahans' home in Kenmore show that he was a big presence. On Facebook, a woman called him "my wonderful neighbor." In recent days, a message went out to members of St. Joseph University Parish, where Monahan served as a Eucharistic minister, requesting prayers for him, said a parishioner, Susan Stievater. Neighbors taped images of butterflies to the family's fence and chalked messages of support on the sidewalk.
Monahan had served on a destroyer during the Vietnam War, and from then on, the Navy was in his blood. When his tours ended, he was asked where he would like to be stationed. The West Coast, he said. They put him in the Pentagon, in a large office of about 50 people working for the chief of naval operations.
That's where he met his future wife. Valerie was a civilian employee in the same office. Their first date was to a drive-in theater. They brought a six-pack and watched "Hellfighters," an action picture starring John Wayne.
They eventually set up a home in Rochester, where Monahan had been raised. He worked as a facilities manager for a hotel operator, and when their daughter established her career in Buffalo – Frothingham is an associate dean at SUNY Buffalo State – the couple moved to the Buffalo area to be closer to the two grandchildren they had at the time. The couple's son, Michael Monahan, and his wife have since had a son, in Rochester.
In Buffalo, Walter Monahan took a job as the facilities director for People Inc.'s senior centers, Valerie Monahan said. Then he drove a school bus for five or six years. In retirement, he volunteered for Meals on Wheels and became a fixture at just about any event involving his grandchildren.
On March 10, Monahan had a regular checkup at the Veterans Administration Medical Center. A doctor found him in good health, and his COPD – chronic obstructive pulmonary disease – continued to be well managed, his wife and daughter said. The next day he started complaining of a cold.
This was days before cases of the novel coronavirus began ramping up in Erie County. His doctors suspected pneumonia. On March 14, he still felt good enough to celebrate the couple's 50th wedding anniversary. But the celebration, planned for Oliver's Restaurant, was put on hold.
"When my dad first got sick, they couldn't test him for Covid-19 because there were no tests available," Frothingham said. The Covid-19 diagnosis wasn't known for certain until Saturday, when a test administered at Kenmore Mercy came back positive. By then, Monahan was under a ventilator and unaware of the finding.
Covid-19 attacks the sacs of the lungs, the alveoli, that help the body exchange oxygen for carbon dioxide, according to the federal Centers for Disease Control and Prevention. With Monahan, the ventilator was delivering oxygen but his body's failure to release carbon dioxide was stressing his organs, which began shutting down, Frothingham said.
With vehement apologies, the hospital's staff restricted the family's access to him because of concerns about the spread of Covid-19. But his wife and children were allowed to see him for a few hours before he died.
The family has been trying to think of where he caught the coronavirus but doesn't have a good guess. Valerie Monahan has been tested for Covid-19, and the results were negative. Kelly Frothingham, who is quarantined with her, has not been tested.
Thursday was a whirlwind of calls with condolences and conversations with family friends.
The emotions are being sorted out.
"Right now, we just can't afford to have anger," Valerie Monahan said. "But I am angry when I see pictures of the kids on the beach in Florida, when I've lost my husband."
Then, there's the support that has come at them from all directions.
Valerie Monahan is especially touched that friends are flying their flags at half-staff.
And there's the message left on their house: "sending you strength and love."
Friends and neighbors have been leaving encouragements outside the Monahan house for the family to see. Someone put a chalk message on their walkway that they could see from their door.
Flowers Gratefully Declined. Memorial Contributions can be made to the Buffalo Naval Park or Covid-19.
Private funeral services were held at the convenience of the family. Due to COVID 19 restrictions , a celebration of life will be held when family and friends can gather safely.
See more
See Less
Services
No services are scheduled at this time. Receive a notification when services are updated.
RECEIVE UPDATES
In Memory Of
Walter Henry Monahan
Help tell the story of your loved one's unique life. Leave a memory or share a photo below to show your support.