OBITUARY
Tony R Curtis
May 24, 1965

–

January 14, 2023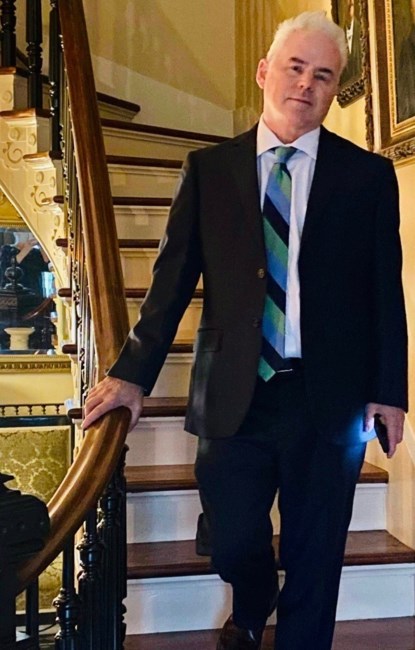 Tony Randall Curtis, 57, of Little Rock, left an immense hole in the hearts of friends and family as he passed away in the early minutes of January 14th, 2023; his monthslong battle with brain cancer came to an end at 12:21am. Tony was surrounded and comforted by people who loved him, including his beloved shar pei "Mini" who was nestled by his side. Tony was born on May 24,1965 and graduated from Sheridan High School in 1983. Tony loved music and would often enjoy replays of American Top 40 Countdowns on satellite radio. Tony's love of animals was well known to everyone, and many strays found refuge inside the gates of his residence at 1221 Louisiana St. Tony also worked tirelessly as a contributor to "Find A Grave"; a hobby that underscored his dedication to historic preservation. Tony was sentimental and shared his near photographic memory of dates and events daily. He was a hopeless romantic of the Victorian era, and a tireless supporter of historic Little Rock. His love of historic properties and preservation came at a very early age, and a career in real estate was the perfect pathway to combine his passion with livelihood. A passion on display to the whole world in his restoration of the Samuel B. Kirby House, his beloved home. As a young child, Tony would often come to Little Rock to visit his grandmother, Clara Curtis. who lived at the Samuel B. Kirby House, but at the time of his youth, it was known as the Clise Apartments. The Clise Apartments were in operation until the 1980s when they were closed and, unfortunately, became overrun by transients and prostitutes. When Tony saw the house as a young adult he was devastated by its condition and started planning its restoration. Though he didn't live in Little Rock at the time, he was becoming immersed in the downtown preservation scene. His interest in the building that his grandmother lived in was unrelenting. In 1992, he took title to the property. It was not habitable, and the property was under threat from the city to demolish what they considered an eyesore, but Tony persevered. He sold the property in 1995 to buyers who planned to restore the Kirby House, but those plans fell through. On February 11, 1999, Tony purchased the Kirby House for the second and final time. The condition of the property had deteriorated to the point where only Tony saw it as salvageable. Tony relied upon his memory of the house as a child, when he visited the Clise Apartments, the plans he uncovered, the photos he compiled, and whatever physical evidence was left to make the house complete. He found old photos with the Kirby House in the background to aid in restoration of the property. Tony continued to battle to keep the city from tearing the structure down. In addition to the restoration of the house, he also conducted extensive research to identify the families associated with the property and connect with their descendants. He located furnishings, photographs, and commissioned paintings of the previous inhabitants. Tony served on numerous boards supporting historic preservation and development. He received many awards and recognition from the city, was featured in numerous articles and tv shows. More recently, Tony won the Quapaw Quarter Association's Jimmy Strawn Award, which is "bestowed upon someone whose efforts on behalf of the preservation of greater Little Rock architectural heritage are an inspiration to the entire community". On December 20th, 2022, the Little Rock Board of Directors proclaimed December 21, Tony Curtis Day to commemorate his dedication to restoration and preservation in the city. Tony was presented with the proclamation by Virgil Miller at Tony's annual Winter Solstice party the next day. Tony approached life with passion. Never one to turn down a challenge, he did everything with infectious and inspiring enthusiasm. He was never lukewarm. He loved with intensity, and he saw the inner beauty of the people and things around him. Tony once said, "The more deteriorated and run down a house is, the more I like it." Tony's determination to rebuild the neglected parts of Little Rock was supported by his ability to build relationships and community. Everywhere we went was his favorite place. When he entered an establishment, he was greeted by owners, employees, and other customers with admiration. He built community by inviting new and existing residents to visit locally owned restaurants and shops that they may not have known about. He was a member of the Quapaw Home and Garden Club and Quapaw Quarter Association and encouraged others to get involved. Everyone who knew Tony had a story about how he helped them live, or work, or participate more fully in the community he so adored. He could recite the detailed history of hundreds of homes and structures in Little Rock from memory. He was a limitless source of knowledge. Tony made friends and connections everywhere he went. If you needed something, Tony would quickly share a connection or resource with you. He was always willing to help, and he got things done. If he loved you, you knew it and everyone else knew it. He made you feel special. He listened and learned everything he could about you. He understood and loved his family, friends, and acquaintances just as he learned everything he could about the properties he saved from destruction. Many people considered Tony a best friend. In his final months, days, and hours Tony was surrounded by many people who loved him. Tony was courageous in the face of the worst, most aggressive form of brain cancer a human can have, and although it was tragically shortened, his was a life well lived. Tony's wishes for his recently completed home were that it be used as a museum, and while his sudden illness prevented him from working to create an endowment for that purpose, his memory and legacy will continue through various organizations that benefit from the Tony Randall Curtis Trust. Portions of Tony's ashes will be shared with loved ones and his urn will be interred in the Kirby plot at Mount Holly Cemetery in Little Rock. A memorial service will be held at Frazer's Funeral Home in Warren, AR on February 4th at 11:00 am. Tony's obituary on Frazer's site contains a thorough account of Tony's ancestry and surviving family members. Locally, an open house to celebrate his life through shared memories will be held at Curran Hall, (615 East Capitol Avenue) on Sunday, February 12th from 2:00 pm to 5:00 pm. In lieu of flowers, please consider donating to the Tony Curtis Real Estate Scholarship Fund at quapaw.com, so that recipients of these awards can continue preservation efforts through real estate. Fond memories and expressions of sympathy may be shared at www.griffinleggetthealeyroth.com for the Curtis family.
See more
See Less
Services
No services are scheduled at this time. Receive a notification when services are updated.
RECEIVE UPDATES
In Memory Of
Tony R Curtis
Help tell the story of your loved one's unique life. Leave a memory or share a photo or video below to show your support.