OBITUARY
Gloria G. Gareri Barton
February 28, 1927

–

March 30, 2017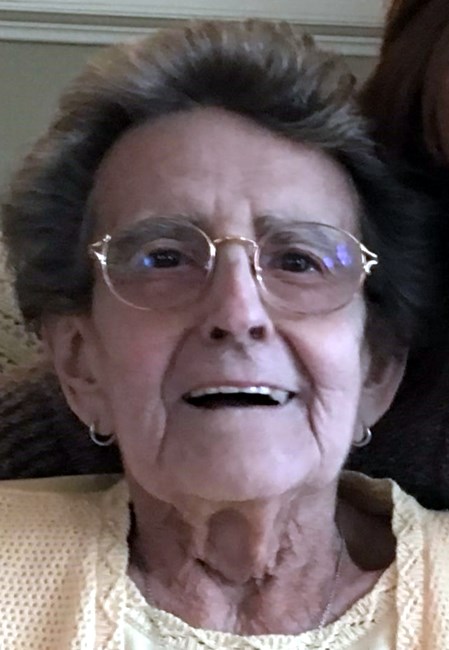 Gloria G. Barton, 90, of Manchester NH died at Catholic Medical Center on March 30, 2017 after a brief period of declining health. In her final journey, she used up every bit of strength her little body could achieve and this time had no more fight left. She passed away peacefully, surrounded by the love and strength of her family. Her husband, Joseph (Joe), passed away on the very same day two years ago. They were married for 66 years and are united once again.
Gloria was born in Milford, MA, the daughter of the late Dominic and Gloria (Lambert) Gareri. They moved from Milford to Manchester in 1930. She was educated in Manchester schools and was a graduate of Central High School, class of 1944. She was a long-time parishioner at St. Francis of Assisi Parish in Litchfield.
Gloria met her lifelong sweetheart, Joe, while they were kids in school. In their youth, they worked together as popcorn girl and usher at several downtown theaters including the Palace, King and Strand. They married at St. Anne's Church in 1949 and started their family several years later.
As a newlywed, Gloria worked at the State Operating Company and as an operator with New England Telephone & Telegraph. When her children came along, she stayed home with them until they all reached school age at which time she worked part time for Gilman Brothers, Retail Credit, and Equifax until her retirement in 1987.
While a newlywed, Glo waited for her husband to return from his service as a Marine in the Korean War. More recently, she waited for her grandson to return from boot camp and medic training after joining the NH National Guard. She was very proud of both of her "Joes".
Glo's husband and family were the focus of her life and she dedicated her life to their care and wellbeing. She and Joe both had amazing senses of humor which they imparted on their children and grandchildren - and any bystanders. Glo had a classic handshake and a quick and ready smile that she loved to share with others. She especially loved to put a smile on someone's face by making or buying a special something or other.
Gloria took great pride in her family, home, crafts, and gardens. She was an unbelievable cook. She loved family gatherings and had an especially fun time at her granddaughter's wedding in September. Glo could grow anything in her perennial gardens. She kept geraniums blooming indoors for years. She was incredibly artistic, most creative, and loved to make complex counted cross-stitch, embroidery, and needlepoint pieces. She loved to knit, crochet, sew, quilt, paint, and make everything from greeting cards to wreaths. She taught her granddaughter Mantha these skills and they both greatly enjoyed those hours in "Grandma's craft room". Glo especially loved chocolate and had secret stashes of good, better, and best brands that she would portion out - depending on who was asking.
For many years, Gloria made thousands of baby quilts, hats, and sweaters which she donated to Elliot Hospital. She expanded her network and knitted thousands more. She and Joe would make their regular rounds to Our Place, the Salvation Army, and Family Outfitters to proudly give away those handmade goodies, again creating many smiles.
Shortly after Joe passed away, Gloria began attending the Easter Seals Day Program twice each week. She was so well cared for and she enjoyed her time spent there. She often won at bingo or beanbag toss games and always came home with a prize of some sort. The days spent there were among some of her happiest – next to shopping trips with her daughters. Her usual line was "let's go!".
Glo, like Joe, was so proud of her family. They both will always be remembered for their love of the many simple things in life like spending time with family and doing things that made others happy. In her final hours, when asked how she was doing, with a wry smile she replied "I'm dreaming". We were all fortunate to have spent so many good years with her and will miss her more than words can say. We will cherish every single memory and carry those with us forever. We will honor her memory by carrying on her very best qualities.
Glo leaves her son Anthony Barton and his partner June McCracken of Ft. Collins, CO; her daughter and son-in-law, Mary Barton and Karl Berardi of Bedford, NH, her daughter and spouse, Catherine McCaig and Tina Peel of Manchester, NH, her grandchildren - Shauna Barton, Michael Barton, Samantha "Mantha" Southland, and Joseph McCaig, and her great-grandchildren Taylor Fornander and Owen Simms. She also leaves nieces and nephews and her beloved granddogs Lucky, Sadie, Pepper, Lexi, and Fiona.
Visitation was held on Tuesday April 4, from 11 am to 1 pm at the McHugh Funeral Home 283 Hanover St. corner of Beech St. in Manchester followed by a Funeral Service in the Funeral Home. Burial was in St. Joseph Cemetery in Bedford. In lieu of flowers, the family requests that memorial donations in Gloria's name be made to Easter Seals New Hampshire, 555 Auburn St. Manchester, NH 03103.
See more
See Less
In Memory Of
Gloria G. Gareri Barton
Help tell the story of your loved one's unique life. Leave a memory or share a photo below to show your support.