OBITUARY
Don E. Johnson
December 31, 1936

–

September 24, 2021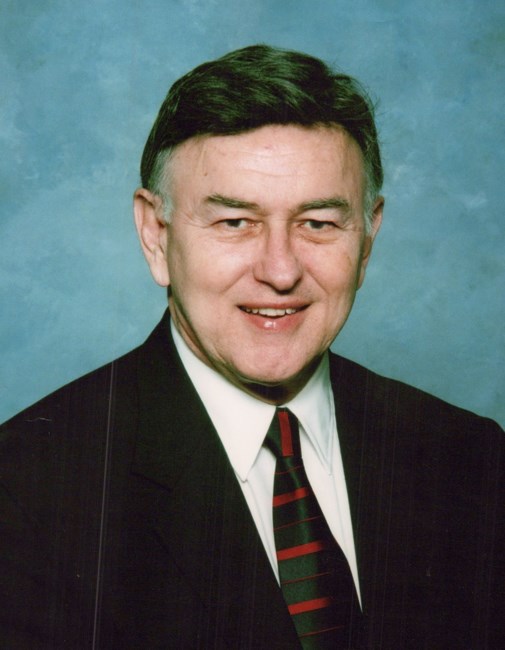 Reverend Don Edward Johnson 1936 - 2021 Reverend Don Edward Johnson entered the beginning of life with Jesus, perfected and made holy, on September 24, 2021. Don was born in Memphis, TN on New Year's Eve, December 31, 1936. He was the son of Cody Jefferson Johnson and Mary Lillian Johnson. He leaves two brothers, Gene Johnson, and Ronnie (Bonnie) Johnson, of Memphis, TN and one son, Michael Dalton Johnson, of Charleston, SC. Don is also survived by his wife, Cheryl Stigall Waters Johnson, whom he married in 2005. Don's first wife, Ann Dalton Johnson, passed away in 2002 after 30 years of marriage. Don is a graduate of Central High School, Memphis State University and Southwestern Baptist Theological Seminary in Ft. Worth, Texas. Don was the Chaplain at Kirby Pines Retirement Community where he served over 20 years. Each week he held a church service on Sunday mornings, had a twice-weekly devotional broadcast on Kirby Pines' closed-circuit TV for the residents, a daily devotional for the staff, spearheaded an annual three-night Crusade for Christ each January, and was available to the residents for pastoral counseling. He, and often Cheryl, did hospital visitation and enjoyed doing various other ministries together. Don's love for the Lord began early in his life. At age 8, when other children were outside playing, often Don could be found inside reading his Bible. At age 11, he began memorizing Scripture. Over the next several years, he memorized 1,050 Scriptures and received a trophy from the Bible Memory Association. Until his last days, he could reference Scripture for any subject and preach a sermon or teach a Bible study from memory. At 15, he was invited to speak at the Children's Bible Hour on a local Memphis radio station. The following year, February 2, 1953, on faith that God would supply the funds, Don signed a 52-week contract with WMPS for $30.60 per week. He and seven of his friends started a radio program on Sunday mornings (had to be at the station at 6:30 a.m.) aimed at preventing juvenile delinquency through faith in Christ. This program was on the air over ten years. It was the beginning of a lifetime of Christian broadcasting, awards and accolades, for a young man who followed the Lord's leading to enrich the lives of innumerable people around the world. Don loved Billy Graham's evangelistic outreach and went to every crusade and Evangelistic Training Session near enough for him to find a means of travel. He always said, "Billy Graham changed my life." At age 13, Don attended Billy Graham's first Memphis area crusade at E. H. Crump Stadium. He had already professed his faith in Christ, however at this event, Don made a commitment to follow Billy Graham's example and enter the Christian Ministry. At the 1957 New York Madison Square Garden Crusade, he met Rev. Billy Graham. In 1963, the young Rev. Don Johnson went on the road, first touring with Rev. Billy Graham and the New Life Movement Crusade, and then on his own with his fully developed national ministry of Teenagers for Christ. His youth ministry took Don across the nation. He spoke wherever invited, from Calvary Baptist Church in New York City to Sing-Sing Prison. In 1978, Don served as Youth Director for the Memphis Crusade at the Liberty Bowl. After working with the Billy Graham Evangelistic Association, Don said, "In a lifetime we meet only a handful of truly great and noble men. Sometimes those great in God's kingdom walk among us quietly and at times unnoticed. And sometimes they blaze a path that is brilliantly recognizable. Billy Graham was such a man. In the June 15, 1959, issue of Newsweek Magazine, Don was named "The Boy Billy Graham." The similarities are evident, if you knew Don. In 1956, Don held youth meetings in Longview, TX. He stayed in the home of a man who worked for Rev. Graham. Subsequently, Don's calling was recognized and he was given a 15-minute TV program in Tyler, TX and a 15-minute radio spot in Longview. His voice was instantly recognizable. Because he was so young, he was often interviewed on radio and TV. Don was featured on TV's Interesting Persons, written up in Moody Monthly, Christian Life, Eternity Magazine, Power Magazine, and two Associated Press stories that appeared in every major city in the nation. He was named God's Man of the Year in Memphis (1956) and given a plaque by the Strand Bible League. At the age of eighteen, at Union Avenue Baptist Church in Memphis, Don was ordained as a Minister. Prior to his ordination, he had been licensed to the ministry the year before. This was well deserved at his youthful age. When Don was 16 and a junior in high school, his passion for seeing other young people come to a saving knowledge of Jesus Christ was emerging even stronger. In 1953, this budding young evangelist formed a group called TEENAGERS FOR CHRIST. What started with 7 or 8 teens became an organization of over three hundred in less than one year. Their first endeavor (1954) was a 6-day citywide crusade by teenagers and for teenagers at the old Ellis Auditorium in downtown Memphis. Don and his group of friends canvassed every high school in the city and county. With no adult funding for advertising or anything else, these students worked diligently and recruited friends from the surrounding areas schools to invite their friends. They were teenagers appealing to teenager's basic drives – a craving for acceptance, mocking sissiness, and a yearning for a strong hero worthy of their worship. No grownup could have organized the crusade as effectively as that 17-year-old and his group of friends. The only adults involved were several advisors who were Memphis pastors. The teens had a 35-voice choir, their own soloists, and when the offering was taken, most of the money came from baby-sitting, paper routes, and grocery sacking. At the end of the night, there was enough to pay the bill in its entirety with $1,000 left over for the next Teenagers for Christ event. After the invitation ended, Don revealed the secret of the Crusade's success. All afternoon the teens involved with organizing the event were on their knees in a prayer room praying for hearts to be changed. Don never took any glory for himself; he always gave that first to Christ and then to those friends around him who helped in the ministry. The crusade was broadcast on the radio and Memphis stood up and took notice. There had never been anything like this in the religious history of Memphis! The total results of this crusade saw 15 vows for full-time Christian service, 3 resolutions to enter the ministry, 145 re-dedications, and 2,000 filled the auditorium each night! And this was during the Christmas Holidays. After the success of the Christmas Crusade for Christ, eight annual citywide Crusades for Christ followed. Fifty-five years later, the original group of teens who worked alongside Don on the first Christmas Crusade for Christ had a going down memory lane reunion. Most were now in their 70s and many answered the call to full-time Christian service. On the first night of the initial crusade, Dr. John Bomar dedicated his life to Christ and joined Teenagers for Christ. He and Don became life-long friends and both served the Lord as pastors. During Don's years in seminary (majored in evangelism), his ministry continued. To work with the considerable number of local teens following his ministry, every other weekend Don made the 12-hour Friday night train ride from Ft. Worth to Memphis. He left Memphis on Sunday evenings and arrived back in Texas for a 9:00 a.m. class on Monday mornings. Word of Don's gifts of preaching and evangelism began to spread nationally as he reached thousands of teenagers. In 1963, Don went on the road with a youth group of thirty-six teens and five adult chaperones. The tour lasted 2 weeks and covered 3,200 miles. The Greyhound Bus cost was $1,240 that had to be paid before departure. Again, the teens raised the money by selling copies of a song Don helped write and publish. It was a "pay what you can" donation that financed the trip to places up North including Chicago, Wheaton, New York and surrounding areas. The year after Don graduated from high school, again on faith and with money raised from selling copies of the same song used to finance the youth trip, he signed a contract on an old house on Cooper Street to be used as a Prayer Center for young people to come for fellowship, Bible study, or consultation, if they had a need or were in trouble. After months of manual labor by the young group, after school (college) and on Saturdays, the house was restored and the center officially opened September 3, 1956. Don was complimented by then President Dwight Eisenhower for his outstanding local and national youth work. By age 16, Don had developed a love for radio and the latest technology to reach people for Christ over the airwaves. His radio productions continued without interruption his entire adult life. He did the openings/closings for Dr. Adrian Rogers' Love Worth Finding radio and TV releases. Don was also the producer/host for Dr. Stephen Olford's Encounter Ministries. Many Memphians may remember an award-winning religious talk television show, "What is Your Faith?" Don hosted and co-produced this show. Among his many other accomplishments, he marketed organizational and strategic planning software that he helped develop. He taught and assisted in 3-day training sessions for purchasers and users of these complex software applications for ministers. Don not only had a unique, soothing speaking voice, he was gifted with a beautiful singing voice and was an excellent pianist. His love for music led him produce and distribute the beautiful, syndicated music show AFTERGLOW; a blend of inspirational Christian and carefully selected contemporary Christian music. Don always said, "Afterglow can be the most relaxing, restorative hour of your day. The world's noise and chaos can be shut out as you listen to music like you've never heard before." Don often told an inspirational story or gave the history of a piece of music. AFTERGLOW received many national awards including the Award of Excellence from National Religious Broadcasters (and many other awards from NRB), two Silver Angel Awards from Excellence in Media in Hollywood, and the Covenant Award for national network-syndication inspirational program. Afterglow also received the prestigious Dove Award. The Awards Group in Dallas, TX, chose Don as the recipient of the Crystal Award of Excellence for Beyond the Manger, a CD collection of nineteen stories combining history with inspirational Christmas music. Don produced and narrated Beyond the Manger which was selected out of 1,079 radio and TV productions and video and audio specials submitted for this award. Faithworks Distribution marketed this CD to over 10,000 bookstores across the nation. A second production Afterglow Classics (a musical heritage production aimed at NPR type stations that feature a classical music format) received the Award of Distinction from the Communicator Awards Group. Afterglow garnered awards and recognitions over 68 years of broadcasting. This program goes out over Salem Radio Network satellite, Ambassador Agency's amb-OS system, and over the internet through Salem's Web Network, Oneplace.com to thousands around the world. Under Don's leadership, the local chapter of National Religious Broadcasters was established. NRB consists of area professionals in various media industries. Despite all his notoriety, Don remained humble and thankful as he honored God and gave Him the glory for using him to further His kingdom! In 1974, Don accepted the position of associate minister at Central Church, a large, growing, non-denominational church in Memphis, TN. He directed the media outreach program; created Corporate Outreach (a business and professional ministry that grew from an initial attendance of 150 to over 1,000); narrated major musical programs and productions for Christmas, Easter, 4th of July, and other events at Central Church and beyond. Don was well-loved by all ages, especially the youth and senior adults. Don preached, taught, and baptized many teens on winter Gatlinburg trips (in indoor pools) and summer Florida trips (in the ocean). He had a thriving college ministry and taught Bible studies in homes and at church. Years ago, Don lost count of the many couples he counseled as they prepared for marriage. A number of weddings and baby dedications followed - all fondly remembered by couples whose dear friend and pastor officiated. For the past 20 years, Don was the leader/teacher for a Small Group of thirteen men and women who met weekly, in a couples' home, for Bible study and fellowship. This extraordinary group that still has its original thirteen members became family over the years. During this time, Don and Cheryl married, children graduated from high school and college and many in the group became grandparents. This group lived life together as the joys and trials of living unfolded. Don gave his love, wisdom, knowledge, and support in ways only he could as he shepherded this group. Their bond is Christ-centered and Christ-honoring. With the young men, Don became like a father as he prayed, advised, laughed, talked, and spiritually and professionally guided them. They also had action movie nights – without the girls. When there was a need, everyone used their gifts and talents to support one another. Tears of happiness flow as Don begins eternal life with Jesus, and tears of sadness well-up in the eyes of each member of the group as they continue without Don's earthly presence. In 1986, on a usual weekend night of dinner out with friends, Don, his late wife Ann, Wynette Jones and her late husband Buck, started discussing the alarming number of unwanted pregnancies in the area. The question came up, "Why doesn't someone do something?" The answer was, "Why not us?" Don and Buck organized the board of directors, hired an executive director, and LIFE CHOICES became a reality! In 1987, Life Choices became a state-licensed child-placing adoption agency. Women who come to Life Choices are met with love and a caring, non-judgmental staff to come alongside them throughout their pregnancy. Not only are their pre-natal health needs met, practical and spiritual needs are also met. In 2007, Life Choices converted to a medical clinic including diagnostic pregnancy testing and limited obstetrical ultrasound under the supervision of a licensed medical doctor and an on-site registered nursing staff. For women who choose life, help is there for them to make a positive plan for her and her baby. Education, intervention and support services for women and families in crisis are also part of the mission of Life Choices. This is the result of four people with a vision and a heart for God! Don maintained a hands-on love for this ministry as long as he was physically able. This is but a glimpse into the life of a great man of God! Though he is no longer this side of heaven, stories of Don's life and ministry will live for generations. Everyone who knew him knows he has heard the words, "Well done, good and faithful servant; thou hast been faithful over a few things, I will make thee ruler over many things: enter into the joy of thy Lord. (Matthew 25:23 KJV) Visitation will be held on Friday, October 1 from 1:00 p.m. to 3:00 p.m. With the service celebrating Don's Life to begin at 3:00. Light refreshments will be served. Services are entrusted to Memphis Funeral Home, 5599 Poplar Avenue, Memphis, TN 38119 *MASKS are required by ALL individuals attending.* Memorial service will be livestreamed on Memphis Funeral Home's website. A Celebration of Life Service at Kirby Pines will be held on Wednesday, October 13 at 2 p.m. in the Performing Arts Center (PAC), 3535 Kirby Pkwy, Memphis, TN 38115 Memorials…Life Choices or a charity of your choice. To God be the Glory for those who were privileged to sit under Don's teaching over the years!
See more
See Less
FAMILY

Cody Jefferson Johnson and Mary Lillian Johnson

Parents (deceased)

Gene Johnson, and Ronnie (Bonnie) Johnson

Brothers

Michael Dalton Johnson

Son

Cheryl Stigall Waters Johnson

Wife

Ann Dalton Johnson

Wife of 30 years (deceased)
Past Services
Friday,
December 31, 2021
Committal Service
In Memory Of
Don E. Johnson
Help tell the story of your loved one's unique life. Leave a memory or share a photo or video below to show your support.