OBITUARY
Raquel C. De La Huerta
June 20, 1936

–

January 13, 2023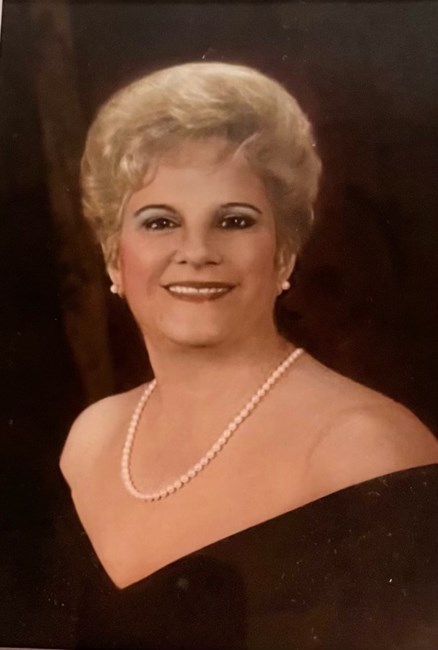 Raquel Cazañas Díaz de la Huerta (June 20, 1936–January 13, 2023) Raquel C. de la Huerta passed away peacefully on January 13, 2023, at her home in Miami, Florida, at the age of 86. Raquel is predeceased by: her husband F. René de la Huerta M.D., her mother Raquel M. Díaz Teresa de Cazañas, her father Pedro Pablo Cazañas y García, her son Luis de la Huerta, her brother Eduardo Enrique Cazañas y Díaz, her sister Marta Teresita Cazañas Díaz Permuy, and grandson Rafael García. She is survived by her children: Patricia García (Juan), Javier de la Huerta, Rene de la Huerta (Greg Hartley), María de la Huerta, Ana de la Huerta (Luly Rodriguez), Lourdes de la Huerta, Alberto de la Huerta, and Raquel de la Huerta; Her grandchildren: Andres García, Alejandro García (Gabriella), Nicolas García (Aimee), Rafael's widow Maeghan García-Galbo, Alexis Mena, Christopher Mena (Erica), Luis García, Isabel de la Huerta, Carolina de la Huerta, Tomas de la Huerta, and Nicole de la Huerta; And her great-grandchildren: Sophia García, Sebastian García, Nina García, Mason García, Kailey Mena, and Jocelyn Mena. Raquel's Life and Legacy Raquel was born on June 20, 1936 in Havana, Cuba. She was raised in her family home of Buena Vista in Cárdenas with rolling hills overlooking Varadero Beach. In her later years she held fond memories of these moments on the land, especially with their horses, which she rode without saddles through the fields, holding only their manes for support. She attended high school with her sister at Las Madres Escolapias de Cárdenas and then studied physical chemistry in the University of Havana. On December 16th, 1956, she married Cuban psychiatrist, professor, and author F. René de la Huerta. The couple's strong bond and nearly 50 years of marriage would raise a family of nine children through many moves and often challenging circumstances. Through it all, Raquel was a pillar of strength with a spine of steel that was selflessly put in service of her family. Family mattered more than anything to her. While she was a matriarch first and foremost, Raquel was also an intelligent woman with a sharp Cuban wit. She filled every get-together with infectious, gregarious laughter and healthy doses of lively chatter. Raquel put passion and love into everything she did, whether it was summer trips to Sanibel, cooking Sunday dinner, or being strong for others during trying times when courage was needed to survive. Her strength of character, resourcefulness, and perseverance were crucial through a long life that was often marked by struggles. In those moments, Raquel boldly and repeatedly stepped up. She risked her life for a greater cause by joining in the MRR, an arm of the Castro resistance. When the resistance failed, Raquel and her family endured nearly ten years of living in Fidel Castro's Cuba. Those years were marked by daily uncertainties over food, resources, and fear of being imprisoned by the government for any suspected infractions against the regime. In another personal loss, the government denied the family permission to participate in the Fort Lauderdale services for her brother Eduardo following his death in 1967 during the Vietnam War, deepening the pain of his loss. Not one to be left without options, Raquel instead chose to organize their own private, and controversial, memorial in Cuba to the fallen young US serviceman, who was seen as an enemy combatant in the eyes of the regime. While Raquel worked hard to provide for her family during the difficult years following the Cuban Revolution, she also looked for a better life for her family. In a life-changing move, they were able to secure safe passage into exile in 1969, first spending a year in Spain and then finally arriving in the United States. Once in the US, the family originally settled in Miami where they reunited with Raquel's sister and parents. Soon afterwards they then relocated to Milledgeville, Georgia in 1970, when her husband René secured a position at Central State Hospital. The family returned to Miami in 1974 and Raquel continued to tirelessly support her husband and children as René re-established his private psychiatric practice, became a professor at the University of Miami, and also worked in the Miami Mental Health Center. However, the family suffered further hardships with the death of Raquel and René's son Luis in London's Marchioness Disaster of 1989, as well as the loss of grandson and beloved firefighter Rafael in 2015 due to a brain tumor. Through moments of pain as well as celebration, Raquel always remained a rock of support and compassion. As a singularly independent and sincere person, she was not afraid to buck social conventions to do what she felt was right. This included her Catholic faith, which she resolutely continued to practice in Cuba with her family at great personal risk after Castro's regime banned all religious expression. It was also important to her to give her children a Catholic education and upbringing so that they too could draw strength from their faith, just as she had. In the end, the hardships made the good moments in life all the more worth celebrating. While she was often candid and outspoken with her opinions, Raquel also had a bottomless capacity for heartfelt generosity and humor in all situations. She made their home a joyful hub for all family and social activities, and warmly welcomed everyone who entered. Raquel was always warmly inclusive and accepting of friends and family. Her only concern was their happiness, and she unflinchingly spoke her truth in defending their right to find happiness. Raquel embodied unconditional love, and was unafraid to march to the beat of her own drum to show it. Her greatest legacy was passing along that example of unconditional love to her children and grandchildren. As her family grew, Raquel embraced every new addition and never lost touch, forging a personal connection with each member. She remained a committed and loving spouse, mother, daughter, sister, grandmother, and great-grandmother. Ultimately, her impact extended beyond her own family. Many had come to her see her as a second mother or grandmother, and a constant source of strength, support, joy, and love. Raquel will be fondly remembered and dearly missed by her family, friends, and all who knew her. Her viewing will be held from 6:00 PM to 12:00 AM on January 17th at Caballero Rivero Funeral Home, 8200 SW 40th Street. Raquel's funeral mass will be held in St. Brendan's Catholic Church on January 18th at 11:30 AM.
See more
See Less
Past Services
Tuesday,
January 17, 2023
Visitation
Wednesday,
January 18, 2023
Funeral Mass
Wednesday,
January 18, 2023
Burial
In Memory Of
Raquel C. De La Huerta
Help tell the story of your loved one's unique life. Leave a memory or share a photo or video below to show your support.