OBITUARY
Marjorie "Margie" (Tindall) Burdette
November 10, 1926

–

September 13, 2022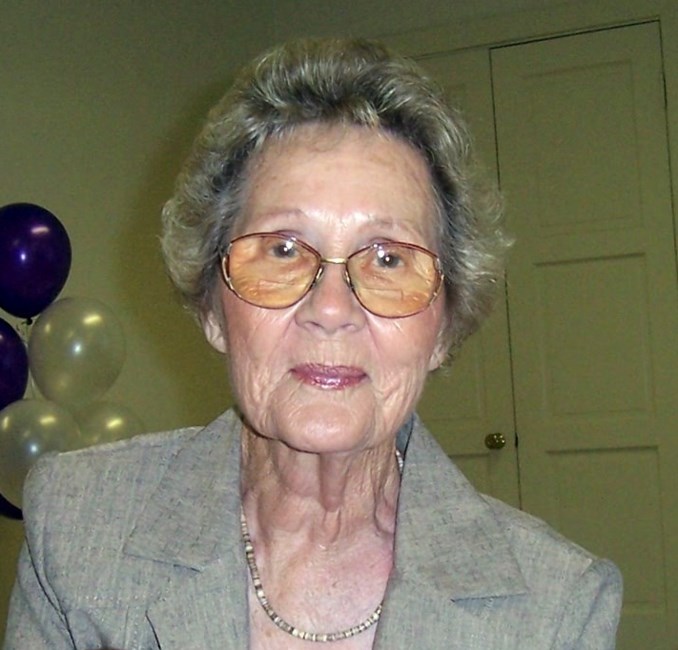 Marjorie "Margie" Gloria Tindall Burdette was born in Cameron, Texas on November 10, 1926, to Edward Bruce & Josephine C. Story Tindall. She passed away peacefully in Nacogdoches, Texas on September 13, 2022, surrounded by her family. Her life was spent in service to her family, her friends, and God. Margie was one of seven (7) siblings and spent her childhood days in Milam, Texas. She shared many happy memories with her four (4) sisters and two (2) brothers and kept in contact with them throughout their entire lives. She married Arthur Lee Burdette in July of 1945 at the young age of 18 years old. The Burdette family gladly welcomed her to their family and absolutely adored her. Margie dearly loved all her in-laws, nieces and nephews and maintained contact with them the best she could. After 13 months in a peaceful marriage, Margie gave birth to her first child, Don. He would become the first of four (4) sons. After Don, there was Ray, then Doug, and on the final attempt for a girl with the statement by Margie for which he was named, "Mark my word, if this is not a girl, I am done," she then had Mark in 1958. After that, she was done! Her boys were her pride and joy. She loved them with all she had no matter what the circumstances, would travel to the ends of the Earth for them and always bragged on their many accomplishments. Margie always made sure her boys worked hard, dressed nice and lived healthy, happy lives. In 1959 Margie moved her family to Nacogdoches and settled in a home in the Central Heights community. When she was not managing a household full of boys, Margie was an accomplished seamstress, making most of the dresses she often wore to church. Margie also dedicated her time to being a precinct election chairperson in the local precinct voting office where she loyally served her community with her work for over 30 years. She loved to visit with the voters and made it a point to encourage everyone to get out and vote each year. After serving time at the election office and with her husband of 48 years passing away, Margie showed her strength and determination by beginning her infamous hobby of garage selling. She not only attended all the local garage and estate sales, she made it a sport. Every Wednesday morning, she mapped out her targeted locations from the local newspaper. When Friday rolled around, the race was on! Margie and her best friend, Charlotte Perry, would head out in the dark of morning to make sure they were the first ones to scoop up all the hot ticket items. The two of them were unstoppable and by the time they were finished, everyone else was just getting started and most likely disappointed at what they found. She was always so proud of the treasures she brought home and loved showing them off to her family. After collecting her treasures, Margie would spend countless hours washing, disinfecting, and refinishing the items for resale at "the shop," which was formerly her husband's wrecking yard. For over 15 years, she bought and resold used items from clothes to toys and small appliances, all the way up to furniture. The business became so large that her purchases had to reduce to only new and used furniture. From all of Margie's hard work and dedication, she individually established the Burdette Furniture store we see today, and, with the help of family, the store continues to operate successfully. In 1967, Margie proudly took on the role of "Grandma" and remarkably her first grandchild was a girl! When she was not working her business throughout the years, Margie enjoyed visits from her thirteen (13) grandchildren and loved to see them participate in various activities. She would always call and check on them throughout the year, but her favorite time of year was when they all came together to her house for Christmas. Margie enjoyed cooking her famous spaghetti and meat sauce, pinto beans, fresh rolls and deviled eggs for her family's Christmas dinner. Her family would argue, however, the best thing she cooked was her heavenly white pecan divinity, pecan pies, chocolate-covered caramel turtles and peanut butter balls. Margie found joy in the simple things in life. Her rose bushes and huge magnolia tree were always a joy to maintain in her yard. She would drink water or orange juice, eat salad and tomato sandwiches grown at home for lunch, then loved to shop at Mize Department Store in Nacogdoches or Clark's in Lufkin. She also collected a variety of knick-knacks including frogs, rabbits, high-heeled shoes and miniature tea sets. At a very young age, Margie dedicated her life to God and spent over 40 years as a member of the Mahl Baptist Church. She loved her church family, was loved by them, and enjoyed their visits each Sunday. Throughout her life, Margie was an example to others for how to love your family, work hard for the things you need, and be respectful to those who deserve it. She was gracious, humorous, thoughtful, and faithful to her friends, family and most importantly, God. In her final years, she experienced and overcame many health issues, but after a life of helping others, she deserved all the care and love she received. Her family made sure she had the best care, and that care is much appreciated by her family. Margie is survived by her sister, Dolores Pavelek of Lakeway. She is also survived by her four (4) sons: Don Burdette and wife, Beverly, of Austin; Ray Burdette of Pearland; Doug Burdette and wife, Karla, of Nacogdoches; and Mark Burdette of Nacogdoches. She is also survived by her thirteen (13) grandchildren: Kimberly Burdette of Austin; Kevin Burdette and wife, Angie, of Manor; Kelly Wilson of Pearland; Shelly Michalk of Burleson; Thomas Burdette and wife, Katey, of Pearland; Cristin Crofford and husband, Heath, of Douglass; Doug Burdette, Jr. and wife, Kodi, of Midway; Kristina Taylor and husband, Adam, of Nacogdoches; Suzanne Monzingo and husband, Tim, of Nacogdoches; Briley Burdette of Martinsville; Blake Fluevog and wife, Marcy, of Roswell, GA; Brandi Burdette and significant other, Tyler, of Rusk; Jeffery Burdette and wife, Bridgett, of Nacogdoches. She is also survived by her twenty-eight (28) great-grandchildren: Kailey, Allye, Gracie, and Samantha Toal, Kevin Jr. and Corie Burdette, Dane'e and Kayla Alston, Jared and Jordan Michalk, Tori Williams, Taylor Burdette, Hayden and Camden Crofford, Gage Burdette, Noah Hewitt, Piper Taylor, Adyson Gibson, Zoe and Eleanor Rose Monzingo, Blake and Jaycie Latham, Margaret Fluevog, Layken and Sladen Gresham, Easton Gloyna, Hadleigh and Carson Burdette. She is also survived by several great, great-grandchildren for which she was proud. Margie is preceded in death by her parents, Edward Bruce & Josephine C. Story Tindall; her husband of 48 years, Arthur Lee Burdette; her brothers, John Ed and Pete Tindall; and her sisters, Pauline Kennedy, Vance Mims, and June Davis. She is also preceded in death by her daughter-in-law, Paulette Burdette. A visitation for Margie will be held Tuesday, September 20, 2022, from 5:00 – 7:00PM at Cason-Monk Metcalf Funeral Home, 5400 North Street, Nacogdoches, Texas 75965. A funeral service will occur Wednesday, September 21, 2022, at 2:00PM at Cason-Monk Metcalf Funeral Home with Interment and Graveside Service to follow at Sunset Memorial Park in Nacogdoches, TX. Serving as pall bearers are Kevin Burdette, Doug Burdette, Jr., Blake Latham, Jeffery Burdette, Heath Crofford, George Perry, and Cody Tinkle. In lieu of flowers, the Burdette family requests all donations in honor of Marjorie "Margie" Tindall Burdette be made to Mahl Baptist Church, 12304 US Hwy 259, Nacogdoches, TX 75965. Fond memories and expressions of sympathy may be shared at www.casonmonk-metcalf.com for the Burdette family.
See more
See Less
DONATIONS

Mahl Baptist Church

12304 US Hwy 259, Nacogdoches, Texas 75965
Past Services
Tuesday,
September 20, 2022
Visitation
Wednesday,
September 21, 2022
Funeral Service
In Memory Of
Marjorie "Margie" (Tindall) Burdette
Help tell the story of your loved one's unique life. Leave a memory or share a photo or video below to show your support.