OBITUARY
Mary Frances Mannion Johnson
April 1, 1929

–

January 24, 2023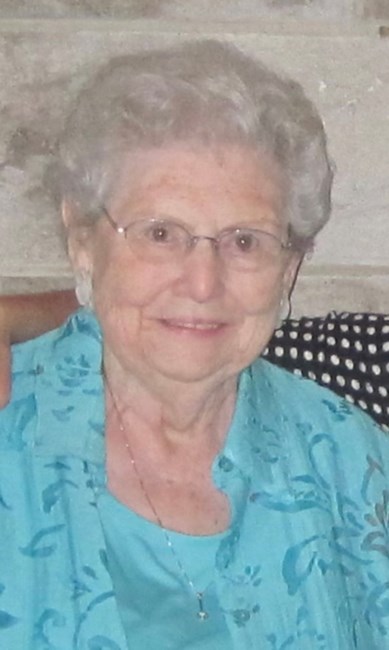 Nashville, Tennessee – Funeral services and Mass of Christian Burial for Mary Frances Mannion Johnson, 93, of Nashville, will be at 9 am on January 30, 2023, at St. Ann Catholic Church, 5101 Charlotte Avenue, Nashville, TN, celebrated by Rev. Mark Simpson. Burial will be in Calvary Cemetery, Nashville. Visitation is from 2 to 5 pm on January 29, 2023 at the Marshall-Donnelly-Combs Funeral Home, 201 25th Ave N, Nashville, TN 37203, concluding with a 5 pm rosary. Memorials may be made to the Tennessee Justice Center, or Tuition Assistance Funds at any of the following schools: St. Cecilia Academy, Father Ryan High School, or St. Ann School. Offering of Masses for the repose of the souls of the Faithful Departed including Mary Frances are also encouraged and appreciated. Mary Frances died early Tuesday, January 24, 2023, at Nashville's St. Thomas Hospital. She had fallen and broken her hip on Saturday, had surgery Sunday, and then a stroke on Monday morning. After each setback, she bounced back as usual, with a smile on her face. But in the wee hours of Tuesday, her body gave out, and her soul headed to a greater place. Mary Frances Mannion was born on April 1, 1929, in Nashville, Tennessee, the second daughter of Michael Francis and Suzanne Martin Mannion. Her mother passed 11 days after giving birth to Mary Frances, due to complications from the birth which also endangered Mary Frances. She was not expected to live, but she sure proved them wrong, an April Fool's miracle, living a productive and joyful 93+ more years. Her widowed father married Frances Josephine Martin, who was devoted to Mary Frances and Sue Ann and raised them as her own. Mary Frances attended St. Cecilia Academy for twelve years, as did Sue Ann. In May 1938 they both received the sacrament of Confirmation at Christ the King Catholic Church in Nashville, the very first group of young Catholics to be confirmed at the new parish that the Mannions were instrumental in founding. Mary Frances and Sue were forever loyal and devoted to their St. Cecilia classmates and SCA. They loved those St. Cecilia reunions. Mary Frances also attended Watkins Finishing School, where she acquired lifelong and abundantly used skills in sewing, millinery, and cooking. When her sister, Sue Ann, married Phillip Simpson, the Mannion family grew exponentially and there were eventually 9 little Simpsons running around a household that would come to include Mary Frances, (aka "Bubba"), Frances Josephine, (aka "Doe"), and Aunt Catherine Martin, (Aunt Cath). It was rumored that Mary Frances was looking for a vacation from the bedlam when she married the recently widowed Richard Francis Johnson on July 5, 1965. Richard only had 5 little ones! As her stepmother Frances had done, Mary Frances took on her newly adopted children as her own. She insisted the children call her by her nickname, Bubba. She didn't intend to "replace" their mother, just to continue the task of raising them lovingly, and in her own way. Four years later, Mary Frances and Richard and the five Johnson children welcomed Michele into the family. Mary Frances worked for Genesco, Cain-Sloan, and Castner Knott as a comptometrist before marrying. In those days, she actively volunteered, teaching religion to inmates at the Tennessee State Women's Penitentiary. She was an active parishioner of St. Ann's since 1965, volunteering in a wide array of church and school activities, as well as faithfully attending Mass. Her good works for the parish helped her get dibs on the gymnasium for years for an annual Thanksgiving Day feast for the Johnson and Simpson clans with attendance sometimes close to 100. There were almost that many basketballs, footballs, volleyballs, and kickballs flying around the gym floor. She volunteered early and often with the Ladies of Charity and the Catholic Business League. As an empty nester, she somehow got bored despite always being on the run, and started a catering business, catering weddings and other private events. She was known for feeding chili to wrestlers, officials, coaches, and sportswriters from around the state and beyond at the annual Father Ryan Wrestling Invitational. The unfortunate lighter weight wrestlers could only drool as they watched the heavyweights chow down. As Mary Frances and Richard's children married and started having children, "Granny" stayed busy sewing Christmas stockings and quilts, and knitting blankets for each new grandchild. Then she started adding on the children of her nieces and nephews, and eventually her great grandchildren. There wasn't a fabric or sewing store in greater Nashville that didn't see her stalking their store for great deals. She also started going to ceramics classes and creating her own work. She gifted nativity sets and Santa Claus cups and pitchers to her children, grandchildren, and nieces and nephews. Those left to cherish Mary Frances's memory are her six children and spouses, Sharon and Wayne Hutchens, Birmingham, AL; Ricky and Lynn Johnson, Donelson; Michael and Barbara Johnson, Bettendorf, Iowa; David and Karen Johnson, Charlotte, NC; Regina and Dr. Angelo Canonico, Nashville, and Michele Johnson and Jeff Hill, Nashville. Granny leaves 23 grandchildren and 27 great-grandchildren, with two more on the way. She had 9 nieces and nephews on the Simpson side, 29 on the Johnson side. A number of those nieces and nephews have preceded her in death. Nearly everyone in this large group, sans the infants, can tell you a funny or loving story about the woman they either called Bubba, Granny, Mary Frances, or Mama. She wasn't good at hiding in a corner at an event, she was always lively and in the mix. Some people might even say she had a few opinions about most everything, and she was plenty willing to share them! Mary Frances was preceded in death by her husband, Richard, who died in 2003, and who she cared for tirelessly as he declined with dementia. She was also preceded by her parents, her sister and brother-in law, Sue Ann and Phillip Simpson. All of Richard's 8 siblings and their spouses preceded her in death, all of whom she grew close to quickly. She graciously welcomed Richard's dependent sister, Mary Johnson, into her home and into the family, where she lived her later years in life. The family wishes to thank Mary Frances's loving caregivers of the past, the remarkable Ann Esaw who became a true friend to Granny as she cooked, cleaned and ran her around town for the past 4 years. In the past year or so, Alice Jenkins-Corlew joined the team. Both Alice and Ann were good with that delicate balance of letting Granny "show off" what physical skills she still had, while making sure she didn't overdo it. They let her stay stubborn but safe. We also greatly appreciate those many folks who have reached out over these more challenging later years of her life to provide her friendship and companionship and take her along for foot massages, hair and nail appointments, or to just come for a visit at her home in the Cloisters. (By the way, she did NOT miss nail appointments and always had bright shiny impeccable red nails to show for it.) Thank you, Carol Johnston and Barbara Mitchell Douglas, all the loyal Cloister friends, the St. Ann's kids who visited her and brought her lunch and smiles; nieces, nephews, everyone. Thanks also to the kind Christ the King folks who ministered to her over the last few years when she had moved into the Hill/Johnson home in her old stomping grounds in Belmont. Finally, to Michele Johnson and Gina Canonico, your siblings are forever grateful to you for the loving care and sacrifices you have made to support Mary Frances and to assure that she lived and enjoyed her final years in the home environment that she so cherished. Jeff and the Hill boys are remarkable. And what a blessing to have a doctor in the family to give us the lay explanation of all of those medical terms! Angelo is awesome. God bless all of you. Fond memories and expressions of sympathy may be shared at www.marshalldonnellycombs.com for the Johnson family.
See more
See Less
Past Services
Gathering of Friends and Family
In Memory Of
Mary Frances Mannion Johnson
Help tell the story of your loved one's unique life. Leave a memory or share a photo or video below to show your support.