OBITUARY
Walter Bruce Burch
January 30, 1953

–

March 12, 2022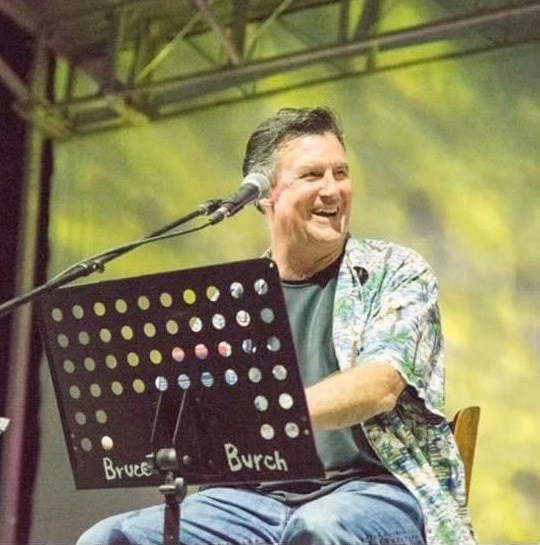 Bruce Burch said goodbye on the kind of morning you'd write a song about – a snowy white one that caught March by surprise. Surrounded by love and completely at peace, Bruce's final words can be found in the thousands of songs he wrote. Songs that will always live on. Bruce wrote tales of young love and scorned lovers, honest work and hard living. He could turn your eyes into a faucet or bust your gut and double you over, sometimes in the course of the same song. He was a craftsman who never stopped building stories, including his own which was the most preposterous, yet impressive, of all. His story started in Gainesville, Ga, the poultry capital of the world where he learned the value of hardscrabble hustle chasing chickens on the farm. The middle child to his beloved parents Rebecca and Iris Burch, young Bruce was relentlessly charismatic, idolizing and terrorizing his older brother David, and protecting and provoking his little sister Cindy. His boundless energy and effort made him a football star at Gainesville High, where he roamed sideline to sideline as an undersized linebacker with an oversized heart. He was an All-American boy who transcended cliches and connected with everyone: the jocks, nerds, hippies and high-falutin' types, all counted Bruce as a friend; and the supportive community he built in Gainesville would forever cheer him on as he chased his dreams. His football skills took him to East Tennessee State University where the losses piled up and he packed it in, saying goodbye to the gridiron and hello to classic city. In his time in Athens at UGA, he added hundreds of brothers and drank thousands of beers, picking and plucking and writing songs between sorority soirees. It was there Bruce met his lifelong best friend and angel on earth, Cindy Spillman. Cindy and Bruce threw caution to the wind and blew into Nashville on a song and a prayer. Success did not happen overnight. Bruce took on odd jobs and made odd friends. He cooked a lot of beef and carried a lot of baggage: Running a hot dog stand and helping to inspire the beginnings of the Bluebird Cafe; meeting Reba, the woman who would one day deliver him his first number one hit, as a desk clerk at the legendary Hall of Fame Motor Inn. Throughout this time, he wrote and wrote and wrote. He believed that great songs were undeniable and that if you wrote enough and pitched 'em with passion, success would happen. His persistence and work ethic paid off as the 1980s and '90s brought him breakout hits and songs recorded by Reba McEntire, Faith Hill, George Jones, The Oak Ridge Boys, Aaron Tippin, and many more. The song he was perhaps most proud of was T. Graham Brown's "Wine Into Water." The many lives changed by that song meant so much to Bruce and helped inspire him to write the book, "Songs That Changed Our Lives" which was published in 1996. Bruce parlayed his songwriting success into a job as a Creative Director at EMI Music Publishing where he put his passion into helping young songwriters and musicians. He knew the toughness it took to make it in this town and it brought him so much joy to connect people and help them as they were starting out their careers.That passion for mentorship and developing talent led him to start a music business program at the University of Georgia. He went on to help jumpstart similar programs at Kennesaw State University and Brenau University with many of his students going on to find industry success thanks, in part, to the lessons they learned from him. Bruce's storied life also brought him and Cindy two children, Sarah (The Loyal Child) and Matthew (The Favorite Child). They were the joys of his life and the two things he poured himself into the most. He showered them with love ("I love you MTLI"), coached their ball teams to McCabe championships (Produce Place #1!), and served as a short-order cook with a menu custom to whatever craving they had ("Jean-Tal at work in the kitcheeeen; he loooves to work in the kitchen"). His children never doubted their dad was proud of them, and they hope he never doubted that they adored him. Bruce's nieces and nephews, Mackey and Bennett Burch, and Scott and Robert Haynes, and his sister-in-law Terri Burch and brother-in-law Mike Haynes were also near and dear to his heart, and the times he spent with his siblings, David and Cindy, and their families brought him so much joy. Bruce spent the last years of his life in Nashville continuing to write daily and enjoying spending time with his four precious grandchildren, Lucy and Maisy Stenzel, and Jack and Walter Burch, his two children and their spouses, Dana Burch (the daughter outlaw) and Rob Stenzel (Uncle Wobbie). He could be found on every fall Saturday (Go Dawgs!) and on many other afternoons (often conveniently at mealtime) hanging out with Cindy and her husband Joe Mulherin. Cindy and Joe provided exceptional care and friendship to Bruce as he battled through countless health setbacks over the years, and he was incredibly grateful for their unconditional love and support. Our fingers are all crossed that their unconventional arrangement becomes a sitcom one day. We are completely devastated to say goodbye, but the stories and tributes you've shared have comforted us and shown the incredible impact that Bruce made in this world. To the many people out there who knew and loved him, know that he loves you back. His heart was the size of history and he fit a place in it for everyone. It's truly incredible how one man can touch so many. And he's not done. He lives on every time you pour your full heart into your life's passion. Every time you tell someone, "I believe in you." He lives on every time you sing a song. So, sing 'em loud and hold the ones you love close. Bruce Burch will be listening … and loving every lyric that life brings. ************* We'll celebrate Bruce's life with songs and stories on April 24 in Nashville. There will also be a celebration for Bruce in his hometown of Gainesville, Ga at a date to be determined. More details to come. In lieu of flowers, we request that you simply help a friend or make a donation in Bruce's name to the John Jarrard Foundation (https://www.johnjarrardfoundation.com/donate/). In 2001, The John Jarrard Foundation was formed through the leadership of Bruce Burch & Friends. Donations are distributed to: Boys and Girls Clubs of Lanier, The Good News Shelter and The Good News Clinics. Fond memories and expressions of sympathy may be shared at www.marshalldonnellycombs.com for the Burch family.
See more
See Less
Services
No services are scheduled at this time. Receive a notification when services are updated.
RECEIVE UPDATES
In Memory Of
Walter Bruce Burch
Help tell the story of your loved one's unique life. Leave a memory or share a photo or video below to show your support.