OBITUARY
Gertrude Colangelo
November 15, 1933

–

October 7, 2021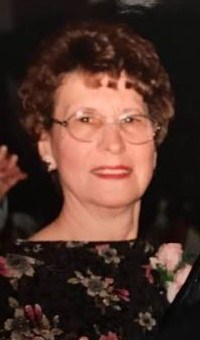 Gertrude Colangelo passed away on Thursday, October 7th at Sarah Brayton Nursing Home in Fall River, MA where she was staying after a stroke suffered at her home at 146 Maryland St., New Bedford, MA.
Born on November 15, 1933 the daughter of Joao Terraboa and Julia (Teixeira) Terraboa in Arco da Calheta, Madeira Portugal, she was the youngest of 14 children.
Gertrude married the love of her life, Camille Colangelo, on September 24th, 1960. Gertrude is survived by her sister Mary 'Carnation' Terraboa; her sister-in-law Mary 'Jesus' (August) Terraboa, of Delhi, CA; her son Carl Colangelo and his wife Carolyn (Howcroft) Colangelo; her son Camille Colangelo and his wife Kristina 'Tina' (Bergeron) Colangelo, Granddaughters Isabella Colangelo and Mia Colangelo all of New Bedford, MA; and several nieces and nephews.
Around 21 years old, Gert came to the US living briefly in Lowell, MA then Taunton MA where, while ballroom dancing, she met her husband Camillo, "Camille" at the Roseland Ballroom. They were married on September 24th, 1960 at Saint Anthony's church in Taunton, MA. They had two boys: Carl and Camille.
Gert loved gardening, cooking, dancing, family, and the great number of friends Camille and her shared. She was well known for her "green-thumb" and proud of the roses and a few exotic plants from her native Madeira and elsewhere that she grew, a passion which her son also enjoys. We all loved the home-made raviolis that were our family tradition created often and especially during Christmas and Easter. She stayed in-touch with family and friends from around the globe; her relatives here in the US, Canada, Australia, Venezuela, Madeira, Portugal and Italy for most of her life. The stories she and Camille told encompassed all of life's challenges and joys. Gert dearly loved ballroom dancing with "the love of her life", her husband, Camille.
Gertrude lived in Taunton, MA and first worked at a Dress manufacturing company that originated in Taunton and later moved to Brocton MA until a year after her marriage when she moved to 146 Maryland St in New Bedford, MA when she took a job at OV Dress manufacturing of New Bedford, MA. She worked until OV closed its' doors. Gert then worked for garment maker Ronnie's Manufacturing until her retirement.
Gertrude was a role model for her children and grandchildren, we never heard her swear, her patience was extraordinary and taught us to cook, clean, take care of the animals, tend the garden, and some tasks that do not exist in these modern times. The principals she enforced in order: Eat a good breakfast, we could even be late for school if conditions caused us to get up late; education, often allowing us to not do our chores if we had excessive homework or a test to prepare for; family work and caregiving and being decent people. It is difficult to model this, or more likely we were just not as good as she was at this.
Grandma-Gert spent as much time as possible every day of her life with her two granddaughters Isabella and Mia. She took care of them during the day, playing with them, cooking for them, and teaching them as she tried to teach her boys. She was always there to help when they were not feeling well. She often reminded us that Isabella and Mia were the true joy in her life. Some of Isabella's and Mia's fondest memories were; in the food Grandma prepared for them, the dress-up games she played along with them, and the many times spent outside her home, at-the-park, and being with her visiting her friends in the area.
However you knew her; Mrs. Colangelo, Mrs. C, Gertrude, Gert, Grandma, Ma; we all loved her and thank her for what she shared with us, taught us, and that part of life we walked together – We Love her and, will always remember her.
She "Ma" will be truly missed but remain in our thoughts, prayers and memories for the rest of our lives... her last words repeated often "every day of my life…"
Calling hours will be held on Thursday, October 14, 2021 4-7 PM at the Rock Funeral Home, 1285 Ashley Blvd., New Bedford. Funeral, Friday, October 15, 2021 at 9AM from the funeral home followed by a Funeral Mass at 10 AM at St. Gabriel the Archangel Parish, 343 Tarkiln Hill Rd., New Bedford. Burial services immediately following Mass at Pine Grove Cemetery. For online tribute/directions: www.rock-funeralhome.com.
See more
See Less
Past Services
Thursday,
October 14, 2021
Visiting Hours
In Memory Of
Gertrude Colangelo
Help tell the story of your loved one's unique life. Leave a memory or share a photo below to show your support.