OBITUARY
Mollie Brewster Broussard
January 27, 1931

–

December 25, 2018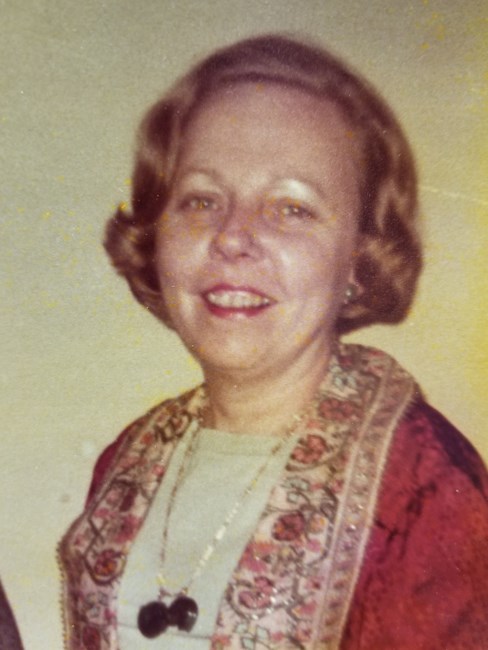 Mollie Brewster was born January 27, 1931 to Mollie Nona Butler Brewster and Robert B. Brewster in Oklahoma City, OK. She grew up in Edmond, Oklahoma, graduated from Edmond High School, then attended Mary Hardin-Baylor University in Texas and received her BA degree, summa cum laude, from Central State College in Edmond, OK. She later earned a Masters degree in Rhetoric and Public Address from the University of Oklahoma. After graduation from CSU she taught Speech at Purcell High School in Purcell, OK where she organized a chapter of the National Forensic League (NFL) and coached the debate teams and individual student speakers to winning records in statewide competition and National NFL tournaments for several years. In 1955 she moved to Bellaire, TX where she continued teaching Speech and coaching students in debate and individual speaking contests beginning with the first class of students at Bellaire High School. She began the Bellaire High School Speech Tournament which became the largest high school speech tournament in the country and the first to introduce a College section at a high school NFL tournament. Her teams won consecutive sweepstakes awards and she was named Coach of the Year at the NFL national tournaments for several years. Among her students who have said she was the greatest influence in their lives are included Stephen Jones, prominent attorney in Enid, OK, David Berg, leading trial attorney in Houston, TX, Dr. Michael Lewis, orthopedic surgeon to most of Chicago's sports teams, Dr. Nick Bryan, nationally celebrated radiologist, Victor Emanuel, owner of the largest bird watching travel company, Eugene Keilin, the investment banker who saved NYC from bankruptcy, John Williams, retired Presbyterian pastor who has just published a book in response to her telling him years ago she thought he should write, and Lance Wilson, who served in the Reagan administration. Mollie moved to New York City in 1962 where she taught at Hunter College. In 1967 and 1968 she was the ghostwriter of Congressman Paul Findley's book The Federal Farm Fable, a critique of US farm policy. Thomas Rollins Broussard was the most successful of her students in mastering the techniques of persuasive speaking that she taught when he won the single judge's vote in a special category of oratory called "original proposals of matrimony". On January 13, 1968 she married Tom at the Harvard Club of NYC and sailed on the SS France on their honeymoon. That began a shared lifelong love of French cuisine and all of the arts of 18th century France and 50 years of travel in France. In 1972 she and Tom moved to Los Angeles where she supported him in his legal career and helped establish a couturier who dressed her for the rest of her life from fabrics, buttons and trims she purchased in annual trips to Paris. Beginning in 1986 she and Tom divided their time between Los Angeles and New York City. In 2004 they moved permanently to NYC where she resided for the next 14 years. During that time she mentored the back elevator operator of her apartment building to become an author in his own right and a co-author of 14 books with James Patterson, the most successful mystery writer in America. She enjoyed dining out with friends, always fashionably dressed and appropriately bedecked with jewelry presented to her by her husband on the many birthdays, anniversaries and Christmas mornings they spent together. She continued to travel to France for 2-3 months each year where she enjoyed dining at fine restaurants, staying at Palace hotels, finding materials for her seasonal collections of suits, collecting art, antiques, objets de virtu, and fashion accessories from antique stores, flea markets, vide grenier sales, depot-vents and haute couture establishments. Along the way she made many friends among the dealers, merchants and chefs of France, particularly in Paris, who lit candles in the Cathedrals of Paris and Nice and observed moments of silence in their restaurants on the news of her death. She also explained to a young immigrant from Mauritius, who happened to push her wheelchair through Charles de Gaulle airport one day, the meaning of the French word "entrepreneur" and helped him begin what became the most successful meet-and-greet business in Paris. Predeceased by her parents and her sister, Roberta Ann, she is survived by her husband of nearly 51 years, Thomas R. Broussard of New York City, and her nephew Corey Gabler of Shreveport, LA. She will be remembered and missed by an enormous number of people whom she mentored to success and others she generously befriended around the world. Graveside services will be held at 2PM Friday, January 4, 2018 at Memorial Park Cemetery, Oklahoma City, OK. Visitation will be held from 11AM to 1PM at Memorial Park Funeral Home. EULOGY FOR MOLLIE BREWSTER BROUSSARD BY HER HUSBAND THOMAS R. BROUSSARD I DON'T THINK I CAN GET THROUGH THIS EULOGY WITHOUT BREAKING DOWN, SO LET ME BEGIN WITH MY ENDING. I AM PROUD TO SAY, "I LOVED MOLLIE WITH ALL MY HEART", AND I WILL MISS HER ENORMOUSLY UNTIL I DIE. THANK YOU ALL FOR SHARING YOUR LOVE FOR HER AND FOR ME BY JOINING US TODAY TO WISH HER GODSPEED ON HER FINAL JOURNEY. I WON'T BOTHER TELLING YOU MUCH ABOUT MOLLIE'S REMARKABLE ACCOMPLISHMENTS. I PUT MANY OF THEM IN THE OBITUARY THAT I WROTE FOR THE MEMORIAL WEBSITE. I WILL SUMMARIZE THEM BY SAYING THAT AN ENORMOUS NUMBER OF THE REMARKABLY ACCOMPLISHED PEOPLE WHO HAD THE PRIVILEGE OF KNOWING MOLLIE HAVE WRITTEN TO ME THAT MOLLIE WAS THE MOST INFLUENCAL PERSON IN THEIR LIVES. THAT COMES AS NO SURPRISE TO ME, WHEN I REFLECT ON THE INFLUENCE SHE HAD ON ME. YET, WHENEVER I TRIED TO TALK TO MOLLIE ABOUT HER IMPACT ON SO MANY PEOPLE, SHE WOULD BRUSH IT OFF, SAYING SHE DID NO MORE THAT GIVE PEOPLE A PUSH IN THE DIRECTION SHE THOUGHT WOULD HELP THEM REACH THEIR POTENTIAL, AND THEY DID THE REST. SHE NEVER REFLECTED ON HOW UNUSUAL IT WAS THAT SO MANY OF THE PEOPLE SHE HAPPENED TO PUSH HAD SUCH GREAT POTENTIAL TO ACHIEVE. I WILL READ YOU A FEW OF THE COMMENTS I HAVE RECEIVED: "NO ONE CHANGED MY LIFE MORE THAN MOLLIE. IT IS DIFFICULT TO IMAGINE SHE IS GONE. THE "TIME" COVER WITH YOUR PICTURE AND MOLLIE'S HANGS ON MY OFFICE WALL. AN ERA HAS PASSED." [STEPHEN JONES, ESQ.] "TOM - PLEASE ACCEPT MY DEEPEST SYMPATHY. SHE WAS A MAJOR FORCE IN MY LIFE." [VICTOR EMANUEL] "SO SORRY TO HEAR OF MOLLIE'S PASSING. THERE ARE FEW PEOPLE IN THIS WORLD OF WHOM IT CAN BE SAID THAT THEY ARE ONE OF A KIND, BUT MOLLIE WAS A TRUE ORIGINAL WHO TOUCHED ALL OUR LIVES." [SHARON KEILIN] "MOLLIE ASKED ME IF I HAD WRITTEN ANYTHING AND SAID THAT SHE ALWAYS THOUGHT I WOULD BE A WRITER. YOUR CONTACTING ME THROUGH MY PUBLISHER IS A SIGN OF HOW PROPHETIC HER WORDS PROVED TO BE." [REVEREND JOHN WILLIAMS] "I JUST PUBLISHED THE SECOND EDITION OF MY TRIAL LAWYER BOOK AND CORRECTED THE SPELLING OF MOLLIE'S NAME. I WANTED YOU TO KNOW I DIDN'T FORGET. YOU PROBABLY KNOW: MOLLIE CHANGED MY LIFE." [DAVID BERG, ESQ.] "WE KNOW THAT NOBODY LIVES FOREVER, BUT SOMEHOW IT SEEMED LIKE MOLLIE MIGHT." [EUGENE KEILIN, ESQ.] "I WILL NEVER FORGET HOW NICE MOLLIE WAS TO ME WHEN I WAS TRYING TO GET MY WRITING CAREER OFF THE GROUND." [MICHAEL LEDWIDGE, BEST-SELLING AUTHOR] "FOR MANY, MOLLIE SET THE STAGE FOR WHAT WE WOULD DO WITH OUR LIVES. SINCE JEAN AND I WERE INTRODUCED THROUGH MOLLIE, HER INFLUENCE WAS DOUBLED. OUR GRANDSON JUST STARTED HIGH SCHOOL, AND DEBATE, AND WINNING." [DR. R.NICK BRYAN] "NICK AND I BOTH ARE SO VERY SORRY TO HEAR OF MOLLIE'S DEATH. WHAT A TREMENDOUS INFLUENCE SHE HAD ON SO MANY OF OUR LIVES! IN FACT, MY UNIVERSITY MAJOR WAS SPEECH, AND I BECAME A MIDDLE SCHOOL TEACHER RUNNING THE DEBATE AND DRAMA CLUBS AFTER EACH SCHOOL DAY WHILE NICK WAS IN MEDICAL SCHOOL." [JEAN FAULKNER BRYAN] "I AM SO SORRY TO LEARN THAT OUR BELOVED MOLLIE HAS PASSED AWAY; MY HEART GOES OUT TO YOU IN YOUR TIME OF GRIEF. MY YEARS IN DEBATE HAD A LASTING IMPACT ON MY LIFE AND CAREER, AND OF COURSE MOLLIE WAS AT THE CENTER OF THOSE YEARS, A GUIDING PRESENCE THROUGH GOOD TIMES AND NOT SO GOOD ONES. I'LL ALWAYS BE GRATEFUL THAT SHE NEVER CONSIDERED REMAKING ME INTO A "SWEET, NICE GIRL DEBATER" BUT SIMPLY SHIFTED ME OVER TO BOYS' DIVISION WHERE I COULD SUCCEED AS MY OWN HARD-MINDED, SARCASTIC SELF. IT LATER SERVED ME WELL IN MY PREDOMINATELY MALE PROFESSION OF PHILOSOPHY PROFESSOR." [JEAN KITCHEL] " I WAS A STUDENT AT BELLAIRE HIGH SCHOOL WHEN MOLLIE WAS TEACHING THERE. SHE WAS A VERY BELOVED, SPECIAL PERSON WHO SUPPORTED SO MANY OF THE STUDENTS. MANY OF MY CLASSMATES OF 1960 WERE COACHED BY HER IN DEBATE AND WON MANY TROPHIES FOR THE SCHOOL. AT OUR 40TH REUNION IN THE YEAR 2000, WE ASKED CLASSMATES TO NAME THEIR FAVORITE TEACHER. YOU WOULD NOT BE SURPRISED BY THE LARGE NUMBER WHO NAMED MOLLIE. SHE WILL BE MISSED BY EVERYONE WHO KNEW HER. SHE TOUCHED MANY LIVES." [JUDYE HARTMAN] "WHEN THINGS SETTLE DOWN AND YOU HAVE THE OPPORTUNITY, I WILL TELL YOU A REMARKABLE STORY ABOUT MOLLIE'S PROFOUND, WIDE RANGING INFLUENCE." [DR. MICHAEL LEWIS] MICHAEL'S STORY WAS THAT HE WAS AT AN INTERNATIONAL MEETING OF THE FUTURISTS SOCIETY WITH ABOUT 1000 MEMBERS FROM ALL OVER THE WORLD. AT A BREAKOFF GROUP OF 30 PEOPLE THE MODERATOR, PROFESSOR DON BECK, BEGAN THE DISCUSSION BY ASKING EVERYONE TO TELL ABOUT ONE TEACHER WHO HAD BEEN A MAJOR INFLUENCE ON THEIR LIVES. HE BEGAN THE DISCUSSION BY TELLING HOW HE HAD BEEN AN INSECURE, STAMMERING STUDENT AT HIGH SCHOOL IN A SMALL OKLAHOMA TOWN NAMED PURCELL. A SPEECH TEACHER NAMED MOLLIE HAD SEEN POTENTIAL IN HIM THAT NEITHER HE NOR ANYONE ELSE SAW. SHE MADE HIM INTO A NATIONAL DEBATE CHAMPION. Dr. BECK LEFT THIS PART OUT OF HIS STORY. MOLLIE TEAMED HIM WITH ANOTHER STUDENT NAMED JOE. ACCORDING TO HIS OWN ACCOUNT, JOE WAS A BIT OF A HELLION AS A TEENAGER, BUT STRAIGHTENED UP AND DID WELL IN SPEECH AND DEBATE, THROUGH WHICH HE EARNED A SCHOLARSHIP TO THE UNIVERSITY OF OKLAHOMA. JOE AND DON BECAME STATE AND NATIONAL DEBATE CHAMPIONS. IN ADDITION TO HIS SCHOLARSHIP, JOE WON ADDITIONAL MONEY TO ATTEND COLLEGE FROM THE STATE-WIDE ORIGINAL ORATORY CONTESTS FOR AMERICAN LEGION, TOASTMASTERS AND OTHER CLUBS IN WHICH MOLLIE ENTERED HIM. JOE RETIRED A FEW YEARS AGO AS A JUSTICE OF A DISTRICT CIRCUIT COURT OF APPEALS OF THE STATE OF TEXAS. MICHAEL STOOD UP AND SAID, THAT IS THE SAME TEACHER WHO TAUGHT ME TO DEBATE IN HIGH SCHOOL IN TEXAS AND WAS THE GREATEST INFLUENCE ON MY CAREER. THE STORY SPREAD LIKE WILDFIRE THROUGH THE CONVENTION THE NEXT DAY, AND PEOPLE WHO SAW MICHAEL KEPT POINTING AT HIM AND SAYING "MOLLIE! MOLLIE!". HOW LIKELY IS IT THAT THE SAME PERSON WAS THE GREATEST INFLUENCE ON TWO FUTURISTS OUT OF 1000? PERSONALLY, I AM NOT THE LEAST BIT SURPRISED. BUT WHAT I WANT TO TALK ABOUT IS NOT MOLLIE'S INFLUENCE ON OTHERS, BUT WHAT SHE MEANT TO ME. IN THESE LAST FEW YEARS AS MOLLIE'S LONG AND UNCOMPLAINING STRUGGLE WITH ASTHMA, A BADLY INJURED KNEE, COPD AND KIDNEY DISEASE BEGAN TO WEAR HER DOWN, I WOULD SAY TO HER MORE AND MORE, "I LOVE YOU." SHE WOULD REPLY, "I LOVE YOU MORE." I WOULD RESPOND "I LOVE YOU THE MOST", AND THAT WOULD END OUR COVERSATION. ALTHOUGH I MEANT IT SINCERELY, I DOUBT THAT IT WAS TRUE. NO ONE COULD HAVE BEEN A MORE LOVING, SUPPORTING AND DEVOTED WIFE THAN MOLLIE WAS T0 ME. SHE SHOWED ME HER LOVE EVERY DAY OF THE NEARLY 51 YEARS OF OUR MARRIAGE AND THE YEARS OF OUR COURTSHIP BEORE THAT. WHEN WE WERE MARRIED SHE GAVE UP HER SUCCESSFUL ACADEMIC CAREER AND DEVOTED HERSELF TO HELPING ME. BECAUSE WE AGREED THAT IT WOULD BE GOOD FOR MY CAREER, SHE GAVE UP NEW YORK, THE CITY SHE LOVED, TO MOVE TO LOS ANGELES, A CITY SHE CAME TO HATE FOR ITS LACK OF INTELLECTUAL CHALLENGE AND SOPHISTICATION. SHE MOVED WITHOUT COMPLAINT, ALTHOUGH LATER SHE OFTEN SAID HER HEEL MARKS MUST STILL BE VISIBLE IN THE DESERT AS I DRUG HER ACROSS THE COUNTRY. SHE WAS THE INSPIRATION FOR MY ACHIEVEMENTS. HER CONFIDENCE THAT I COULD ATTAIN ANY GOAL WE SET FOR OURSELVES KNEW NO LIMITS. WITHOUT DOUBT SHE WAS THE WIND BENEATH MY WINGS IN ALL THAT WE ACHIEVED TOGETHER. I WAS SO PLEASED THAT IN THE LAST MONTHS OF HER LIFE SHE REPEATEDLY TOLD ME THAT I HAD PROVIDED HER WITH A LIFE MORE WONDERFUL THAN SHE HAD IMAGINED POSSIBLE AND HAD GIVEN HER ALL THE HAPPINESS THAT SHE DESIRED, BECAUSE THAT WAS ALL I DESIRED FROM OUR LIFE TOGETHER. MANY OF OUR FRIENDS HAVE TOLD US OVER THE YEARS THAT WE WERE THE MOST COMPATIBLE COUPLE THEY KNEW. WE WERE DELIGHTED, BECAUSE THAT IS HOW WE SAW OURSELVES. WE LOVED TO DO THE SAME THINGS, BUT ONLY IF WE COULD ENJOY THEM TOGETHER. WE BOTH HAD SIMPLE TASTES. WE WANTED SIMPLY THE BEST, WHETHER IT WAS OUR HOMES, THE 18TH CENTURY FURNISHINGS, ART AND OBJECTS THAT WE COLLECTED, DINING, TRAVELING, FASHION, OR A HAPPY, LOVING MARRIAGE. I AM HAPPY TO SAY THAT I THINK WE ACHIEVED IT ALL. FINALLY, MANY PEOPLE COMMENTED TO ME HOW THEY ADMIRED ME FOR TAKING SUCH GOOD CARE OF MOLLIE AND ASSISTING HER WITH HER HEALTH PROBLEMS. BUT THAT WAS MY PRIVILEGE, BECAUSE IT GAVE ME A CHANCE TO REPAY HER FOR ALL THAT SHE DID TO CARE FOR ME AND PROVIDE THE SUPPORT I NEEDED, WHICH SHE SELDOM LET OTHERS SEE. THAT'S WHY IT MAY NOT HAVE BEEN TRUE THAT I LOVED HER THE MOST. I THINK SHE MAY HAVE LOVED ME THE MOST. REST IN PEACE, MOLLIE. YOU WILL ALWAYS BE HELD FIRST IN MY HEART. EULOGY FOR MOLLIE B. BROUSSARD DELIVERED BY LANCE H. WILSON Mollie and Tom have been my dear friends for 50 years. I first met Mollie when I was a student at Hunter College and Mollie was a member of the faculty in the Speech and Theatre department. Mollie was a wonderful teacher with a great sense of humor who enjoyed provoking spirited discussions in class. After class I enjoyed conversations with Mollie about politics and found that we shared similar views on the issues of the time in the late 1960s. I'm sure many of you can relate to the fact that Mollie could bring me to tears with laughter from the way she described certain liberal politicians of that era. At that time Hunter College was a bastion of liberal views and Mollie was among the few on the faculty who expressed conservative ideas. Mollie coached me for debate team activities and various public speaking contests. For many years Hunter College hosted the annual Ottinger Public Speaking Contest. Often the contest judges were well known radio or TV personalities and the first prize was $500, which is equivalent to approximately $3500 today. Due to Mollie's coaching I won the Ottinger contest during my senior year in 1969. I set aside the prize money and a couple of years later used it when I purchased an engagement ring for my then girlfriend who has been my wife now for 48 years. Fortunately for me Mollie took an interest in my career and I have been indebted to her my entire adult life for the direct and positive influence she had on my life. When I was growing up my Dad was a policeman in New York and I had decided that I wanted to go to a local law school and then join the DA's office or perhaps the FBI. I discussed my plans with Mollie and I remember that she clearly insisted that I consider one of the top tier law schools and possibly pursue a career on Wall Street or with a major corporation. Due to Mollie's guidance and assistance I got into a top law school, spent several years with a major Wall Street law firm, and later enjoyed a career in real estate finance with a few Wall Street firms. From the 1970s until a short time ago my wife and I immensely enjoyed getting together with Mollie and Tom in New York as well as California. I cannot count the number of times we dined together at superb French restaurants. Just like Mollie my wife loves French cuisine. I happen to also enjoy Italian cuisine, but I never had the nerve to suggest to Mollie that we dine at an Italian restaurant. Mollie…I will remember and think about you for the rest of my life and I can never thank you enough for what you did for me.
See more
See Less
Services
No services are scheduled at this time. Receive a notification when services are updated.
RECEIVE UPDATES
In Memory Of
Mollie Brewster Broussard
Help tell the story of your loved one's unique life. Leave a memory or share a photo or video below to show your support.