OBITUARY
Yuval WALDMAN
December 21, 1946

–

February 1, 2021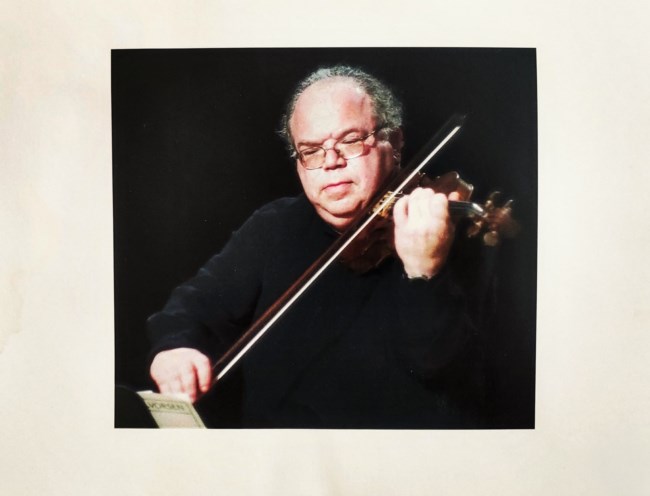 Yuval Waldman
(b. December 21, 1946 – d. February 1, 2021). Virtuoso Russian-Israeli Violinist; Musical Missionary; Beloved Husband, Father, and Grandfather
As Yuval Waldman told the New York Times in 1987, he was "put on this earth to make music happen."
He was born in post-war Soviet Ukraine; his parents Chaya and Eliezer Waldman were two of fewer than 300 Jewish survivors of Nazi atrocities from Kostopol, a small town in Western Ukraine. Eliezer and Chaya had met as children in Kostopol, then a bustling community with nearly 4,000 Jews.
When the Nazis invaded in summer 1941, and German soldiers and fellow Ukrainians began systematically slaughtering the country's Jews, Eliezer and Chaya, who were by then a young married couple, were sent in different directions. Eliezer was conscripted into the Soviet army, where he became a decorated officer, while Chaya fled with a group of young Jewish women and walked 1,800 miles to Uzbekistan, where shelter and a job had been arranged. Chaya, who suffered a miscarriage on the grueling march, survived the war by teaching Russian to Sovietized Uzbeks. After World War II ended, she returned to Kostopol, where she and Eliezer reunited.
With their town destroyed and their family and community decimated, they moved to make a life in Lvov, a larger city in Western Ukraine that offered more opportunities. At the time, Jews were barred from leaving the Soviet Union, so the Waldmans started their family in Lvov.
Yuval – originally named Vladimir – was born there in 1946; his sister Rina, who followed in 1951, recalls that their mother fed them butter as children, traumatized by her earlier loss.
When Yuval was four, he was transfixed by the sight and sound of a violinist playing as part of the pre-film entertainment in a movie theater, and begged his parents for an instrument and lessons. They agreed, an act that would shape the family's future.
While his parents' lives were indelibly marked by their Judaism, Yuval did not know his heritage until he was derogatorily called a Jew on the street as a child. When he responded in kind and came home to indignantly relay the story, his parents revealed their background. While Yuval did not yet identify strongly as a Jew, his musical identity and Soviet identity flourished, and he was selected to play solo violin on Soviet National Radio at the age of 7.
After Josef Stalin died in 1953, a brief liberalization window allowed Jews to leave Soviet Russia. Yuval's family was eventually were able to emigrate to Lodz, Poland; after a year in Poland and then nine months in immigrant camps in Austria and Italy, they arrived in Israel at an immigrant camp in the desert of Be'er Sheva in January 1957. Yuval – who already spoke Russian, Ukrainian, Polish, and a smattering of Yiddish – learned Hebrew quickly, and his name was changed from Vladimir to Yuval, the Biblical forefather of musicians.
Once Yuval was reunited with his violin, word of his talents got to the virtuoso Isaac Stern, who arranged for Yuval's music education and remained a mentor for years. Yuval's family was
relocated to Bat Yam, a suburb of Tel Aviv, so he could attend the renowned Samuel Rubin Israel Academy of Music (now the Buchmann-Mehta School of Music), from which he became the youngest-ever graduate in 1961.
Yuval loved playing in the great concert halls of Europe as a teen with the Israeli national orchestra during his time at the Rubin Academy, and when he graduated, Stern again stepped in, arranging a scholarship at Switzerland's Conservatoire de Musique de Genève, where he learned French and earned the Premier Prix de la Virtuosité. Much to his mother's chagrin, Yuval was not eager to return home; he thrived on the music and musicians of Geneva and Paris, and made money on the side entertaining and playing gypsy music in bars.
After Yuval's graduation from conservatory, Stern arranged for another scholarship to pursue graduate studies under famed violinist Josef Gingold at Indiana University. Through the financial support of the America-Israel Cultural Foundation, Yuval came to the United States in 1965, at the age of 19.
When he arrived for his studies in Bloomington, Indiana, he spoke 10 words of English. He later said he knew he had learned the English language and American culture when his roommates confirmed he was laughing at the right spots in the Johnny Carson show.
Yuval next completed additional post-graduate work in New York City at Juilliard, where he first met fellow student pianist and composer Cathy Walder (now Cathy Waldman). They married in 1970, and over the next quarter century collaborated in concerts throughout the United States, Europe, Israel, and South Africa.
Life wouldn't stay domestic for long, however; as an Israeli citizen, Yuval returned to Israel in 1973 to serve in the Israel Defense Forces, where he joined the intelligence and entertainment corps, playing his violin atop army tanks in the campaign in Sinai, Egypt.
He returned to the United States and living in New York City. With the addition of their son Ariel, born in 1974, the family, after a stint where he was concertmaster of the Kansas City Philharmonic, eventually settled in 1983 in Westport, Connecticut, a New York City suburb. Yuval became an ardent American patriot, becoming a U.S. citizen in 1987.
He amassed lofty artistic successes. A New York Times Review of one of his earliest Carnegie Hall recitals praised the "expressive sincerity and fighting intensity" of his playing, and its "sheer communicative warmth." The magazine Musical America later hailed his work as "brilliant."
Yuval stayed almost impossibly busy; on any given night, he might be found playing a recital in one of the world's notable concert halls, serving as concertmaster in the pit orchestra for a Broadway show, or presiding over a concert of one of the festivals he co-founded. Those included the Madeira Bach Festival in Portugal, the Opus Berkshire Festival in Massachusetts, the Benedictine Millenium Festival in Rome, and the Young Artists Strings Competition at Tchaikovsky's Homeland Center in Votkinsk, Russia. He was music director for the Mid-Atlantic Chamber Orchestra in Washington, D.C., served as first violinist in the acclaimed Kinor
String Quartet, and conducted and led major public concerts, including one in 2002 on the first anniversary of the September 11 attacks, performed on the steps of the U.S. Capitol.
With all of these accomplishments, he was perhaps proudest of his work using music to build bridges. In the 1980s and early 1990s, Yuval created, directed, and conducted the New American Chamber Orchestra, an orchestra for Russian refugees that became an important resource for immigrants seeking a foothold in the U.S. music community. In 2004, he also founded Music Bridges International, which promoted musical exchange between the United States and former Eastern Bloc countries, with a special focus on exchanges between the U.S. and Russia and the Czech Republic.
He took special pride in mentoring students through his work as Professor and Dean of the Strings Department at the State University of New York (SUNY) at Purchase, where he served from 1982-1994 as Chairman of the Strings Department, in musical education programs at dozens of high schools around the country, and through private lessons with aspiring young musicians.
Yuval and Cathy divorced in 1997, though they remained close. In 2008, Yuval met noted Judaica librarian and musicologist Lyudmila "Mila" Sholokhova when he was doing research for a Jewish music concert. They eventually bonded over their shared love for music, literature, Klezmer, and Yiddish, and their comfort conversing in Russian, and were married in 2010.
Yuval continued to teach, travel, lecture, and play violin into his early 70s. In 2016, he presented a powerful solo violin concert to celebrate his 70th birthday that included his original composition, Fantasy on Jerusalem of Gold.
He remained a devoted husband and father, as well as an ebullient and proud grandfather to Sarah, born in 2011, and Eli, born in 2014.
Following a series of health challenges, he passed away on February 1, 2021, at the age of 74.
Yuval is survived by his wife Mila Sholokhova and stepdaughter Valeriya Sholokhova, a cellist, of Brooklyn, NY; his son and daughter-in-law Ariel and Rachel Levinson-Waldman, public interest lawyers in Washington, D.C., and their children, Sarah and Eli; his former wife Cathy Waldman, of Washington, D.C.; his sister Rina Weiss, a pianist, of Tel Aviv, Israel; and his nieces, pianist Yael Weiss of New York, NY, and Shirit Weiss, Director of the Israeli Opera, of Ra'anana, Israel.
A Celebration of Life ceremony for Yuval Waldman is being planned for March 2021. His family asks that contributions in his honor be made to the America-Israel Cultural Foundation, https://aicf.org/
See more
See Less
Services
No services are scheduled at this time. Receive a notification when services are updated.
RECEIVE UPDATES
In Memory Of
Yuval WALDMAN
Help tell the story of your loved one's unique life. Leave a memory or share a photo below to show your support.