OBITUARY
Vidal "Billy" Valles
August 6, 1960

–

February 28, 2019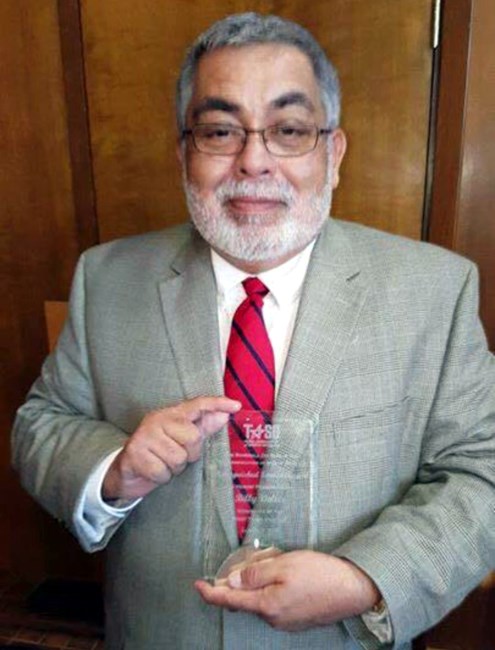 My last surveillance has been completed. My work here has been fulfilled. Vidal "Billy" Valles' time has ended where it started 58 years ago at Medical Center Hospital. Born August 6. 1960 to Judge Manuel Valles Sr. and Esperanza Esparza Valles, he was summoned home Thursday Feb 28 surrounded by his Family and Closest Friends. Billy was a Private Investigator for his firm Valles Investigative Agency. He also wore many hats that helped him live a happy life. In 2009 he worked as a Transport Officer for the Reeves Co Sherriff Dept. and in 2011 was selected as the Jail Administrator for the Pecos Co Sherriff Dept. Bill was also a member of the Southwest Baseball Umpires Association/ Texas Association of Sports Officials and the Texas Collegiate Umpire Association for well over 25 years. He served as President of the Permian Basin Chapter of the SUBA and Board Member for 10 Years. He was selected to work the High School Playoffs for 25 straight years and worked NCAA Division III and NJCAA Division I Baseball for 15 Years. After retiring from the Baseball Diamond, he was honored with the Distinguished Service Award in 2016 for Lifetime Achievement from the TASO State Office. Bill was an avid Texas Ranger's fan. He will be missed by his many Nieces and Nephews who knew him as Uncle "O". He would call them every Xmas and pretend to be Santa. This caught on as he would call his friend's kids all the same. He wore his Santa suit so proudly every Xmas to the family get-togethers. The kids would talk behind his back and say in a whisper "That's Uncle O". They will miss him as will the family. We will also miss the 3 or 4 calls you get from him every week like clockwork. He is preceded in his death by his Parents Judge Manuel & Esperanza Valles, Grandparents Vidal and Raquel Valles, Grandparents Macario and Guadalupe Esparza, and his Uncle Robert "Cheo" Esparza. He is survived by the Love of his life Rosalina (Rosie) Alvarado who he met in April 2004 and they have been walking side by side ever since. His sons, Billy Jr from Indianapolis, IN and Elias Alvarado from Houston. Daughter Camilla Parent & husband John, grandchildren Liam & Layla Parent of Pecos. Two sisters Rosie Valles and Husband Arturo Granado of Midland and Sophia Valles of Odessa. Two brothers David Valles (Rita) of Pearland and Manuel Valles Jr of Odessa. The Family would like to thank everyone for your thoughts, prayers, flowers and food offerings. Visitation will be Thursday, March 7, from 9am to 9pm. Rosary will be said at 7 pm at Hubbard Kelly Funeral Home. Services are slated for 1 pm Friday, March 8, 2019 at Holy Redeemer Catholic Church with Father Juan Cortez officiating. Burial will follow at Ector County Cemetery. Arrangements entrusted to Hubbard Kelly Funeral Home 601 N. Alleghaney Ave. Odessa, Texas 79761.
See more
See Less
FAMILY

Manuel Sr. and Esperanza E. Valles

Parents (deceased)

Rosalina Alvarado - Pecos, Texas

Wife

Vidal "Billy" Valles - Indianapolis, Indiana

Son

Elias Alvarado - Pecos, Texas

Son

Camilla Parent and Husband John - Pecos ,Texas

Daughter and Son-In-Law

Rosie Valles and Husband Arturo Granado - Midland, Texas

Sister and Brother-In-Law

Sophia Valles - Odessa, Texas

Sister

David Valles - Pearland, Texas

Brother

Manuel Valles Jr - Odessa, Texas

Brother

Mr. Valles also leaves to cherish his memories 2 grandchildren Liam and Layla Parent and a host of nieces, nephews who referred to him as uncle "O". He is also survived by many friends.
PALLBEARERS

Bob Garcia

Active

Robert Rodriguez

Active

Frank Villegas

Active

Danny Albidrez

Active

Justin Low

Active

Russell Sharp

Active

Mario Venegas

Honorary Pallbearer

Ruben "Rabbit" Herrera

Honorary Pallbearer

Moises "Boy" Hernandez

Honorary Pallbearer

Tony Chavez

Honorary Pallbearer

Judge Bill McCoy

Honorary Pallbearer

Perry McMillen

Honorary Pallbearer

Danny Garcia

Honorary Pallbearer

Paul Burnet

Honorary Pallbearer

Gary Harmon

Honorary Pallbearer

Jesse Gonzales

Honorary Pallbearer

Jerome Chavez

Honorary Pallbearer
In Memory Of
Vidal "Billy" Valles
Help tell the story of your loved one's unique life. Leave a memory or share a photo or video below to show your support.