OBITUARY
Henry Marshall Austin III
July 7, 1944

–

November 30, 2020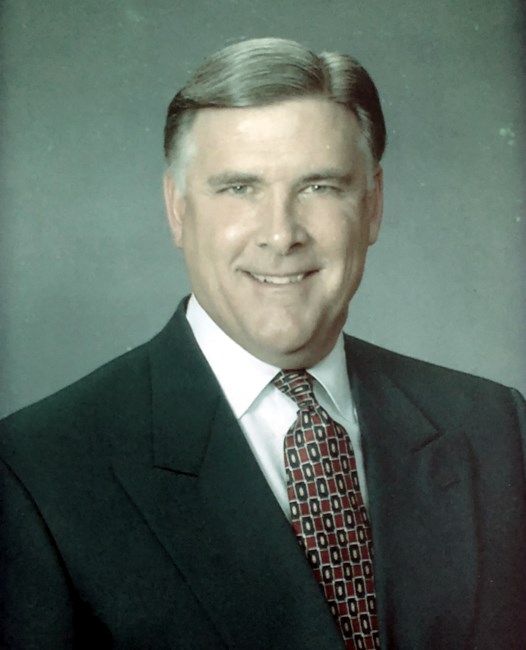 One of the world's most dapper men has gone to set a new standard behind the pearly gates. Henry Marshall Austin, III began his journey in Chuckatuck, Virginia. The son of an Army colonel, Henry Marshall Austin Jr. and his lovely bride, Addie Rawls Moore Austin, Marshall and his brother, William Rawls Austin, wreaked mayhem on the small town of Chuckatuck maintaining a tradition set by Austin family relatives (looking at you, Asa, Ed, Blackwell and Bill). Playing cowboys and Indians with real arrows, shooting a bull with a BB gun just to see what would happen, stealing piglets to get a sow to chase them and eating the local supermarket out of milk and bread on a near daily basis provided the foundation that led Marshall to Auburn University. A striking, tall and lean man, Marshall pledged the Lambda Chi fraternity and continued his childhood antics. Never one to show fear, he could be seen chasing his naked fraternity brothers down the street while holding a writhing snake. All of this charm led him to meet his bride of 54 years, Mary Masters Hines Austin. A southern belle from Montgomery, Alabama, Mary was a member of the Alpha Omicron Pi sorority and a pillar of the Auburn community. In an attempt to increase the moral standing of the Lambda Chi fraternity, Mary was a sweetheart candidate and she met Marshall. Marshall wooed Mary with style and grace as many of their dates were spent under the Holiday Inn sign collecting insects for Marshall's college courses and eating at Dairy Queen. While no fan of entomology, Mary and Marshall's fates were forever intertwined, and they married on December 17, 1966. The year before his marriage, Marshall's sister, Marietta Austin Stalcup, came into the world, surprising his parents and proving that children in middle age are indeed a blessing. Following in the footsteps of his father, Marshall participated in ROTC at Auburn and shortly after graduating was deployed to Vietnam. Marshall served in the US Army as a combat medic in what were some of the most powerful years of his life. Marshall earned a bronze star for meritorious service, among numerous other awards for service to his country. In 1969, Marshall returned to his bride Mary and met his oldest daughter, Susan Brooks Austin Gutierrez who was nine months old. He then began his military career stateside and internationally spanning 27 years. Marshall's second daughter, Ashley Ligon Austin Shive was born in 1971. Marshall raised his daughters with military discipline, never letting them sleep past nine am as half the day was gone by then and acquiring the nickname of "the bear" by boys that came to court. As Marshall rose to the rank of full bird colonel, the Austin family added multiple feline and canine members. In accordance with Marshall's rules, all dogs were named Duke, with only one exception. Mary was allowed to name the cats. Marshall was a prolific dancer. He and Mary spent many nights swinging across Annabelle's night club in Korea loving the nightlife with Alicia Bridges and having the time of their lives. They were the couple that others made room for – to admire the skill and deftness of two people in complete harmony. In addition to his mad skills on the dance floor, Marshall was one of the most dapper dressers in nearly all of his social circles. Brooks Brothers is looking to name a store after him, given the amount of clothing purchased. It is often said that he puts on a collared shirt to take the trash out. While in Korea, the official count of his tennis shoes was 22 – even a pair for standing around and scratching. Marshall often provided fashion advice to his daughters, asking them "Is that what you are going to wear?" Marshall was always larger than life. He was the light in every room, the life of the tailgate, the person that others gravitated towards in order to join the conversation. He was almost always the best dressed and most suave gentleman, blending the qualities of Dirty Harry, and James Bond (Sean Connery of course), although Marshall's drink of choice was Crown Royal on the rocks, neither shaken nor stirred. Marshall passed on his best qualities to his grandchildren, Zachary Owen Gutierrez, Sarah Cecilia Gutierrez and Marshall Alexander Shive. Other family touched by Marshall include David Russell Shive, James Adams Waters, Kenneth Stalcup, Colin Marshall Noll, Christopher Michael Noll, Matthew Rawls Austin, Meredith Gray Austin and Molly Elizabeth Austin. Marshall celebrated life to the fullest. He traveled extensively with Mary by his side as they made the memories that created their lives. He loved the Auburn Tigers and he loved his family. Marshall made the world a better place for all who knew him. He would want us to be joyous and celebrate our lives spent with him, remembering funny stories and telling dirty jokes. There will never be another Marshall. In lieu of flowers or sadness, raise a glass of Crown Royal to toast him and give thanks for the memories and love he gave us. If you desire to make a donation, please consider Save a Man Ministry P.O Box 54639 Jacksonville, FL 32245 or saveaman.org. Graveside Services will be held at 2:30 PM in Lane 2 at Jacksonville National Cemetery, 4083 Lannie Road, Jacksonville, FL 32218. Arrangements by HARDAGE-GIDDENS RIVERMEAD FUNERAL HOME, 127 Blanding Blvd, Orange Park, FL. Please post words of comfort at www.hardage-giddensrivermead.com.
See more
See Less
Past Services
Thursday,
December 10, 2020
Graveside Service
In Memory Of
Henry Marshall Austin III
Help tell the story of your loved one's unique life. Leave a memory or share a photo or video below to show your support.