OBITUARY
Walter R Boone
August 10, 1927

–

July 27, 2022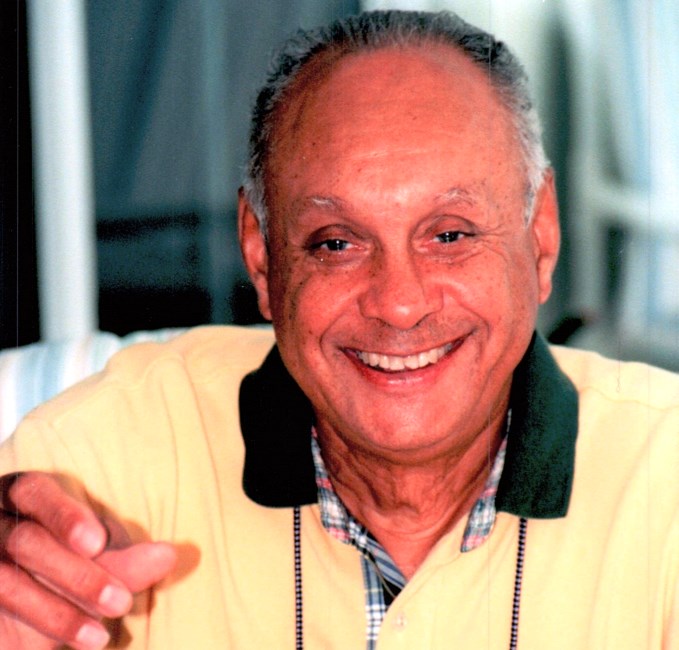 Walter Robert Boone of Palm Coast, Florida, passed away peacefully on July 27, 2022, with his son, Rob Boone (Walter R. Boone, Jr.), and daughter-in-law, Susan Snyder, at his side. At age 94, he faced his various recent health challenges with perseverance, a quick smile, sweet eyes and, above all else, a kind and strong heart. Born on August 10, 1927, in Cofield, North Carolina, he was the fifth of ten children and the first son of Robert Calvin Boone and Ollie Eva Lang Boone. After having four daughters, his father nicknamed him Buddy, by which Walter is known to his family and to most of his pre-Palm Coast friends. He is predeceased by his beloved wife of 54 years, Jean L. Boone. From a previous relationship, he is survived by a daughter, Kendall Boone, and predeceased by a son, Keith Boone. After graduating from high school at the age of 16, Buddy attended the Agricultural & Technical College of North Carolina (A&T), as did his sisters who all graduated from A&T. With the Second World War raging, he spent a summer working at the Norfolk Naval Shipyard in Virginia. He was responsible for taking tools to the various workers across the sprawling navy yard: a job that he remembered fondly his whole life. In February 1946, he left A&T to enlist in the U.S. Army/Air Forces. He served his country for three years, qualified as Expert on the rifle, received the World War II Victory Medal and spent a few quite chilly months stationed on Baffin Island in the Canadian Arctic. After the Air Force had become a separate service branch in 1947, Buddy received his honorable discharge from the Army in 1949 and returned to A&T for two more years, majoring in electrical engineering. In 1951, he moved to New York City, where he found hard work, adventure and love. He met and married Jean Miller, who over time was able to motivate Buddy to return to and graduate from college, which he did in 1967 from the City College of New York (CCNY) with a Bachelor of Science degree in mathematics. He then took postgraduate courses in computer science at New York University (NYU), worked for years as a systems analyst, and designed and tested computer software systems at companies such as Western Union and Dun & Bradstreet. After leaving the private sector in the late 1970s, he changed careers and worked with the U.S. Postal Service until he retired in 1992. In 1992, Buddy and Jean moved from New York to Palm Coast where they became active members of the African American Cultural Society of Palm Coast (AACS). Known as Walter to his Floridian friends, he was an original gold lifetime AACS member, over the years holding several senior positions including Treasurer, First and Second Vice President, and President. Among other activities, he was integrally involved in the development and design of the AACS building and in raising funds from local businesses, donating the signature pyramid, and chairing the awards committee. He even served as bartender on occasion. Walter took enormous pride in the organization, making long-lasting friends with whom he traveled the world. Traveling was one of Walter's favorite activities in retirement. He traveled with Jean to such distant places as Egypt, western and central Europe, many of the Caribbean islands, the Panama Canal, Brazil, China and South Africa, as well as to domestic highlights including Selma, New Orleans, Alaska and many national parks out west. Last year, he visited Cape Cod, Massachusetts, for the first time, spending a wonderful six months there with his son and daughter-in-law and beating them soundly in their last marathon session of seven card stud poker. Previously an active bridge player, in recent years he only played against the Bridge Baron (i.e., the computer) on his decade-old iPad that never once connected to the Internet. He enjoyed jazz and was an avid reader. He read everything from thrillers by Robert Ludlum and Dick Francis, as well as about half of each of Agatha Christie's 70-plus mysteries and Louis L'Amour's 50-plus western novels, to volumes on Egyptology and the Great Pyramids and books on the nature and origin of the universe by Albert Einstein and Stephen Hawking. He enjoyed talking about physics, advanced mathematical theories, and properties of the universe, sometimes suddenly asking you a question requiring deep thinking to understand much less to begin to answer. Excelling at mental math problems, he instantly calculated cube roots in his head, smiling slyly at you as you tried to figure out how he did it. He was a very happy man, teasing and joking with everyone. Above all, Buddy loved his large family and never missed a Boone Family Reunion. The latest family patriarch, he was Uncle Buddy to constantly growing dozens of cousins, nieces and nephews, including Tanya Riley and Ray Riley and their children on Jean's side of the family. Ever kind, generous and good humored, friends and family alike all have benefited from his big heart. A truer friend one could never find. Most recently, his caregivers said he was their sweetest patient. He relished telling them stories about the Buffalo Soldiers and quizzing them about black holes in the universe. Also predeceasing Buddy are his nine brothers and sisters: Selma Lima, Ruby Hill, Emma King, Lucy Boone, Clinton Boone, Anne Lambert, Leroy Boone, Stewart Boone and Edward Boone. Also left to cherish his memory are his aunt Mae Bell and his many cousins, nieces, nephews and other relatives, as well as many dear lifelong and more recent friends, all of whose lives he touched with immeasurable kindness, humor and generosity. All will miss his warm smile and gentle spirit. Fortunately, his goodness lives on in each of us. A celebratory memorial service will be held on Monday, August 8, 2022, at 10 a.m. at the Volusia Memorial Funeral Home & Park, 548 North Nova Road, Ormond Beach, FL 32174, 386-673-5373, www.volusiamemorialfunerals.com. A burial service will be held on Saturday, August 13, 2022, at 10 a.m. at the same location. Flowers are welcome; however, for anyone who prefers to make a donation, please consider making a donation in Buddy's and/or Walter's memory to the African American Cultural Society (AACS) Inc., P.O. Box 350607, Palm Coast, FL 32135-0607, or to their own favorite charity.
See more
See Less
DONATIONS

African American Cultural Society (AACS) Inc.

P.O. Box 350607, Palm Coast, FL 32135-0607

Your favorite charity
Services
Celebration of Life
10:00 am
In Memory Of
Walter R Boone
Help tell the story of your loved one's unique life. Leave a memory or share a photo or video below to show your support.