OBITUARY
Claude Rodriguez Jr.
January 2, 1938

–

August 10, 2022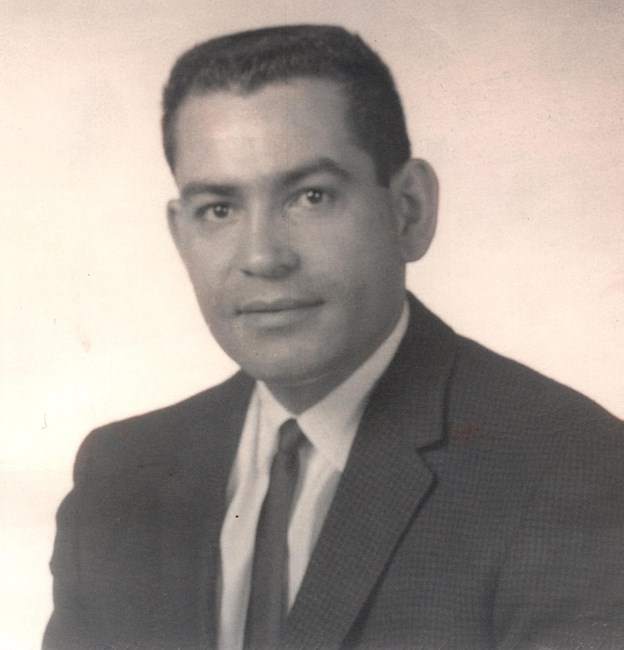 A memorial service for Claude Rodriguez, Jr. will be held Friday, September 9, 2022 from 2:00 PM to 4:00 PM at Joshua Mortuary Palmdale, 3150 E Palmdale Blvd., Palmdale, CA 93550. Tribute to Dad Claude Rodriguez, Jr. crossed over to the other side at the age of 84 on Wednesday, August 10, 2022. He was born on January 2, 1938, in Decoto, California to Claudio Puente Rodriguez and Margarita Orozco Rodriguez. Claude was known to his family as Dad or Papa and is survived by his wife of 44 years Yvonne, brother Richard Rodriguez, children, grandchildren, great grandchildren, nieces, and nephews. He and his brothers came from humble means and a difficult childhood yet accomplished so much. Dad loved his brothers and shared countless stories about their childhood including the challenges they overcame, work ethic learned by working in the fields, physical strength gained by lifting and loading bales of hay as teenagers, and their talents in playing sports in high school. He especially loved talking about their baseball and football days to channel their "fighting spirit". Dad held a pitching record at Washington High School that lasted for decades. In October 1957 at age 19, dad started his 36-year career at General Motors as a spot welder at the Fisher Body Plant in Oakland, California. Over a span of 13 years, he earned promotions and by age 33 promoted to Assistant Superintendent and was responsible for the Body Shop, which included approximately 400 staff. In 1979, he accepted a Superintendent position of both the Body Shop and Paint Shop in a new assembly plant in Saltillo, Coahuila. He and his family lived in Mexico for three years before returning to the U.S. and relocating to Southern California where he ended his career at the Van Nuys plant. Dad was an avid sports fan. He supported the San Francisco 49ers and Giants. He loved telling stories of how he and his brothers' families had season tickets and tailgated at Kezar stadium. Back in those days, on occasion they even got to hang out with players after games. Dad was active in sports in his adult years and played softball and golf. Throughout his 70's, he played 18 holes almost every day with his buddies. Claude was a vegetarian for almost 30 years. During those years, he studied health, nutrition, kinesiology, alternative medicine, and provided iridology consultations to help family and friends live healthier and potentially avoid ailments and chronic pain with diet and vitamin supplements. Dad loved watching shows about nature, animals and world history. He researched information on American Indians, Mayans, and Aztecs. He also dedicated time into studying law and the California and U.S. constitutions. Dad loved his Rancho Isabel in Littlerock. Over the span of 34 years, he cared for goats, chickens, roosters, turtles, peacocks, dogs, cats, lizards, bees, a donkey and a horse named Sugar. He had a passion for gardening and planting fruit trees, especially cherry and peaches and canning them. He planted cherry, peach, apple, apricot, almond and walnut trees, and in between each tree he planted grapes. The grapevines are over four feet high and were an homage to his Napa days. It was not uncommon for him to plant 100 x 100 feet of vegetables each season which included corn, tomatoes, chilies, calabacitas, cilantro, sunflowers seeds, bell peppers, carrots, strawberries, and big ole' watermelons. He enjoyed the dessert's sunrises and sunsets, and nights with the stars and moon lighting up the sky. He looked forward to evening campfires with family. He'd teach the little ones how to shoot bows and arrows and when they were old enough guns too. Dad was a great cook. There was nothing like his breakfasts to order – pancakes with bananas and eggs or papas, eggs, frijolitos, tortillas and his homemade chilito. And when dad ate meals made by others, he always said, "you never complain about the cook!" He loved getting up early Sunday mornings to find a good bargain at the Swap Meet and "making an offer they couldn't refuse" – he loved that quote from The Godfather. He enjoyed making walking sticks, dream catchers, pendulums, necklaces and other items and selling them at Crafter's Village. You can still find his unique treasures for the near future at station #52 at Crafters Village in Littlerock on Pearblossom Highway 138 across the famous Charlie Brown Farms. Dad was a great storyteller and jokester. He loved a good laugh and had so many sayings like, "coño pepa, you don't like it call a cop, and we're off like a herd of turtles". One of the best was when you were in the car backing up, and you asked him if the coast was clear, he'd respond "el chingaso avisa". He sure loved Mexican music, dancing to it and making the Mexican grito followed by ahuah! He also enjoyed listening to classic country songs by Patsy Cline, Hank Williams, and the other greats. Our Dad and Papa is loved and missed. But he believed his spirit would carry on to another level. Dad lost his mom at the age of five. He always said he never got over the loss of his mother and not a day went by that he didn't think of her. It's comforting to know he and his mom have been reunited along with his siblings, other loved ones, and dear friends that he knew he'd see one day again. With love, we pay our respects to you until we are together again.
See more
See Less
Past Services
Friday,
September 09, 2022
Memorial Service
In Memory Of
Claude Rodriguez Jr.
Help tell the story of your loved one's unique life. Leave a memory or share a photo or video below to show your support.