OBITUARY
Henry Ong Jr.
May 29, 1922

–

July 2, 2020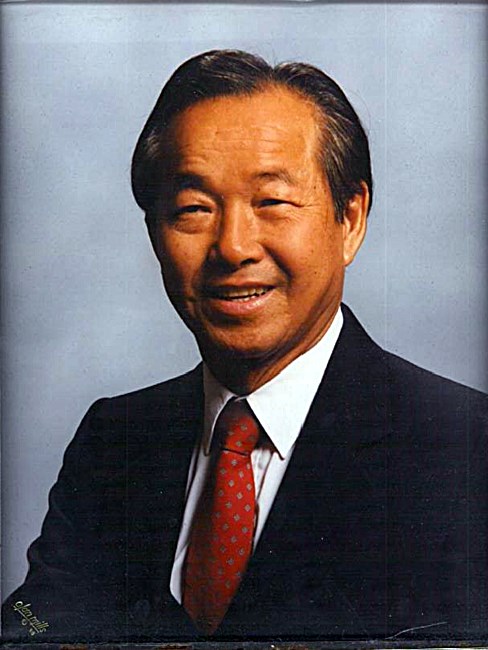 Henry Ong, Jr. Born May 29, 1922 Passed July 2, 2020 Henry Ong Jr. was born in Phoenix, Arizona on May 29, 1922 to Henry Ong, Sr. and Mar Lai Hing Ong. The family had a thriving grocery store business, and because his parents valued a traditional Chinese education, they relocated the family back to Canton, China, in 1928. Henry graduated middle school at Dr. Sun Yet Sen University, one of the most prestigious schools of higher learning in the city. When the war between China and Japan broke out, the family made plans to move back to Phoenix. Henry Sr. and the older children arrived first, while Mar Lai remained with the younger children. With the bombing of Canton, the family took shelter in their home village in Kaiping before making their way to Hong Kong. Henry was instrumental in assisting his mother in making arrangements and taking care of the younger kids. They finally left Hong Kong aboard the U.S.S. Coolidge and arrived in the United States in 1938. Henry continued his education in Phoenix, graduating from Phoenix Union High School. Then, in 1942 as the U.S. entered WW II, Henry was drafted into the United States Army Air Corps. He was a Technical Sergeant, and a Radio Operator/Gunner for B-24 and B-17 heavy bombers. His Air Force crew was sent overseas to Europe, taking part in various bombing missions, including the Normandy Beach invasion on D-Day, 1944. On August 6, 1944, after 29 successful flying missions, the crew was scheduled for its 30th and last mission before returning to the U.S. for reassignment. Their plane was over Germany when it was suddenly hit by anti-aircraft fire and lost altitude. The crew was forced to bail out and they were captured by the German army. Henry sustained shrapnel wounds and multiple cuts and bruises. He spent nearly 9 months in a POW camp in Poland, surviving cold and deprivation and the eventual "forced march" of prisoners as the Germans liquidated the camps. He was liberated by British troops on May 4, 1945. Henry remains the only Chinese American in the state of Arizona captured as a prisoner of war. For his war efforts, Henry was awarded the Purple Heart, the Presidential Citation for meritorious service and the Good Conduct Medal. Returning to Phoenix, Henry attended UCLA where he met his future bride, Priscilla (Pat) Fong, from Sacramento, California. Henry and Pat were married in Sacramento, CA in 1947, and set up home in Phoenix, Arizona. Four children were born: Pamela, Michael, Curtis (Buddy), and Kevin. After working in the grocery business, Henry became a successful insurance and real estate broker, even relocating his family to Honolulu, Hawaii for a brief time. Raising their family in Phoenix, their children all went on to higher education, Pamela becoming a pharmacist, Michael, an attorney, Curtis an architect, and Kevin a Certified Public Accountant. Henry was a baptized believer in the Lord Jesus Christ, joining First Chinese Baptist Church in 1958. Both he and Pat became active members of the church, serving for years as Sunday School teachers. While in Hawaii, he continued his church service, becoming an ordained deacon of Waialae Baptist Church. In addition to his service to First Chinese Baptist Church in Phoenix, both Henry and Pat became active in the Gideons International Bible Ministry. Henry also served as a trustee for many years on the board of Grand Canyon University and the Arizona Baptist Children's Services. Henry also continued his deaconship by serving as a deacon at Royal Palms Baptist Church. After retiring, they resumed their membership with the First Chinese Baptist Church. In his retirement years, Henry became active in the local Chinese community, serving as President of the Ong Ko Met Association and the Chinese Chamber of Commerce. He was a recurring emcee at the annual Ong Ko Met Chinese New Year's banquets, an event he and Pat always looked forward to. As a former prisoner of war, Henry had a particular interest in the Veterans organizations. He served as a past commander of the American Legion Thomas Tang Post 50, was a lifelong member of the American Ex-Prisoners of War, served as Vice Commander of American Ex-Prisoners of War, Department of Arizona, and Commander of the POW-WOW Chapter (Ex-POWS) in Phoenix, a member of American Ex-POW Stalag Luft IV. Also a life member of the Caterpillar Club (members who were saved using the parachutes), and a life member of the Military Order of the Purple Heart. Henry was also a life member of the Masonic Order and the York Rite of Freemasonry. Henry was totally devoted to his wife Pat, always taking care of her and making sure of her every need. They both traveled the world in their retirement years, spending time in China, Japan, Europe, and Canada, and taking Mexican and Caribbean cruises. Especially poignant was the return to mainland China, where Henry re-acquainted himself with his childhood home, childhood friends, and family relatives still residing in the village and the Canton home. Subsequent trips with his sisters Sophie and Lily further strengthened ties with the Canton relatives. Family was important to Henry, as his many nephews and nieces can attest. The annual family vacations to Maui were something both Henry and Pat looked forward to, spending time with their children and grandchildren. Henry was a charismatic and resourceful individual, a great problem solver, with an energetic and indefatigable personality. He was a great storyteller with an amazing memory; he knew who everyone was in the Chinese community and their relations to our extended family. One of his favorite projects was researching the family genealogy of the Ong community, which went back through many generations of Ong's from the Kaiping village whose descendants eventually settled into the Phoenix area. His children, grandchildren, nieces, nephews and grand-nieces and grand-nephews never tired of hearing stories of growing up in Canton with his siblings and other family friends, as well as his WW II wartime experience. After 71 years of marriage, Henry's beloved wife Pat passed in 2018, but Henry continued to remain active. People were amazed at his ability to remain independent in mind and body even at an advanced age, He had a tireless spirit, proud of the accomplishments of his children while never calling attention to his own. His love for his children, grandchildren and great-grandchildren was undeniable and they loved him very much in return. His love for the Lord Jesus Christ was boundless, his witness in Christ positively touched so many and brought many believers to Christ. His legacy lives on in those who continue to serve the Church and whose lives he helped shape. Celebrating his 98th birthday, he remained vigorous. But after a sudden brief illness, Henry passed away peacefully at home on July 2, 2020, surrounded by his family. He is survived by his children Pamela Wong (Truman), Michael Ong (Darlene), Curtis Ong, and Kevin Ong (Priscilla). His grandchildren are Natalie Wales, Jonathan Wong, Crystal Ferguson (Joshua) and Sarah Lai (Alvin). His great-grandchildren are Hannah Ferguson, James Ferguson, Rose Lai, and Tegan Lai. His last great-grandchild was born the day after he passed and is named after him as Henry Ferguson. Henry Ong Jr.'s was a life well lived He left an indelible impression on all who met him and whose lives he touched. His long sojourn here on earth has ended, but he is now rejoicing in Heaven and now reunited with his beloved wife Pat. To God be the Glory! In lieu of flowers, donations may be made in Henry's memory to the following: First Chinese Baptist Church 4910 E. Earl Drive, Phoenix, AZ 85018 American Legion Thomas Tang Post 50 4408 E. Hearn Road, Phoenix, AZ 85032 American Ex-Prisoners of War P.O. Box 3445, Arlington, TX 76007-3445 A Celebration of Life for Henry Ong Jr. will be scheduled at a later date
See more
See Less
Services
No services are scheduled at this time. Receive a notification when services are updated.
RECEIVE UPDATES
In Memory Of
Henry Ong Jr.
Help tell the story of your loved one's unique life. Leave a memory or share a photo or video below to show your support.