OBITUARY
Nancy Lee (Baumhover) Andersen
September 6, 1925

–

November 22, 2022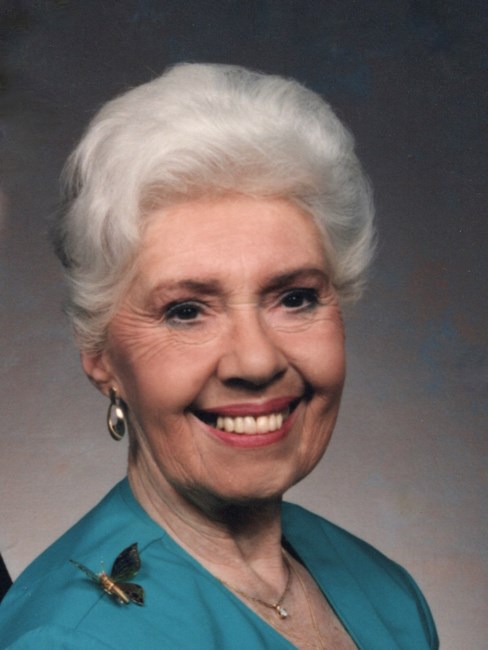 Nancy Lee (Baumhover) Andersen, age 97 passed away on Tuesday, November 22, 2022 Nancy was born in Portland, Oregon to Janet Daniel and Lee Arthur Baumhover in 1925. Growing up in Northeast Portland, she attended Catlin Gabel Day School and Washington High School, graduating early at 16. She attended Oregon State University for two years. While there she joined the Delta Delta Delta Sorority and remained active with them for the rest of her life. Nancy worked for Edris Morrison Photography Studio and was a receptionist for KGW Radio before marrying and starting her family. Nancy met her husband Arland when his brother began dating her roommate Betty Andersen. Eventually the brothers married the two best friends and remained close as they raised their families. In 1950, Nancy followed Arland on his work trip to Cheyenne, Wyoming where they were married in a civil ceremony on September 1st. When they returned to Portland and her mother discovered the elopement, she insisted they have a church wedding. On December 17, 1950, they had a formal second wedding, with a beautiful dress and a church full of guests! The couple always celebrated both anniversaries which in later years often involved gifts of beautiful jewelry that Arland delighted in giving her and that she loved wearing. In 1952, the couple welcomed their son, who was followed by 3 daughters. Nancy was a full time homemaker, wife, and mother. She and Arland enjoyed an active social life with many friends, stayed close with their families, enjoyed hosting gourmet dinner parties, wine tasting, bridge, gardening, and their annual deer hunting trip to the Steens Mountains. Nancy was a good camper and skilled with a rifle. Some years she was the only one who brought a deer home. There was always an extra plate at the table for her children's friends, her husband's co-workers, and anyone else around at dinnertime. Several became regulars and were folded into the family, especially Fred Harder and Donna Hartman Morrow. She made a habit of saving kitchen goods, utensils, pots & pans, small appliances, etc. to help furnish first apartments for her kids and their friends. Many remember her kindness to this day. Having spread her children out over 10 years she was involved for 14 years with the Lincoln High School PTA! She also was a Girl Scout leader for her youngest daughter's troop in the early years. Nancy was a skilled seamstress and sewed her own designer clothes, balancing her love of fashion with the need for economy with her large family. She sewed many clothes for her children as well. She enjoyed knitting every night after dinner and created many beautiful things, including countless pairs of hand knit wool socks for Arland. The couple raised their family in Portland until the last one graduated high school when they moved to the Charbonneau district of Wilsonville in 1980. There Arland joined the planning commission and Nancy joined PEO and started volunteering at the Wilsonville Library. There, her special love of organizing and shelf reading quickly earned her the appreciation of the library staff. She went on to become involved with the Library Foundation and served on the board for many years including several years of a capital campaign to build a new library. She wrote the weekly library column for both the Charbonneau Villager and the Wilsonville Spokesman. In 2008, they were both aging and Arland was losing his sight, so they sold their Charbonneau house and had a new home built on the farm where BJ was living in Scio with her wife Teresa. There Nancy became devoted to her rose garden, raising chickens and selling the eggs, fostering kittens for the local humane society, and taking care of Arland until his death in 2011. In 2016, driving became difficult and the farm was too isolated, so she chose to move to Quail Run Assisted Living at Mennonite Village in Albany. She enjoyed her time there, making new friends and taking part in many activities. Her dearest companion cat Isis supplied daily companionship and love. Isis was one of Nancy's former foster cats who stayed on at the farm after her kittens were adopted. Isis and Nancy developed a deep and nurturing bond that saw them both through many tough times, including the isolation of the last few years of the pandemic. Isis is now living back on the farm in Scio with the animals she knows from her earlier time there. Nancy was a classic Virgo: intelligent, skilled, organized, and elegant. She made and maintained friendships that lasted a lifetime. She rolled with whatever life threw at her, and life threw a lot, including being hit by a truck at 85 and surviving her extensive injuries! Nancy was a beautiful lady with a keen sense of style, but she was also at home in army boots and dungarees tracking deer or working in her gardens. She was a lover of cats, libraries, the color purple, butterflies, travel, flower gardens, high heels, all things San Francisco, and taking the road less traveled. Nancy is preceded in death by her husband of 61 years, Arland Jens Andersen, her sister Mirza Dickel, her son Gregory Jens Andersen and her grandson Brian Jens Dimick. She is survived by her three daughters, Barbara, Maryliz, and BJ (Teresa) as well as seven grandchildren, Kate, Jeff, Erica, Kelly, Katie, Clay, and Claire. A memorial service will be held on January 28, 2023, at the Wilsonville Library Oak room from 2:00 until 3:30. Private interment will be at Sunset Hills at a later date. As much as she loved flowers, Nancy would appreciate donations in her memory to the Oregon Humane Society or the Wilsonville Public Library.
See more
See Less
Past Services
Saturday,
January 28, 2023
Memorial Service
In Memory Of
Nancy Lee (Baumhover) Andersen
Help tell the story of your loved one's unique life. Leave a memory or share a photo or video below to show your support.