OBITUARY
James Robert "Jim" Lyons
August 26, 1946

–

July 16, 2021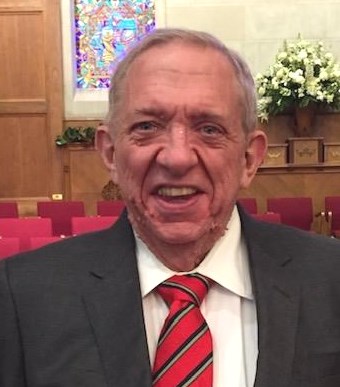 James Robert ("Jim") Lyons was born on August 26, 1946, at Mary Elizabeth Hospital in Raleigh, North Carolina, the only child of Robert Bonner ("Bob") Lyons and Mary Katherine ("Kitty") Bowen Lyons. His mother was a native Virginian and his father hailed from Philadelphia, Pennsylvania.
He attended Ravenscroft School, at its original downtown Raleigh location, as well as Aldert Root and Sherwood Bates Elementary Schools, Daniels Middle School (now Oberlin Middle School), and Needham B. Broughton High School. He graduated from Broughton in 1966 and went on to attend Hardbarger's Business College, also in downtown Raleigh. He studied Accounting and Business Law at Hardbarger's.
​While still in high school, he began his professional career working at Colonial Stores, a grocery store located in Cameron Village, now the Village District. Later, he began working part-time at a Raleigh landmark, Pine State Creamery. This opportunity quickly blossomed into full-time employment. He was a plant accountant with the company until its closing in 1996.
​As a young man, he was an active and proud member of the civic organization, Raleigh Jaycees.
​He was born and raised into the church family of First Presbyterian Church of Raleigh. He remained a lifelong member. In his younger years, he was a member of the church softball team. Throughout the years, he was humbled and honored to be asked to serve as a deacon. He graciously accepted each term with an open and willing heart. He was a man of great faith who, in 2017, was awarded the meaningful honor of Deacon Emeritus. ​
In September of 1974, he met his future wife, Virginia Currie. They were married on June 19, 1976, at Highland Presbyterian Church in Fayetteville, North Carolina, the bride's hometown. The service was officiated by Reverend Leighton McKeithen of Highland Presbyterian Church and Dr. Albert Edwards of First Presbyterian Church of Raleigh. They had two daughters, Katherine Pate and Virginia ("Ginny") Bowen, the latter of whom preceded him in death in May of 2011.
As a young boy, his mother owned and operated a well-loved local restaurant, Reinlyn House. She instilled in him a love of cooking, and he routinely used this talent throughout his life to show his family and friends his love for them. His spaghetti, his tacos, and his cheese biscuits were particular favorites of his loved ones. Every Christmas, he would bake his beloved cheese biscuits and deliver them in generous batches to those select special friends.
Although he did not attend the University, he was a staunch N.C. State fan. Moreover, he was an avid sports fan, with baseball, football, and hockey being his favorites. Along with N.C. State, he loved all Philadelphia sports teams, the Carolina Panthers, and the Carolina Hurricanes. He was so happy when the Philadelphia Eagles won the Super Bowl in 2018! He, without question, instilled a love of sports in his oldest daughter, Katherine.
He was a man of great character who loved watching the television game show, Jeopardy and playing countless games of Scrabble with his wife. No day was complete until he had finished that day's crossword puzzle and Jumble in the local newspaper, The News and Observer.
He was a kind, sweet, thoughtful, generous, funny, quick-witted, and clever man. Above all else, however, he was a gentleman who dearly loved his family.
A private graveside service will be held on Friday, July 23rd prior to a memorial service at 1 o'clock in the afternoon at First Presbyterian Church of Raleigh. The family will receive friends following the service.
While flowers will be graciously accepted, the family also kindly requests that contributions be made to the Friendship Fund of First Presbyterian Church of Raleigh in his memory.
Services provided by Brown-Wynne, Saint Mary's St., Raleigh.
See more
See Less
In Memory Of
James Robert "Jim" Lyons
Help tell the story of your loved one's unique life. Leave a memory or share a photo below to show your support.