OBITUARY
Philip Ogden Redwine Jr.
April 17, 1966

–

June 18, 2022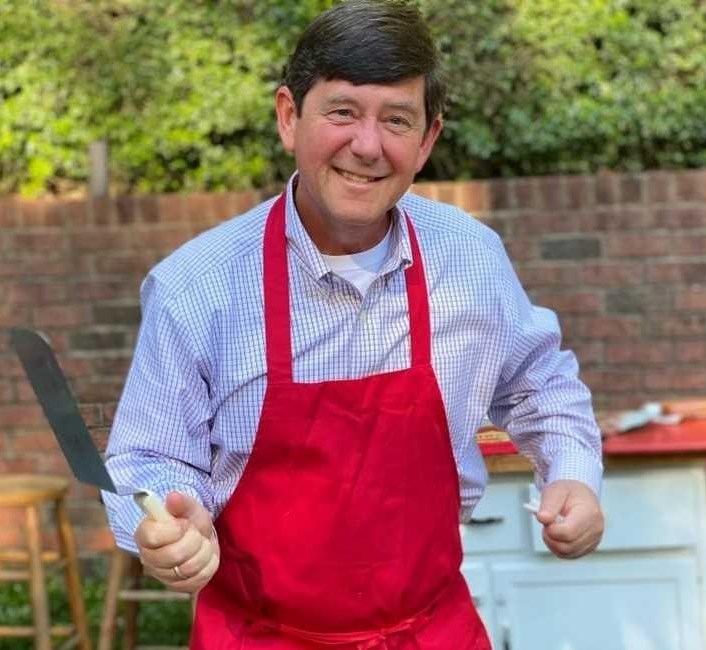 On June 18, 2022, Philip Ogden Redwine, Jr., 56, a hero, father, and loving husband died peacefully with his loving family surrounding him, a few days after a tragic drowning accident in Salter Path, North Carolina. Philip was born on April 17, 1966 in Raleigh, North Carolina to the Honorable Philip O. Redwine, Sr. and Sylvia Redwine, as the second of five children. He was predeceased by his parents and his nephew Sawyer Redwine Styres. He is survived by his loving wife and friend of 17 years, Rebecca and their two young boys, his heart and soul, Finch Philip (8) and Whitford Nash (5); his four incredible siblings and their spouses, Angel Styres (Bill), Nash Redwine (Jessica), Marlot McMichael (Patrick) and Cristin DeRonja (Frank), his father and mother-in-law, the Honorable Daniel F. Finch (Jean), his brother and sister-in-law, Daniel B. Finch (Julie) and numerous nieces and nephews, Dixon and Wilson Styres, Lucy Walker and Kate Redwine, Frank, Josie, Emily and Roland DeRonja, and Libby Rose and Brinson Finch, and approximately twenty-seven (27) tadpoles in a bucket on the porch he and Whitford "saved" from the creek. Philip passed from this earth a hero, a steadfast, noble and fierce fighter with the softest, most tender heart, who put his children before all other things in this life from the second they both entered this world to the moment that Philip was called from it. He was a graduate of Millbrook High School Class of 1985 and then graduated from Western Carolina University in 1991, where he was a member of the Theta Xi Fraternity. To reduce any man who has walked this earth to just words in an obituary is a profound feat, but to capture Philip and his spirit, it is nearly impossible. Philip was a friendly, approachable man, with an unfailing positive attitude. A jack of all trades with a mindset of living this life as he wanted, without a care of what others would think. Philip was an incredible carpenter, building beautiful pieces of furniture for his wife, sons and loved ones, a fantastic cook, always knowing exactly what temperature everyone wanted their steak, and had an imaginative brain, solving problems by engineering a solution and inventing games for his boys which would make them giggle and laugh with joy. A lover of bourbon, wood-burning fires and good country music, Philip was always happiest when he was outdoors, particularly in the North Carolina mountains, frequently taking his sons on hikes or to play in the river. He loved dogs, and throughout his life, had so many loyal companions, including Jake, Millie and Huck. He was well-versed in types of trees and plants, and filled his yard with the same. He was severely dyslexic, barely knowing how to spell basic words, but his strong work ethic and creativity allowed him to soar in this life. Philip lived for periods of time in Colorado and Alaska, but ultimately settled in his hometown of Raleigh. A long-time project manager for Sigmon Construction & Renovation, Philip helped build multiple residential homes and managed home renovations throughout Raleigh. A fervent believer in reusing and recycling, many of the items or leftover lumber thrown out of renovations would be reincorporated into their home, or much to his wife's chagrin, their backyard. Philip could always find a new use for any item and would often stop to pick up items on the side of the road that he knew should be donated to goodwill. His marriage to Rebecca in 2005 was the beginning of a lifelong loving partnership. He was a steadfast supporter of her career path, constant cheerleader and friend. In 2014, two months after the birth of their first son, Philip was diagnosed with throat cancer. After multiple operations, chemotherapy and radiation, Philip emerged victorious from the battle with a new sense of how precious life is and was elated with the birth of their second son in 2016. Philip's children were his constant purpose. He was an incredible father, never hesitating to take the boys on an adventure, engineer a tree swing, go to the doughnut shop, play soccer in the yard, tie a lure, hang a pinata, pick them up from school every day, fold laundry, help nightly with bath time, or cook the perfect grits, even for dinner. He will forever be in our minds and hearts - the "Best Daddy Ever". Philip's family would like to extend their deep appreciation and gratitude to the many friends and colleagues and complete strangers who offered and continue to offer their prayers for understanding and messages of support during the days and hours following this tragedy. The outstanding Rex Hospital ICU medical staff that provided him with world class care and compassion were simply amazing and a blessing to his family. Philip is an organ donor and always adamant to pass the gift of life to another. In lieu of flowers, memorial gifts may be made to two charities dear to Philip, SAFEchild, a non-profit, steered by his youngest sister Cristin DeRonja, dedicated to eliminating child abuse in Wake County (safechildnc.org) or The Lacy Foundation, a non-profit which supports his children's elementary school (lacyfoundation.org). A memorial service was be held at Edenton Street United Methodist Church in Raleigh on Friday, June 24, 2022 at 1:00 pm. A private graveside service for the family was be held separately. After the memorial service, the family received friends in Kerr Hall. To view Philip's memorial service click on the following link: https://www.youtube.com/watch?v=wajgU_yDxxg&t=13s Services by Brown-Wynne, Saint Mary's St., Raleigh, NC.
See more
See Less
In Memory Of
Philip Ogden Redwine Jr.
Help tell the story of your loved one's unique life. Leave a memory or share a photo or video below to show your support.