OBITUARY
Ryan Amadeo Dela Cruz
August 5, 2000

–

June 2, 2018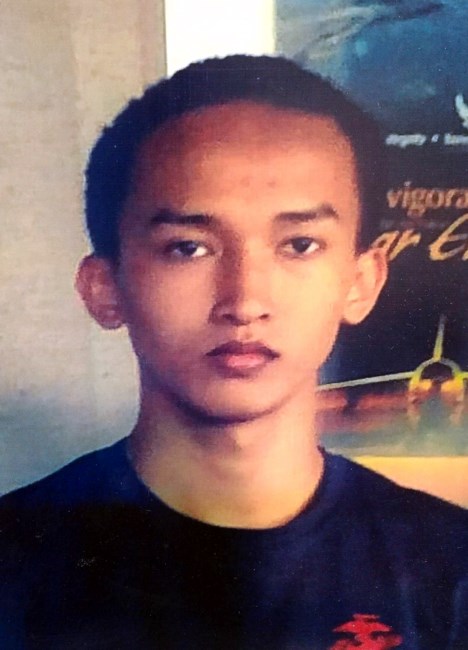 Ryan Amadeo Dela Cruz was born to Henry Genoria Tecazon on August 5, 2000 in Taguig, Philippines. He was the youngest of four boys; Clint John, Clifford James, and Vincent. At the age of one, Genoria was given the opportunity to move the family to Seattle, WA. While it was a blessing for the family to come here, Ryan's father, Henry needed to remain in the Philippines. Over the next three years, Henry dealt with heartache as he was not able to build that father/son relationship with his baby boy, Ryan. During that time, Ryan and the family lived in a quaint home on South Ryan Street in Skyway, Seattle. You may not be aware, Henry and Genoria didn't want Ryan to have a tough time learning how to write his name, so they figured it would be easiest to use the name of that same street. However, Ryan was a very smart boy and grew into the intelligent young man you have gotten to know. While Henry was in the Philippines, Ryan and his brothers would ask their mother what their father was like, and unfortunately Skype, Facetime, and Facebook weren't around to get them connected. Fortunately for Ryan's family, their father got his chance to come here to the United States in 2004. It was then that Ryan and Henry were able to develop a true bond at the age of four. Ryan was there to meet Henry when he landed at the airport. Even though he recognized his father, he was shy and hid behind Genoria's legs. Even though they started off as strangers, slowly but surely they started building a relationship through the many instances that his father would take him to school at Brighton Elementary. They quickly became close and Ryan loved when Henry would carry Ryan on his shoulders. After Brighton, Ryan moved through Aki Kurose and onto Franklyn for high school. When he started at Franklyn High, that's when he started to build his ambitions. His dad would ask him what he wanted to be when he grew up. "Do you want to be a doctor? Or a mechanic?" Ryan said to his dad that he wanted to be a police officer. You see, serving this great nation had always been in Ryan's blood and in his heart. This is who he truly was. Later in high school, he had a chance to meet a senior recruiting officer for the United States Marines. This opened his eyes to the fact that he too could be among whom this nation is most grateful for. Ryan was so excited to show his parents his new opportunity of being recruited for the Marines. Now this wasn't easy news for Ryan's parents to hear. Just the thought of deployment was heartbreaking for Henry and Genoria. Ryan understood the implied sacrifice behind serving our country, yet he still pursued it and his parents supported him. It is people like Ryan and his family that this great nation is grateful for. Ryan knew what he was in for and he recognized his ambitions within the service. He wanted to be a C113 pilot. Ryan took his role very seriously, starting with keeping positive ties with his fellow recruits. They grew to become great friends. He also learned to follow every piece of advice that his senior recruiter gave him. Over time, some of you who knew him long enough may have noticed him gaining more body mass from taking more protein, jogging, and staying fit. Ryan used to be a skinny guy but he had his eye on his target. He had his personal goals and stuck to his course. He was a responsible young man and made a pact with his parents. Ryan's oldest brother, Clint John, is different in his own special way. Ryan's parents asked him to take responsibility for his oldest brother, should they pass away. Without hesitation, it was like he knew he'd be destined to take care of his brother for life. All he asked of his parents was not to leave this world too soon. If there was anything that Clint John needed, Ryan would be the first to provide it. Growing up he wasn't the type of kid that parents had to yell at. The only times that their parents ever yelled at them was really when they weren't sharing their toys and their video games. Video games were very special to Ryan and his family. They would play the Wii as a family. This is one of the many bonding memories that his family will never forget. Besides video games, another big part of Ryan's life was the two family dogs; Raffy the Jack Russell, and Tinny the Boston Fog Terrier. Raffy would be so protective of Ryan that if you were to step into his room, the barking would be endless. He'd be the one to cuddle these two family pets, feed them, and give them showers. Raffy and Tinny were a big part of his heart, and him within theirs. One more important part of Ryan's heart that is worth sharing was his faith. In his room, Ryan has a picture of the last supper. He read the Bible more often than not. At one time, his father even asked him "Why do you have the Book of Mormon in your room?" Ryan's response was, "Oh, I was just curious." In other words, he had this special curiosity to have a deeper understanding of Jesus and the faith he held in his heart. He'd joke around with his dad, "How did some of these stories make it in the Bible when there weren't pen and paper at the time?" His father would just explain, "Son, these stories get passed down from generation to generation." Through understanding the important lessons to be down from these stories made them special and made faith a real treasure to have. And for this reason, Ryan believed in the afterlife. There are those who say that he who is always remembered, lives forever. As you remember Ryan, always keep his memories deep in your hearts. Always keep a special place for him. Let a light shine from within so we know that the warmth of Ryan's memory remains. A visitation & reception for Ryan will be held Saturday, June 16, 2018 from 1:00 PM to 9:00 PM at Greenwood Funeral Home, Renton, Washington. A funeral mass will occur Sunday, June 17, 2018 from 12:00 PM to 2:00 PM, Renton, Washington. A committal will occur Sunday, June 17, 2018 at 2:00 PM at Greenwood Memorial Park, Renton, Washington. Fond memories and expressions of sympathy may be shared at www.greenwoodmempark.com for the Dela Cruz family.
See more
See Less
In Memory Of
Ryan Amadeo Dela Cruz
Help tell the story of your loved one's unique life. Leave a memory or share a photo or video below to show your support.