OBITUARY
Audine J. Marvin & Norman G. Marvin, MD
Passed away on January 10, 2022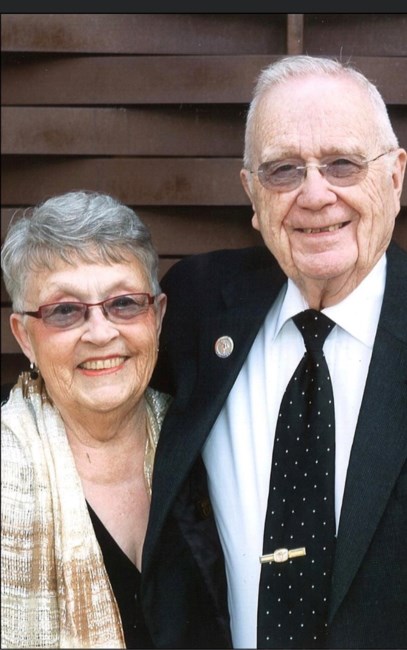 This is a love story about two people and how their love for one another endured the ups and downs of life for over sixty-six years, lasted through the raising of four very active and strong-willed children, only to complete their journey on earth together and peacefully return Home to Jesus hand in hand. Norman Glenn Marvin was born August 24, 1929, and his parents were Iva and Glenn Marvin. Audine Joanne (Willard) Marvin was born July 6, 1931, and her parents were Ethel and Edwin Willard. Norman was raised on a farm in central Kansas just outside of Harper. Audine was raised in Wichita, KS. After graduating from Harper High School, Norman enrolled in the University of Kansas where he studied Pharmacology and Pre-Med. After receiving his Pharmacy degree, he entered the University of Kansas School of Medicine. Concurrently, Audine graduated with a BS in Home Economics in 1953 from her alma mater Kansas State University and upon graduation, accepted a teaching job in Medicine Lodge, KS. Norman was studious, Audine was musical, Norman was quiet, some might even say shy, Audine was just the opposite. Growing up their lives could not have been more different from one another, but in the spring of 1955, that changed forever. At the request of a mutual friend, Audine agreed to give Norman a ride from Medicine Lodge where he was working as an intern, to Wichita where he needed to catch a late-night train to Kansas City for one of his medical school classes. At first, Audine was reluctant, after all, she didn't know this person and almost two hours in a car was a long time to make small talk. Little did she know that when she said "yes" to a car ride, it would lead to sixty-six years of marriage, four children, nine grandchildren and eleven great grandchildren. What's more, they said "yes" to marriage after knowing each other for less than a week. From their marriage on June 12, 1955, the next sixty-six years and six months would be filled with more "yeses." After Norman graduated from medical school in 1956, he entered the United States Air Force as a 1st Lieutenant and served as a physician at air bases in Denver, CO and Bunker Hill, IN. After leaving the Air Force, Norman and Audine moved their growing family back to south central Kansas where he began a family medicine private practice in Kiowa. After working several years in Kiowa, they both said "yes" to moving to Syracuse, KS where Norman practiced family medicine for a number of years. At one point, Norman was not only the local doctor, but was also the mayor, deputy sheriff, and coroner in this growing farming community. In Syracuse they raised their four children, John, Cindy, Pam, and Kim. It was also in Syracuse that Norman and Audine said "yes" to the Lord Jesus Christ and accepted Him into their lives. Like everything they did together, they gave of themselves and their time to help share the gospel, teach Bible study, and founded The Healing Word Ministries. The Healing Word raised funds for missionaries and orphanages. Norman was adopted as a newborn and understood the importance of loving parents. He lived his entire life helping children. In 1975, after practicing for more than twelve years in Syracuse, Norman and Audine moved to Overland Park, KS where they would live for more than forty-years. Norman accepted a faculty position at his old alma mater to teach and train a new generation of physicians at KU Medical Center. Subsequently, Norman started what would become a large, private, family practice in Overland Park and Audine was the office manager until their retirement in 1988. The success of that practice was a topic of debate between them, Audine gave all the credit to Norman and his compassionate, country-doctor style of care and Norman insisted that their success was due to her management of the practice and making sure they got paid! The truth is they were both right, they were a team. After selling their practice, and shortly thereafter becoming bored with retirement-living, they would travel throughout the US with Norman working part-time as a locum tenen physician filling in for other physicians for a week or two at a time. It gave them an opportunity to travel, something Audine loved, and Norman an opportunity to continue what he loved, practicing family medicine. Long after retirement, Norman became a passionate advocate for health, wellness, and nutrition, building a large nutraceutical enterprise and continued to serve others. For the rest of their lives Norman and Audine continued to say "yes" to opportunities, and in doing so, touched the lives of thousands of people throughout the world. Norman and Audine exemplified the vows they took that summer day in central Kansas, to have and to hold, for better for worse, for richer for poorer, in sickness and in health, to love and to cherish until death do us part. The decision they made and swore before God and man had a butterfly effect that no one realized at the time. They lived lives of conviction, compassion, and courage. Staying married for over sixty-six years does not just happen. As it has been said, the perfect marriage is just two, imperfect people who refuse to give up on each other. Norman and Audine said "yes" for the last time on January 10, 2022, when they both accepted God's invitation to join Him in heaven, discarding the imperfect for the perfect. As Norman and Audine both said many times about facing opportunity, "say yes, after all, you never know where it will lead!" Audine and Norman are survived by their son, John D. Marvin and his wife Connie who live in Kingwood, TX. John has four children, John, Jr. who with his wife Danielle have two boys, Lincoln and Teller; Angela (fiancé Paul Welker) who has two children, Pierce and Presley; David and his wife Calli who have three children, Crew, Monroe and Bear; and Michael, who with his wife Hillary, have two girls, Lily Margaret and Clara. Their daughter, Cynthia D. Akers (Cindy) lived on a farm south of Syracuse, KS until her passing in May 2018. Cindy and her husband Mark have two children, Jessica and her husband Colby; Scott and his wife Vallin, have two boys, August and Austin. Their daughter, Pamela D. Griffith (Pam) lives in Sandy Springs, GA along with her two sons, Jake and Ross (fiancé Ellie Marrin). Their youngest child, Kimberley D. Mann (Kim) and her husband Rusty live in Prairie Village, KS and have a daughter, Sophie. In lieu of flowers, memorial gifts may be made to St. Jude Children's Research Hospital, a favorite organization of Norman and Audine's. 501 St. Jude Place Memphis, TN 38105 / www.stjude.org
See more
See Less
FAMILY

Audine and Norman are survived by their son, John D. Marvin and his wife Connie who live in Kingwood, TX. John has four children, John, Jr. who with his wife Danielle have two boys, Lincoln and Teller; Angela (fiancé Paul Welker) who has two children, Pierce and Presley; David and his wife Calli who have three children, Crew, Monroe and Bear; and Michael, who with his wife Hillary, have two girls, Lily Margaret and Clara. Their daughter, Cynthia D. Akers (Cindy) lived on a farm south of Syracuse, KS until her passing in May 2018. Cindy and her husband Mark have two children, Jessica and her husband Colby; Scott and his wife Vallin, have two boys, August and Austin. Their daughter, Pamela D. Griffith (Pam) lives in Sandy Springs, GA along with her two sons, Jake and Ross (fiancé Ellie Marrin). Their youngest child, Kimberley D. Mann (Kim) and her husband Rusty live in Prairie Village, KS and have a daughter, Sophie.
PALLBEARERS

SIX FAMILY

Active
Past Services
Saturday,
January 29, 2022
Visitation
Saturday,
January 29, 2022
Funeral Service
Saturday,
January 29, 2022
Committal Service
In Memory Of
Audine J. Marvin & Norman G. Marvin, MD
Help tell the story of your loved one's unique life. Leave a memory or share a photo or video below to show your support.