OBITUARY
Rosemary Lynn Kogler
January 25, 1951

–

January 20, 2023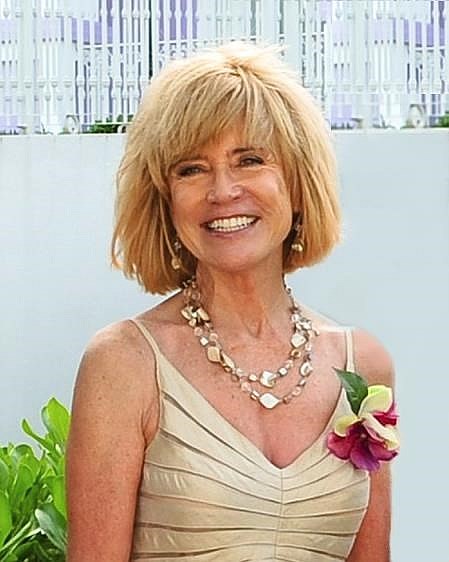 On January 20, 2023 the Lord called Rosemary Lynn Kogler to her eternal home with the angels in heaven. Born January 25, 1951, she was our angel on earth for 71 years and taught us by her example of endless kindness, service and devotion to family and friends. One of the things she will most be remembered for is her artistic ability. For the past few years she began painting with a Sugar Land art class and developed a talent that drew constant praise from anyone who saw her work. It was evident that she poured her heart and soul into her paintings and portraits, as they all seemed to come to life when you looked at them. She loved to travel. She and Keith traveled to numerous places around the globe. Every new adventure was an opportunity to photograph another future painting for Rosemary. She was also an avid designer of necklaces, although she never really had the chance to showcase her talent. Sickness prevented her from many of the opportunities she wanted to further explore and develop her talents. She loved to read on a daily basis. She read countless novels, many in a series of books. Her favorite topic was always good vs. evil — often in the days of knights and kings. She loved the movie Gladiator and watched it many times. She also loved the series Lord of the Rings. Of course, she read all the books. She had tireless devotion to her husband and family, putting them first above any of her own interests. She showed us all how to be better people, workers and servants for good. One of her favorite charities was Child Fund International where she at one time sponsored 40 kids internationally each month. She wrote them all letters and they wrote back to her, sending progress in their school work and life at home. This was one of her greatest joys. As these kids grew older, they continued to write her and tell her what a difference she had made in their lives. She knew how to reach across the globe and touch a heart to help it grow in love. At home she was famous for her creations in the kitchen. She cooked nearly every meal and many of her evening meals were designed on the spot. You would have thought they were prepared by a famous chef. The taste and presentation were impeccable. And, if she didn't like it, she would be the first to offer a critique of what she would do different next time. She loved making hors d'oeuvres for family gatherings. Everyone looked forward to her famous snacks before the main course. And, there was normally a bottle of wine to enjoy with the meal. Birthdays and Christmas were always a special time for her because she loved buying gifts for family and friends. If she gave shoes or clothing, they would always fit and be a style that fit that person perfectly. When she gave a gift, she did all the wrapping, including creating the bows. A more professional job was never seen. It usually looked too beautiful to open. She always wanted to become an attorney, but never had the chance to do so. Her career focused on leasing office space in high rise mixed use development in Houston. She was well known among her peers for excellence. Many who worked with her thought she was an attorney. She mentored multiple people who have gone on to hold senior positions in other commercial real estate companies. All say they owe much of their success to her guidance in their early days. She was the first female vice president at Cullen Center in downtown Houston, working for the Cullen family for over 20 years. She also worked on other projects around town, including Greenway Plaza. Anyone who met her learned quickly to admire and respect her and her work product. Rosemary was born in Charleston, WV on January 25, 1951. Her family moved to Beaumont, TX when she was in elementary school. She attended the University of Houston and enjoyed a career as a real estate broker in commercial real estate. She worked her way up from secretary to vice president while working at Cullen Center, a downtown high rise office building complex. Rosemary is survived by her husband Keith, who she was happily married to for 42 years. They have one son from their marriage Matthew (Heather), sons Dominic and Jackson. Rosemary has one son from her previous marriage, Johnathon 'Tres' Boyd (Maggie Howe), daughter Averi. Tres has five children from his previous marriages: Elizabeth Boyd Zubik (Austin), son Wyatt; Jeremy Martin; Emily Boyd Ulrich (Hunter), son Marshall (due in February); Breydon Boyd; Carolyne Boyd. Rosemary's sister, Diana Jones Derby. Niece Tiffany Derby Simmons, daughter KayAnna, son Tommy Jr. Nephew Mike Derby. Sister-in-law Diane (John) Sanfillippo (Nieces Janelle, Brittany, Hillary, Nephew Aaron). She was preceded in death by her father (Alfred Edward Jones) and mother (Rosemary Eileen Jones). She was a woman of great beauty inside and out. She shared that beauty with everyone she met, even as she struggled in the hospital with cancer. The hospital staff all came to care about her and many would go out of their way to help her. It is so hard to imagine what life will be like without her. It seems the life has gone out of so many things around us. The love she shared was so important for us all to feel every day. We can only take solace in knowing that she is with God and will certainly be among his best and brightest angels. The family would like to give special thanks to the medical teams at River Oaks Hospital and Kelsey Seybold. A service of celebration will be held at Settegast-Kopf Funeral Home at Sugar Creek on February 11, 2023 at 2:00 pm. Donations may be made to Rosemary's favorite charity BoysTown (boystown.org) or to the charity of your choosing.
See more
See Less
Past Services
Saturday,
February 11, 2023
Celebration of Life
Saturday,
February 11, 2023
Reception
In Memory Of
Rosemary Lynn Kogler
Help tell the story of your loved one's unique life. Leave a memory or share a photo or video below to show your support.