OBITUARY
Lewis Alberts
June 4, 1940

–

May 9, 2022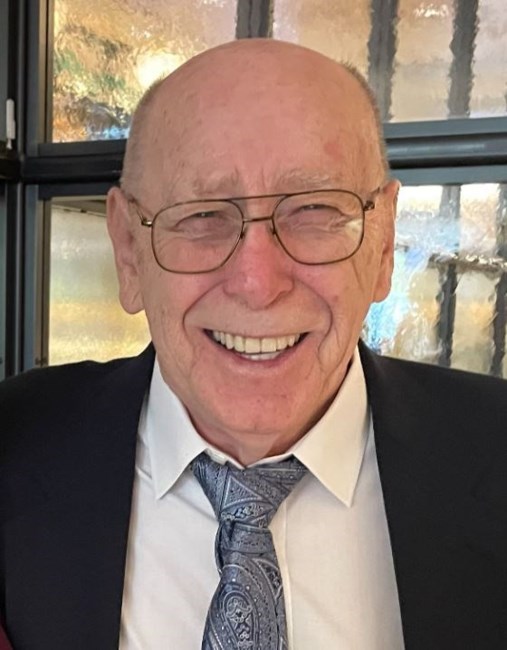 It's a very strange thing to try to sum up a lifetime in a few words. Susan, Shari and Sharon share the following with you so you can, if only for a moment, know the old guy. We can't really tell you a lot about dad's early life. He didn't talk much about it. We understood it was a hard childhood. What we can tell you is that he was born at home on June 4th, 1940 to Leo and Barbara in Hopwood, Pennsylvania. He had no middle name. He always said it's because his family was too poor to afford one. He had younger twin siblings, Pat his sister and Bernie his brother. In the last few days I stumbled across 'My Big Story' - a hand written account of dads life that he presumably wrote as a senior in high school. In it he stated he planned to go into the electrical engineering field. He stayed true to that interest through his entire life. He was drafted into the army during Vietnam but served state side. He met my mom in St. Louis and it was there that Scott was born. If you know us, you know the joke that my family was running from the law. As it turns out my dad just changed jobs. OFTEN. And that meant a move to another state. We've lived in more states than you can count on one hand. He spent quite a few years working at the Service Bureau Corporation (a subsidiary of IBM) before working for AT&T and its subsidiaries. As kids it was intriguing - and hilarious - (to us kids only) to ask dad what color anything was. That's because of his colorblindness. When he asked you to bring him the green handled screwdriver you'd be left wondering…..my green or his green?? He told us he failed art in kindergarten because he couldn't get the colors right. Dad could be cantankerous, heated, and loved a good debate. He was a staunch democrat, loved to talk conspiracy theories and trusted almost no-one. His dry sense of humor and genuine smile touched everyone. We have some Alberts-isms that he will forever be known for: "Kick a pig in the butt it goes huh" "Watt. Are you a light bulb?" and the ever popular "Shit or get off the pot." Don't ask. They just are. Dad was a tinkerer - making things and fixing things. Why pay for things you can make or fix for yourself? Our house was full of miscellaneous parts….just in case. Yesterday Alex and I were at dad's house and Alex found some contraption dad built from wood that had a motor and a sewing machine pedal. We plugged it in to see what its purpose might be and when I pushed the foot pedal - we literally blew the GFCI button right out of the socket. That offered a much needed laugh. Alex giggled when he also found a microwave keypad panel because, well, you never know when you might need to replace the panel on your microwave. When we were in high school he gave us his cheap version of Atari. It was the Atari console with real Atari games, but not like the other kids had. We only had the internal part of the game, the circuit board and the chip. It looked like the innards of a computer. It was normal for us to hand our friends a mini screwdriver and tell them they had to pop out the Frogger chip for the Defender chip. Dad knew a lot of stuff. If it was broken we would call him. He'd get so frustrated when you'd call him on the phone and try to explain your problem and you weren't using the right terms. Don't call it the 'copper wire thingy' when it's really the ground fault line. Don't call it a bolt turner, its a wrench. If you had a problem with your computer and you called for help, you better know if you installed something, moved something, or deleted something because the first words out of his mouth were, "What did you do?" And you sure as hell better not say "nothing" because "..something changed or it would still be working." When we were little dads pet name for us was 'pot'. We have no idea why…. Our dad was the one that came to the hospital when our kids were sick, came over when we needed something, or attended our kids sporting events. He didn't wear it on his sleeve but we for sure knew he loved us. Shari: I got my first car when dad helped me buy two inoperable Mercury Capris. From our two car junkyard we selected and combined the parts to make one fully functional car. I loved that stupid car. I never saw my dad cry until the day I left for the military. That day was so profound for me. My big grumpy dad had a soft side. I knew he was so proud of me and I felt it to my core. Susan: I think most of who I am is because of my dad. I was never afraid to tear apart a wall, or try to fix a refrigerator, or replace an internal hard drive in my laptop. I love tools, especially powered ones, because my dad never treated his daughters like tools were something they couldn't or shouldn't use. I love technology and that's probably because he was employed in that field and he was always bringing home new technology. After mom died in 2009 dad met Sharon and they married soon after. She was so good for him - calling him out on his 'goddamn bullshit' (one of dad's favorite phrases). He loved her and he made it his mission to take good care of her. Sharon tells me he didn't tell her he loved her for quite some time. He said it was because the word needed to mean something. She already knew he loved her but it sure made her feel great when he finally could say it out loud to her. She wants you to know how kind and sweet and loving he has always been and the great man that he was. In January dad had quadruple bypass surgery. After a few complications he was cleared and came home. About a month later he was diagnosed with pancreatic cancer. Lew Alberts is survived by his wife Sharon, his two daughters Susan and Shari, and his 3 grandchildren Alex, Justin, and Kelli. There will be no service. Please use this site to share with us your memories, photos and thoughts about Lew Alberts. Semper Ubi Sub Ubi. Fond memories and expressions of sympathy may be shared at www.surprisefuneralcare.com for the Alberts family.
See more
See Less
Services
No services are scheduled at this time. Receive a notification when services are updated.
RECEIVE UPDATES
In Memory Of
Lewis Alberts
Help tell the story of your loved one's unique life. Leave a memory or share a photo or video below to show your support.