OBITUARY
Mary Theresa (Wroblewski) Pierrynowski
September 7, 1927

–

January 20, 2022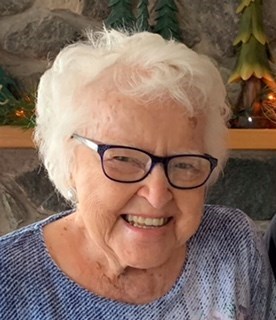 With heartfelt sadness we announce the peaceful death of Mary Pierrynowski on January 20, 2022 at the Cove Guest Home with her daughter Wanda (Wandzi) at her side. She was our Mom (Matka), Grandmother (Babciu), Aunt (Ciocia), Godmother, Elder at St. Mary's Polish Church and friend. Mary was the daughter of the late Stefan and Maria (Bedryj) Wroblewski. She is survived by her daughters, Maria (Barry) Pierrynowski Morrison and Wanda (Wandzi) Pierrynowski (Linda MacIntyre); granddaughters, Krystina (Darryl) Hartigan and Candice Morrison (BJ Spears); her special Goddaughter Patricia Paruch; many nieces and nephews; relatives in England and Poland; and friends. Besides her parents, Mary was predeceased by her husband, Teofil Pierrynowski (1997), sister, Agnes Wroblewski Stephenson (2018) and brother-in-law Peter Stephenson (Stefanyshyn)(2015), many brother and sister-in-laws in the Pierrynowski family, relatives in Poland and England and many friends. Mary was born on September 7, 1927 in Whitney Pier where she lived for many years until her move to Coxheath. Mary worked in various retail jobs and completed a secretarial course that led to employment with the Wartime Prices and Trade Board and the Cape Breton Post. She loved her job at the Cape Breton Post and had many wonderful memories of the best staff parties one could imagine! She finished working at the Cape Breton Post to become a stay-at-home Mom to her daughters who brought her so much joy. Once her daughters were grown, she provided in home child care to the MacKinnon family (who called her Mrs. P). Once her own granddaughters were born, she began providing childcare support for them over several years which created many special memories for her. In the 1990's, Mary provided daily supports to her husband (Teofil) who lived with various health challenges until his death in 1997. Mary was a dedicated life long active parishioner of St. Mary's Polish Church and loved her church community. Polish culture, faith, customs, spiritual traditions, music, food (she made the best pierogi) and language were the most important part of her life. Mary was part of church choir from a young age and was the choir director of St. Cecilia Choir at St. Mary's Polish Church until she was 88 years old. She was very proud that the choir was able to record two CD's which she enjoyed until her passing. Mary loved the members of St. Cecilia Choir and they loved her. Mary was the singing instructor for the Sydney Polish Singers and Dancers, a member of the Altar Society, a Polish Language Teacher, a member of the Polish Cultural Association, the Featured Musician in 2010 for Pierscape, and a volunteer for so many events within the Polish community. She accomplished her life long dream when she travelled to Poland with members of the church community and to England to visit her Polish cousin Anna (Kadziola) Cybulska (deceased) and family. Over the years, Mary's eyesight changed due to Macular Degeneration. With the support of CNIB she received adaptive tools which magnified music, text, and photos that helped maintain her independence. She was able to continue to plan and learn music for the St. Cecilia Choir and prepare weekly mass music programs for St. Mary's Polish Church. Mary became a CBC One Radio listener due to her vision changes and her favourite program was Mainstreet Cape Breton with Wendy Bergfeldt. Mary wished to stay in her home for as long as possible after the death of her husband (Teofil) in 1997. Thank you to the following who made this possible: nephew and neighbour Henry Pierrynowski (deceased) who provided lawn care, snow removal and assorted jobs; nephew Joe Barrington (deceased) and staff at JJ Barrington Wheel Alignment who always helped maintain her car for many years; Kenny Paruch (deceased) who helped her with many jobs inside and outside the house; and neighbours Kaye and Walter Ingraham (who became part of our family) who assisted Mary as her Macular Degeneration progressed with banking, paperwork, snow removal, providing transportation and accompanying her to medical appointments, funerals, and other events and were always just a phone call away at all times. In January 2016, Mary moved to the Cove Guest Home and the staff and residents became part of Mary's family over the past 6 years. Mary always stated "this is the best place to live and everyone is so good to me". Mary attended many activities at the Cove and for many years was very busy all day and into the evening. Thank you to all the staff at the Cove who provided Mary with so much care, compassion, and love and found ways to keep Mary connected with family and friends through the pandemic. Thank you to everyone who maintained connections with Mary when she moved to the Cove Guest Home by visiting, phone calls, cards, flowers, letters, emails, offering Communion, FaceTime calls, and transportation to appointments, funerals, and social events. Thank you to the parishioners of St. Mary's Polish Church and others for your continued prayers. Special thanks to Vicki Pierrynowski Aucoin, Anita and Mike (deceased) Pierrynowski, Kaye and Walter Ingraham, Patricia Paruch, Wayne Joseph, Joan Mosher, Dr. Tom Urbaniak, Fr. Dennis Lamey, Linda MacIntyre and Jacqueline Devoe. A private visitation by invitation only for Mary will occur on Thursday, January 27th at 2-4 PM at T.W. Curry Parkview Chapel. Proof of vaccination and photo ID are required due to Covid restrictions. A private Memorial Mass by invitation only to celebrate Mary's life will occur on Saturday, January 29th at 11 AM at St. Mary's Polish Church, Whitney Pier with Fr. Dennis Lamey officiating. Proof of vaccination and photo ID are required due to Covid restrictions. The Memorial Mass may be joined via livestream by visiting TW Curry's facebook page. Family flowers only. Donations may be made to the St. Mary's Polish Parish Building Fund and the Cove Guest Home Foundation in memory of Mary Pierrynowski. Kocham cię Mom
See more
See Less
FAMILY

Maria Pierrynowski Morrison (Barry)

Daughter

Wanda (Wandzi) Pierrynowski (Linda MacIntyre)

Daughter

Krystina Hartigan (Darryl)

Grandchild

Candice Morrison (BJ Spears)

Grandchild

Patricia Paruch

Godchild

Stefan & Maria (Bedryj) Wroblewski

Parents (deceased)

Teofil Pierrynowski

Husband (deceased)

Agnes Wroblewski Stephenson

Sister (deceased)

Peter Stephenson (Stefanyshyn)

Brother-in-law (deceased)

Mary Theresa is survived by many nieces, nephews and relatives in Poland and England.
Past Services
Thursday,
January 27, 2022
Private Visitation (by invitation only)
Saturday,
January 29, 2022
Private Funeral Mass (by invitation only)
In Memory Of
Mary Theresa (Wroblewski) Pierrynowski
Help tell the story of your loved one's unique life. Leave a memory or share a photo or video below to show your support.