OBITUARY
David Charles Parker
August 19, 1949

–

November 1, 2021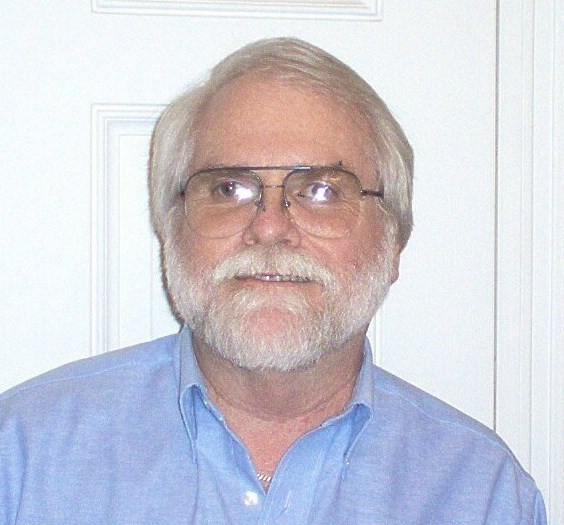 David's three children have each written a portion of his obituary. Each wanted in their own way to tell the story of the very unique and complex man they adored as their father. While we know this might not be the most conventual of obituaries, it's Dad. David Charles Parker passed away on Monday, November 1, 2021 in Tallahassee, Florida. Born in Pensacola, Florida to David H. and Caroline W. Parker, he contracted polio shortly after birth from his mother who was a nurse. Upon her own return to health, his parents claimed him from the state home he had been placed in because of the illness when he was 3. Determined that he would walk, his mother then implemented a rigorous physical therapy program that eventually led to his being able to walk without braces or any assisting device for most of his life. He and his parents would not allow this challengingly beginning to hold him back from any goal in life. Among many other pursuits throughout his youth, he went on to have a paper route, become an Eagle Scout, a life guard and an EMT (back when the ambulance services where run as private entities). Learning piano as a child began a lifelong love of music. In high school, with friends, they created a band with Dad playing the electric organ. They played all the local dives in Pensacola which led him to meet and eventually marry Wendy Lee Barnes, also of Pensacola, Florida. In time they had 3 children: Karen Lee Parker, David Livingston Parker and Charles Henry Parker. His love of music led to a diverse group of favorites. Everything from Jennifer Nettles to the Leningrad Cowboys and the Alexandrov Ensemble (google them, they are fabulous!) to Sabaton to the Pipes and Drums of the 48th Highlanders (well, any bagpipes really). Bagpipes and the Scottish Highlands held a special meaning to him as his mother's family came to America after Culloden through a highland regiment. He was proud to be of Clan Anderson, and knew all the family history. Gifted intellectually, David liked to refer to himself to a "perpetual student," often joking he would still be in college if they had not kicked him out. He earned various degrees from the University of West Florida, University of Florida and Florida State University. He was a PhD candidate in several areas, but in his words would "get bored" and not defend his thesis, thus never earning a doctorate. While pursuing his education, Karen and David grew up in student housing (notably Alumni Village) and therefore consider this childhood magical among many diverse nationalities. Upon being kicked out of school once again, completing a Master's Degree in Political Science, the family moved to Kearney Nebraska, where David began teaching at Kearney State University. There Charles was born, completing the family. Karen: Dad was secretly a soft touch, and would always help with a donation for a dog in need. Often, I'd place a plea on Facebook and he'd call me a week or so later and mention he helped them out. He used to tell me not to say anything cause "it would ruin his street cred".....because of this, in lieu of flowers I would ask for donations be made in his name to Pets for Vets at https://petsforvets.com/donate. Dad didn't directly serve in the Military. While he was accepted to West Point when he graduated high school, because of the polio he could not pass the physical. So, he sought other ways to support and serve. In 1978 David moved his family from the purgatory of Kearney Nebraska back to the warmth and sunshine of Tallahassee Florida. After noticing that important information was being delivered via computer printout, David shifted his focus to the emerging field of Data Processing. After earning his certification in programming, he followed this up with teaching the very same program he learned his programming certification. Shortly thereafter he also entered into the new purgatory known as "state employee", eventually spending a majority of his state career with the Florida Department of Transportation. In 1985 the interior of his home on Wiggington Road was destroyed due to a flood the resulting experience of rebuilding the inside would be a lesson taught and used later. He also learned the lesson of always, always having excellent home insurance. After the harrowing and life-altering experience of teaching his oldest son to drive, David decided to hire a professional to teach his youngest son to drive. Presumably this went much better, although given they both have had their share of car accidents, who really knows? In 1991 David designed and built his Tallahassee home. This house he designed on a computer featured an octagon-designed main room with two wings containing a master suite in one and then what he had planned for future grandkids – an additional master and another small bedroom for bunkbeds. He considered this home to be his personal triumph as David acted as his own general contractor - building much of the house himself. We all manage to accept there isn't a square wall in the house. We aren't entirely sure it's supposed to be this way. After growing increasingly frustrated with the bureaucracy of state government and the overall attitude of "lard bricks" which were plentiful at the time, David left DOT. He built what became a very successful company based in North Carolina called "DPCi; Data Processing Consultants". His company was a source of immense pride as he often told his oldest son, "The harder I work, the luckier I get". A lesson not lost of any of his three children In 1997, David would be reunited with his youngest son after the latter moved into his Tallahassee home. For the better part of the next three decades, he would alternate his time between Tallahassee with his son, and Greensboro, North Carolina working with his business partner, Eric Perdue. Sometimes events would prompt him to focus on the other locations while being thousands of miles away. In 2005 a storm caused serious damage to the front of the home, a pattern that would be repeated more than a decade later in 2017 and again in 2018, when Hurricane Michael would knock power out for days at the Tallahassee home. While living in North Carolina, he rebuilt and renovated a spacious home he shared with the woman in his life at the time, Nancy Simpson and enjoyed a relationship with her two children Jeff and Carrie. Those were the times he got to be grandfather in spirit to the small child of one of them. He mentored his partner, Eric, teaching him that business should never take priority over the health and care of his family. These were lessons he had himself learned the hard way. However busy he was, Dad would find always find the time to be there for emergencies. For example, in 2006, he dropped everything to accompany his youngest son for nasal surgery at Shands Hospital. Flying in and making sure the surgery went as planned and that his son recovered well, although it could be said that while Dad was a good EMT, he wasn't the best nurse. He was also by his daughter's side when her husband died in a freak accident in 2016. He stayed in Tallahassee to help make all the arrangements and only returned to his schedule once he was assured she would be okay. Even then, he continued to visit her every Sunday he was in town for the first year after Jeff's death. After a few years of flying into Tallahassee on Friday on and out on Monday, David found the time and energy to reconnect with his old flame, Mary Givens, and with his children's blessing, started seeing her again. Her return wasn't the only change he enacted, despite his frame and personality, he began working as an exhibitor at trade shows in Tallahassee when he had the time and opportunity. Finally in 2019, he sold the North Carolina house and moved back to Tallahassee full time, in his old home. Now more or less retired, he kept engaged in a more nurturing and caring lifestyle. When his daughter was finally forced into early retirement due to a rare autoimmune disorder, he was there for a shoulder to lean on and an ear to vent too. David supported his oldest son's change of career and gave what advice he could as a former EMT. With his youngest, he supported him in the latter's desire to make road trips to attend events he had long denied himself while immersed in school. He was also there when all of his children made positive changes, with his daughter remarrying in 2020, the elder son becoming a nurse for a respected physician and the youngest graduating from Florida State University. David and Charles: In addition to supporting fellow nurses, we would like to thank Big Bend Hospice for the best care Dad received. We would like to request that donations be made in Dad's name in lieu of flowers athttps://bigbendhospice.charityproud.org/Donate. Dad endured 4 months of medical care in various medical facilities. If he had gotten the same level of care that he received from hospice house and their staff, he might very well still be with us. Our sister joins us in thanking each of them for their excellent care of our Dad, and ourselves, during this horrible time. Waiting for David when he crossed was his beloved grandfather, Charles Anderson "Poppa Charlie" Ward, his parents, David H. Parker and Caroline W. Parker, his sister and brother-in-law, Jane and Bill Roberts, son-in-law Jeffrey H. Simons, grandchildren Hope Lee Simons and Austin Cloninger, grand-dogs Gretchen and Gracie Parker as well as Violet Simons. Also, the mother of his children, Wendy Barnes. Surviving him are his daughter Karen and her husband Ed Markiewicz as well as sons David and his wife Dixie Parker and Charles Parker, and longtime significant other Mary Givens. Additionally left to cherish his memory are Nancy Simpson, her son Jeff Simpson and daughter Carrie Simpson. Considered to extended family is his business partner of 22 years, Eric Pardue with his wife, Andrea and daughter Adrienne. Also remembering in their own way are grand-dog Magnus Simons and grand-cats Goose Markiewicz and Heathcliff and Amanda Parker. To the many lives he touched, David was a different man. He was their best friend, their confidante, a trusted elder, good friend and even, their father. It is in these different points of view, the different memories of him, is his legacy assured. A Celebration of Life for David C. Parker will be held on Friday, November 19, 2021 at 2:00 p.m. with a small reception to follow. Friends are invited to join the family at Culley's Meadowood Funeral Home, 1317 Riggins Road, Tallahassee, Florida.
See more
See Less
In Memory Of
David Charles Parker
Help tell the story of your loved one's unique life. Leave a memory or share a photo or video below to show your support.