OBITUARY
Roderic "Rod" Russ Dugger Jr.
April 27, 1920

–

March 15, 2023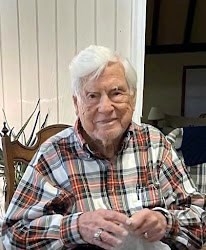 Obituary for Roderic Russ Dugger Jr April 27, 1920- March 15, 2023 Roderic Russ Dugger Jr was born at home in Macon, Georgia on April 27, 1920. "Little Roddy" joined his parents Roderic Russ Dugger and Margaret Anne Morgan Dugger and sister Margaret (Molly) Aleene Dugger as a beloved son/brother. Upon hearing they had a son, Rod Sr ran out of the house, jumped the fence between his and the neighbors' house to share the news "We have a boy!" Loved and cherished by his family, "Little Roddy" loved exploring his world with enthusiasm, a trait that would follow him for life. In 1925 the family moved to Ft Meade, Florida. Rod Sr found employment at a bank and the family settled across the street from his grandparents' home. Times were good. In 1929 as the family car pulled up to the bank to pick up Rod Sr from work, they noticed people, a lot of people, leaving the bank. When asked why Rod replied, "The bank is closed." It was closed, really closed. The Great Depression had begun. Hard times were ahead for the family and all Americans. In 1930 a move to St Petersburg brought several years of struggle. A move to Pierce, Florida and a new job for Rod Sr brought much needed stability. A nice house with plumbing, electricity, and telephone all provided by the Agroco Chemical Co. was a lifesaver, literally. Roddy was back in school. He proudly graduated from Mulberry High School, and attended Florida Southern College. As he was ready to begin his junior year, with war looming, Rod and several friends joined the Navy. They were still in basic training when WWII began. He served much of the war on the Destroyer, "The Landsdale" as a Gunners Mate. Rod was selected for Pilot training. While in training at Whiting Field near Milton, Florida, Rod and a couple of friends went to visit one of Roddy's' mothers' friends, Elsie Armistead Whitmire, mother to, as it turned out, a person Rod had met the day she was born. In 1927 Roddy and Molly had waited patiently on the front porch of a house as their mother helped Elsie give birth to a baby girl named June. When they met again in 1945 Roddy was struck with Junes' wit, beauty, and intelligence.During the next year the war was over, the couple were engaged and married when June graduated from FSCW. June 21, 1946, the couple became Rod and June Dugger-truly soul mates. They went to Florida Southern College so that Rod could complete his BS degree. Ten months later their first child April Dugger was born followed 13 months later by Roderic Russ Dugger III. As their education continued, the young couple moved to Gainesville to pursue master's degrees and William Anthony Dugger was born. Suddenly the Korean Conflict began, as a "Weekend Warrior" Rod was called up to serve as an Air Intelligence Office aboard the Coral Sea Aircraft Carrier. Upon his return, the family of five moved to the welcoming town of Jay, Florida, where they opened, owned and operated a Western Auto store successfully for 12 years while adding Michael Morgan Dugger and Dawn Dugger to the family. In 1966, the family moved to Tallahassee, Florida for a job change as Rod became a Department of Education Vocational Information Specialist. Eighteen years with the Department of Education and the family grew up. All five of the children graduated from college, married, and began to present grandchildren and then great grandchildren to Rod and June. Tragedy struck in 1998 when son Bill Dugger died. Rod, June, and the entire family were heartbroken. Somehow life went on. As a life long Methodist his faith and that of his family sustained him and them. Rod and June enjoyed retirement. They enjoyed doing things together, camping, dancing, boating,Tai Chi, anything that involved family and friends. In 2000 they built a new home Midway, Florida to be closer to their children in the Tallahassee area. June died in 2010. His heart broken, Rod stumbled for a while then regained his footing and carried on. Another blow when namesake, Ric died in 2014. Friends and family mourned together. Prayers were uplifted, tears were shed and life went on. Rod, the optimist carried on with the help of his son and daughters until his peaceful passing March 15th, 2023. He led a blessed life filled with joy, challenges, deep love, upsets, and heartbreak. Rod had recently attended in person worship at his home church, Trinity United Methodist. He was enthusiastically greeted by all. It warmed his heart. Rod Dugger lived his life well and lived the Fruits of the Spirit " the fruit of the Spirit is love, joy, peace, forbearance, kindness, goodness, faithfulness, gentleness and self-control". Galatians 5:22-23 Rod Dugger was the son, brother, husband, father, uncle, cousin, friend everyone wishes for and some of us had. We know he was welcomed home by all the loved ones that had gone before him. No doubt he is dancing with June right now and there is joy in heaven that a beloved Child of God has returned home. Rod is survived by three living children: April (Dan) Penton ,Mike (Karon) Dugger Dawn (Eddie) Long Predeceased Bill- living (Donna) Dugger Predeceased Ric living (Deborah) Dugger Grandchildren: Misty Penton, Rebecca Linden (Damien)Filer , Morgan(Brian) Durham, Melissa (Eric) Weaver Kelly (Steven) Brooks , Wendy (John) Cheney, Jenna (Riley) Bell ,Chris (Angela) Dugger, Bobby (Jenna) Long, Monique (Dan) Johnson, Linzee (Ryan) Buck Great Grandchildren :Megan (Cameron) Furseth, Rowan (Steven Burton) Penton-Filer, Chance Penton Filer, Jace Caito, Molly Caito, Brooke Weaver, Nolan Weaver, Lily Weaver, Emily Grace Brooks, Micah Brooks, Carter Brooks, Randy Brooks, John Cheney IV, Susanna Cheney, Bill Cheney, Jemima Cheney, Rhesa Cheney, Chaya Cheney, Farren Rose Bell, Riley William Bell, Brantley Dugger, Jayce Dugger, Noah Dugger ,Bo Long, JD Long, Wesley Long, Luke Long, Drew Johnson,Hailey-Jo Buck, Rylin Buck, Dawson Buck, Chloe Durham, Braxton Durham and William Durham Great Great Grandchildren: Troy Penton Filer Burton, Jackson Sparrow Wolgast, Nieces: Earlene Boyington and Anne Storms their children and many cousins including, Jim (Marcia) Dugger, Jack Dugger , John Talbird Should you choose In lieu of flowers you may make a donation to The Shriner's Children's Hospital, The Methodist Children's Home, or The Salvation Army.
See more
See Less
Past Services
Graveside Service with Military Honors
In Memory Of
Roderic "Rod" Russ Dugger Jr.
Help tell the story of your loved one's unique life. Leave a memory or share a photo or video below to show your support.