OBITUARY
Michael "Mike" Joseph Goujon Sr.
May 25, 1959

–

May 10, 2022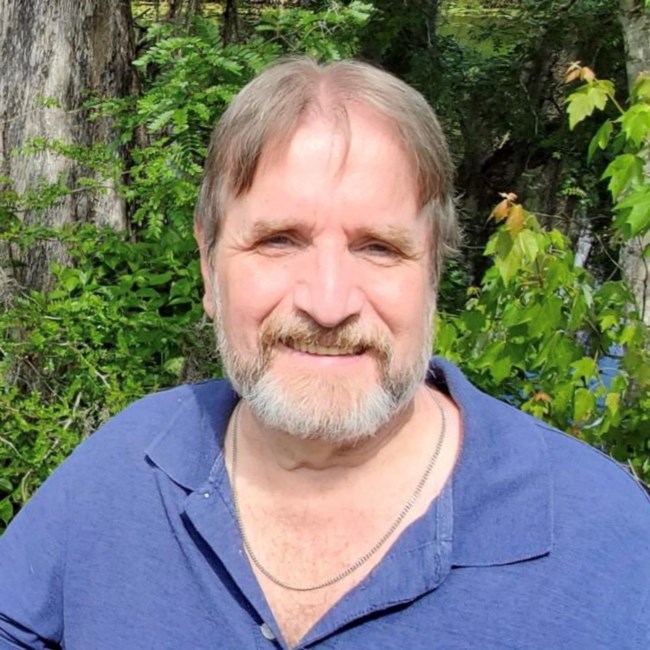 Michael "Mike" Joseph Goujon Sr. of Seffner, FL, was a loving husband, father, grandfather, son, brother, and uncle. He left this world suddenly on May 10, 2022 at age 62 while peacefully asleep in the comfort of his home. Mike was born to Sarah and Antoine "Henry" Goujon on May 25th, 1959 in Lawrence, MA. Mike absolutely adored his mother; he loved providing his Ma with her own apartment in his three-family home on Center Street and later her own bedroom in his home on Broadway. Mike learned a lot about personal hobbies from his father and he was so proud of his Dad's Army service as a WWII Veteran. When Mike was a teenager, he immediately joined the Army Reserve as a Motor Transport Operator responsible for safely and securely transporting people and cargo through all terrains and any kind of weather (story of his life). Mike briefly served in the military along with his older brothers: Henry Paul (Air Force), Simon (Marines), Timmy (Army), Mark (Navy) and younger brother Jimmy (Army). Mike was blessed with a large patriotic family as the second youngest of ten children along with his four older sisters Clara, Barb, Toni, and Bessie. Mike met the love of his life, Mary Lou, when he was 17 years old and they devoted their lives to each other for 44 years. Mike was the ultimate provider, protector, and best friend of Mary Lou. They were an unbreakable team that always looked out for each other during the worst of times and the best of times. They were blessed with two sons, Michael and Mark, and provided them with a loving home and memorable childhood. They created a tight knit family foursome and they loved to spend quality time together. He loved to bring his family to the movies, mini golf, go karts, and arcades to play skee-ball. Mike brought his boys swimming at Forest Lake, camping at Salisbury Beach, trips to the mountains for the fall foliage, and to Amesbury for snow tubing. Mike gave his kids fun memories at Jay Gee's, Water Country, Canobie Lake Park, and Disney World. He taught them how to play card games: 45s, Cribbage, and Poker (no wild cards); strategy games: Connect Four, Stratego, Risk, and Chess. Mike passed on his admiration for collecting and displaying unique chess board sets. He taught his wife and two sons how to each drive a car and brought them to get their driver's licenses. Mike helped his son Michael get his job at Malden Mills and his son Mark lose over 30 pounds to join the Air Force. Mike was the rock of the household and he put his immediate family first above all; Mary Lou, Michael, and Mark were his entire world. Mike had a wicked sense of humor, a boisterous laugh, and he could make people smile during any situation. He would laugh so hard that he'd get tears in eyes many times before he could even finish saying the funny thought, he was bursting to tell you. Mike had a lot of faith and was an out of the box thinker. He had thought provoking conversations about intelligent life in the universe, multiple dimensions, string theory, and time travel. He enjoyed going to the movie theater with his family, especially comedies, adventure, fantasy, and Sci-Fi movies. He watched TV shows like Bewitched, I Dream of Genie, Twilight Zone, Lost in Space, Star Trek, Futurama, and Game of Thrones. Mike enjoyed playing poker games on his cell phone with fake money, he liked scratch tickets, and he had special numbers picked out for his weekly lotto tickets. Mike was extremely creative and crafty; he drew cartoons, created costumes, helped build science fair projects, and painted miniature displays of people enjoying various holiday seasons. Mike loved to decorate his home for every holiday. He loved to celebrate holidays, especially cooking his father's "Goujon French Stuffing" for Thanksgiving (Recipe: ground hamburger meat, white rice, chopped celery, diced onions, juicy raisins, Bell's Seasoning, and a dash of stuffing). Mike always attended Christmas Eve Mass at Midnight with Mary Lou and their Christmas tree was a memory tree; each ornament had a special sentimental meaning. Mike knew the importance of making memories and capturing special occasions. Mike was an avid photo album assembler (borderline scrapbooker). He photographed and recorded life events before "selfies" were invented. Mike always had a camera with him to snap photos at birthday parties, cookouts, and any family gatherings. Mike bought a VHS camcorder when they were first sold in the 80's. Video cameras were so uncommon that school teachers thought Mike was from a local news station when he recorded his son's first day of kindergarten. His nephews and nieces have fond memories of starring in Uncle Mike's homemade music videos lip singing 80's songs like Total Eclipse of the Heart by Bonnie Tyler… "Turn Around Bright Eyes!" When his son Mark deployed to Iraq in 2006, Mike videotaped messages from family and friends to show their love and support, and he asked them to sing Christmas carols so Mark didn't feel alone for the holidays. Mike was a hard worker and he was part of four generations of factory workers. In 1977, Mike joined his father and siblings to work at Malden Mills textile manufacturer where he stayed a dedicated employee for over 40 years and was later joined by his oldest son Michael. Mike endured a massive, wind-whipped fire that completely destroyed three buildings, where the company's signature Polartec fabric was produced. In 1995, Mike was there standing amid the ruins of the Malden Mills complex when the owner, Aaron Feuerstein, pledged to rebuild the company on that smoldering site. Mike and his son Michael remained loyal employees for 20 more years until the company eventually closed the factory location in 2016. After the devastating loss of the only livelihood Mike had ever known, he went back to school, completed his GED at age 57, and went to trade school to learn how to solder electronic equipment. Mike was so proud of his son Michael for earning his Class A license and becoming a professional truck driver on the open road. In 2018, Mike, Mary Lou, and Michael made the life changing decision to move from their home state of Massachusetts. They started a new life in Florida with his son Mark, daughter in-law Jaime, and granddaughter Nadia. Mike absolutely loved living in his new home that Jaime helped find only a short five-minute drive down the road from Mark's neighborhood. Mike took pride in making the bed every day and would ask Alexa for the joke of the day, the weather in Methuen, MA, and then the weather in Seffner, FL. Although technically retired, Mike woke up at 4:00am to talk with his son Michael for the last three hours of his night shift to keep him company on his daily road trip (that's the kind of Dad he was). He loved to listen to his favorite music playlists and sang along with patriotic and religious songs… "Our God is an awesome God. He reigns from heaven above!" Mike and Mary Lou were happy they visited their son Mark when he lived in Germany and had a chance to travel in Europe. But Mike loved Florida so much that he said he never wanted to leave the state again. He enjoyed family walks at Lettuce Lake Park to take in the scenery and view the gators swimming under the wooden walkways. Mike was honored to visit the Veterans Memorial Park in Tampa and so proud of his son Mark for helping build the Iraq Veterans Memorial. You could always find him walking around in short sleeved collared shirts, cargo shorts, and sandals on his feet living the Florida lifestyle. Most of all, Mike cherished quality time with his 8-year-old granddaughter Nadia. She was his pride and joy. Nadia was the greatest motivation for Grandpa, Grandma, and Uncle to start their new chapter of life in Florida. He looked forward to picking her up after school throughout the week. He taught Nadia knock-knock jokes, Dad jokes, riddles, and magic tricks like removing your thumbs and making coins disappear. He started the family tradition of the "longest french fry contest" at the dinner table (I win!). Grandpa and Nadia taught each other how to build paper airplanes and he gave her figurines from his collections to play with. He was crafty so they painted rocks, decorated Easter eggs, and made jack-o'-lantern faces on pumpkins together. They had drawing competitions to compare left hand versus right hand drawing skills and for fun Nadia would always give Grandma higher points than Grandpa. They would play board games, musical chairs, remote controlled toy bumper cars, bobbed for apples throughout the year, shot arrows at targets, and played "tree ball" hitting the ball over the massive tree branch in his backyard. He was amazed to listen to Nadia play songs that she taught herself on the keyboard, watch her dance performances, and even practiced dance steps together that she taught him. He enjoyed being there when Nadia rode amusement park rides, roller skated, ice skated, threw her first snowball, and went "snow-tubing" in Florida. They watched a lot of movies together in the home theater and everyone in the family had their own designated recliner (Grandpa's second row behind Nadia). Grandpa was so grateful to be part of Nadia's childhood. He was surrounded by love and he felt extremely blessed for his life. Mike is preceded by his parents Henry and Sarah, in-laws Barbara and Arthur, and siblings Timmy and Clara. Mike is survived by his loving wife Mary Lou; son Michael; son Mark; daughter in-law Jaime; granddaughter Nadia; grand-pets Rusty and Violet-Rose; and a huge family of brothers, sisters, nephews, nieces, and cousins missing him around the globe. Your condolences for Mike's untimely passing are appreciated and you are welcome to share your favorite memories and photos. The family will not hold a public wake or funeral with extended family and friends. There will be a private closed casket service with immediate family and a priest to lay Mike to rest at the cemetery. If you would like to send flowers to be displayed at the service, please have them delivered by Saturday, May 14th at: Blount & Curry, Terrace Oaks Funeral Home, 12690 N 56th St, Temple Terrace, FL 33617.
See more
See Less
Services
No services are scheduled at this time. Receive a notification when services are updated.
RECEIVE UPDATES
In Memory Of
Michael "Mike" Joseph Goujon Sr.
Help tell the story of your loved one's unique life. Leave a memory or share a photo or video below to show your support.