OBITUARY
Teresa "Teri" Carol Scott
March 27, 1953

–

July 16, 2021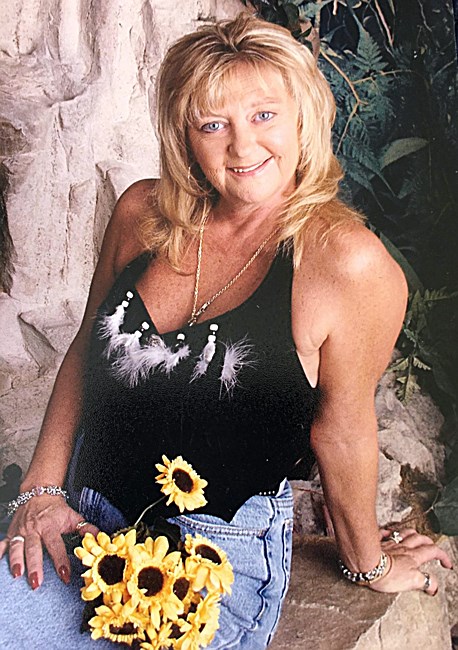 Teresa 'Teri' Carol Scott passed away peacefully just before midnight on July 16, 2021. While stationed at James Connally Air Force Base, Edward & Barbara Jean Hyatt welcomed baby girl Teri on March 27, 1953. She joined brother Ed, born 2 years earlier. The family was transferred to Newfoundland Canada and another sibling, Monica, joined the clan. The next transfer moved the family to Waterloo, NB, a small town outside of Omaha, where brother Scott was born. The family of six was transferred to Hialeah, FL for a couple of years and eventually to MacDill AFB in Tampa where father Ed retired from the Air Force.
Teri and her big brother Ed were each other's best friends, probably due to equal parts being close in age and the family moving every few years. Moving from a small town in the Midwest to Miami was culture shock for the siblings. Ed was the consummate big brother, always looking out for his little sister. This became an increasingly bigger job as Teri grew from a cute little girl with blonde curls to a beautiful teenager who may have been a bit boy crazy. Her parents were kept on their toes as Teri was free spirited and not exactly a serious student. She was a wonderful big sister to the younger siblings. Monica was allowed to tag along with Teri and her friends in exchange for keeping her secrets. She had a great sense of humor and quick wit. She'd kid around with Scott, dubbing him 'Mr. Bones', eventually shortening it to 'Mr. B' because he could never put on weight.
In Tampa Teri attended Pierce Junior High and graduated from Leto High School in 1971. After graduation, Teri moved to Orlando and was one of the original cast members at Walt Disney World. Teri enjoyed the world of hospitality and worked at several restaurants and bars once she moved back to Tampa, including Blueberry Hill on Harbor Island. For a time, Teri had a home day care center. She eventually went to work at Buy Best Beauty Supply on MacDill Avenue in south Tampa where she was manager for many years. Teri was a hopeless romantic who loved with everything she had. Like many people, she traveled some rough roads but made it back to her family with the same optimism and hope for love and happiness. She could be a tough nut to crack but once she cared about you, you were in. There was nothing she would not do for you. She gave of her time and treasure joyfully. Teri loved her family and her fur babies. Her pups lived a life of envy. Her nieces and nephews called her "TT" and she spoiled them with lots of attention and presents! Florida life suited Teri very well. She loved everything about summer – hot weather, suntans and lots of time at the beach. You might have seen her tooling around town with her 'SUNLADY' license plate. Teri enjoyed traveling. Her favorite spots were New Orleans for the food and music, Las Vegas for some gambling and cruises or trips to the islands to enjoy the beautiful water of the Caribbean along with the gorgeous beaches. Teri lived in south Tampa most of her adult life. She loved to cook and entertain. If you left one of Teri's parties hungry, it was your own darn fault! She went all out with decorations for all the holidays and especially enjoyed Halloween.
About 10 years ago, Teri suffered a stroke that left her disabled and unable to keep her job at Buy Best. She went through a divorce during this time and was living on her own for a couple of years when she had a second, more serious stroke. This left her mentally and physically challenged to the point she had to move to a long-term care facility. She was 62. Tough does not begin to describe it, especially when it became clear she would never recover enough to live without that level of care. Teri charmed the staff at the facility and they loved her but it was certainly not the life anyone thought she would have. After 6+ years, she suffered a fatal stroke.
Teri is preceded in death by her father, Edward. She is survived by her mother, Barbara Jean Barnette, brothers Ed (Emily) and Scott (Becky), sister Monica (Dan), nieces Jennifer (Chris), Maddie, Megan, Lindsey (Steven) and Andrea, nephews James and Josh (Lisa); grandnieces Zoe, Gabrielle, and Isabel and grandnephews Christopher, Jaxon, Roman and Ryker.
We are left with loving memories and a hole in our hearts. She is free of her wheelchair and all the struggles she endured the last years of her life. We can only imagine the light in her beautiful blue eyes as she experiences complete love and acceptance. Rest in peace, Teri.
See more
See Less
In Memory Of
Teresa "Teri" Carol Scott
Help tell the story of your loved one's unique life. Leave a memory or share a photo below to show your support.