OBITUARY
Mr. Michael Dean Colgrove
October 13, 1957

–

May 5, 2022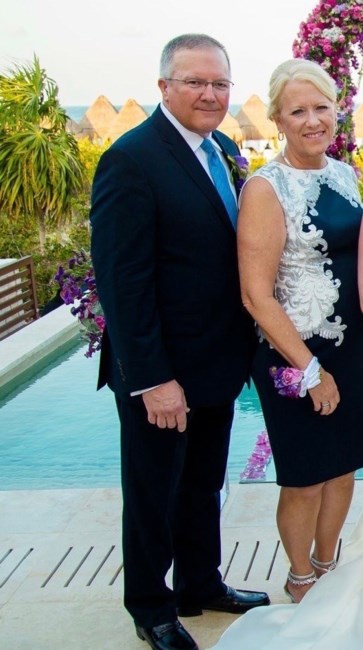 With profound sadness we announce the passing of Michael Dean Colgrove on May 5, 2022 at the age of 64 after giving cancer his best fight. He spent the end of his life surrounded by those he loved most. He is survived by his beloved wife, Peggy, his three doting daughters, Amy, Mindy (Hans) and Kyndell (Jacob), and three grandchildren, Dean (4), Samantha (2), and baby boy (due in early August). He is also survived by his parents, David and Fern, three brothers, Dave, Kent and Randey, sister, Jane, and numerous loved ones. Mike was born in Cañon City, CO and raised in Blue Springs and Wymore, NE. He graduated with an engineering degree from the University of Nebraska-Lincoln on May 8, 1982 and married his dear wife, whom he affectionately referred to as Blondie, a week later on May 15, 1982 before moving to Bridgeport, Texas where he began his career as an engineer for Natural Gas Pipeline. His career carried him all over the country and more recently all over the world. He was very passionate about his work and truly enjoyed the 40 years he worked for the company which eventually joined Kinder Morgan. The girls may have never fully grasped the scope of his work, but they knew not to make eye contact during budget season. He was a stubborn, fiercely loyal person with extremely high standards who constantly pushed others to realize their own potential. If you knew Mike, then you loved and respected him while also slightly fearing that silent gaze that required no words to tell you exactly what he was thinking and how near impossible his expectations were. Mike always made sure to help and provide for others. He knew he could solve any problem with enough time and dedication. His middle daughter remembers spending an excessive number of hours with Mike to build a bridge for a middle school physics project because he was a perfectionist. What she remembers most about this was being told to, "Measure twice and cut once." To which she responded, "I did measure twice; I just measured wrong twice." That digested really well with the engineer as you can imagine. He was one of the hardest working people you could ever meet and rarely complained. He tried to hide his big heart from others, but we could always count on his youngest daughter to make him cry despite his best efforts. In addition to his big heart, he had a true love for teasing others. He would wait up at night in the dark to scare his oldest daughter after arriving home from viewing a horror film with her friends. Mike would joke with people that his women were what bothered him the most, but he took it as a personal challenge to counter all the estrogen on his own. He often teased his girls that after three strikes he was out. It drove the girls crazy that he still used the original Iphone 5 and refused to upgrade because it worked just fine. After his passing, an unused newer Iphone was found in his closet where he likely kept it because he found more joy in driving his women crazy than satisfaction from an updated phone. Becoming a grandfather in 2018 meant the world to him, and he was happiest with a baby in his arms. Grandpa could always be counted on to share sweets no matter the time of day. His granddaughter had learned to only greet him by blowing raspberries every time they talked. We know he will be that voice in the back of their heads telling them all the naughty tricks to play as the kids grow. In May 2021 Mike was unexpectedly diagnosed with advanced esophageal cancer. He spent nearly a year doing everything recommended for his treatment with little complaint to his medical team despite his strong disliking of medical facilities (insert eye roll from his physician daughter...). He couldn't have done more or fought harder while continuing to work and care for others. Mike truly made something out of himself and was the backbone of his family. He always had a piece of advice no matter the topic of conversation, and he continued to parent his girls until the day he passed. He planned to retire in the near future and spend the rest of his life sailing and fishing with friends and family. His passing has left an immense void in this world which will never be filled, but he left a wake behind him of inspiration and love which will continue to touch the lives of those who knew him. We will cheers to Mike every Cinco de Mayo as he sits back to watch us all succeed while enjoying his Barq's root beer, angel food cake, caramel apple suckers, and a good old fashioned western film. FAMILY TREE A limb has fallen from the family tree I hear a voice that whispers, 'Grieve not for me' Remember the best times, the laughter, the songs The good I lived while I was strong Continue my heritage, I'm counting on you Keep on smiling, the sun will shine through. My mind is at ease, my soul is at rest Remembering all… how I was truly blessed Continue traditions, no matter how small Go on with your lives, don't stare at the wall I miss you all dearly so keep up your chin Until that fine day we are together again. Services for Michael Dean Colgrove have been scheduled for Friday, May 20, 2022 at Forest Park The Woodlands Funeral Home located at 18000 I-45 South. The Woodlands, Texas 77384. The family will begin receiving friends at 1:00 p.m. A celebration of his life will begin at 2:00 p.m. Following the service, the family would like to express their appreciation for you; please stay for a reception. Forest Park The Woodlands Funeral Home is honored to serve this family.
See more
See Less
Services
Send flowers in the next 11 hours for guaranteed delivery.
Visitation
1:00 pm - 2:00 pm
Forest Park Funeral Home
Celebration of Life
2:00 pm - 3:00 pm
Forest Park - The Woodlands Funeral Home
Reception
3:00 pm - 5:00 pm
Forest Park - The Woodlands Funeral Home
In Memory Of
Mr. Michael Dean Colgrove
Help tell the story of your loved one's unique life. Leave a memory or share a photo or video below to show your support.