OBITUARY
Nicholas Volk
December 17, 1931

–

August 10, 2017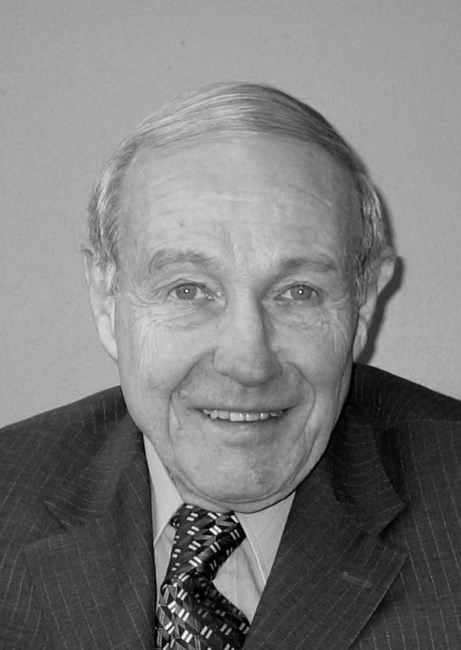 Nicholas died peacefully surrounded by his family on August 9. Loving husband of Barbara and father to Rebecca (Martin), Nicholas (Kimberley), Gregory (Donna), Timothy (Nancy), Cecelia (Sean), and Jennifer (Chris) and nine wonderful grandchildren Monica, Aaron, Albin, Dylan, Owen, Alanna, Frances, Alma and Helen.
Born in Teaneck N.J., Nick graduated from Englewood School for Boys and joined the U.S. Navy Officer training program. At the age of 17, while on training duty, Nick was sitting on the shores of the Seine River and decided that his goals in life included travelling the world and being able to sleep anywhere. Throughout his life, he fulfilled these goals by visiting 76 different countries and all continents (except Antarctica) and developed the ability to sleep anywhere from a boat deck on the Yangtze River to a grass hut in Central Africa.
Nick graduated from Harvard University in 1953 with a BA, International Relations and Affairs and then served in the U.S. Navy for two years. While on shore leave in Boston, Nick was introduced to Barbara Neuman. They were married on April 12, 1958. Barbara became his lifelong companion and number one supporter for 59 years.
At the end of his tour of service, Nick was offered the option of a flight back home to the U.S. or a cash payment. He chose the latter and began a six month, backpacking journey across Southeast Asia, India and Europe during which time he and Barbara reconnected several times.
Nick joined the U.S. Foreign Service in 1958 and he and Barbara found themselves stationed in Southeast and East Asia until 1963 during which time 3 of his 6 children were born (in Cambodia, Thailand and East Pakistan). The next move saw Nick and his family headed to Washington where their fourth child was born and Nick found out he was posted to Toronto as a member of the U.S. Consulate. When the call for the next posting came, Nick and Barbara decided that they would make Toronto and Canada home. The family grew by two, Nick joined the CBC and became Director of Communications and worked for the Corporation for 23 years.
While serving in the positions of President of the Harvard Club of Toronto and the Director of the Harvard Alumni Association in Canada, Barbara encouraged Nick to use his talents of raising money to support those less fortunate. And so began his tireless crusade as an advocate for affordable housing and social justice.
Nick was the driving force behind the Society of St. Vincent de Paul's first foray into providing housing for low-income families. Over the course of seven years, he created Vincent Paul Family Homes Corporation, a non-profit organization, as a way to mobilize the community and raise funds for affordable housing. His efforts culminated in the opening of Gower Park Place in 1994, a 164-unit mixed-income housing development in Toronto. Several families have moved into independent housing because of the support provided. Nick remained actively involved in this endeavor right up to his final days.
Nick started volunteering with Habitat for Humanity Toronto in 1993 and served on the board of directors from 1994 to 2002, and was the chair from 1998 to 2002. After 2002, Nick continued his service to the board in an advisory role. Nick was a tireless champion of both Habitat for Humanity and the families it served. Under Nick's leadership, Habitat Toronto significantly increased its capacity to build homes for more families. Nick was also a strong believer that one could always do better and his goal of 100 Habitat homes a year never wavered.
One of Habitat Toronto's most significant builds during Nick's tenure as Chair was the home built during World Youth Day in 2002, which was blessed by Pope John Paul II. Nick's deep faith, commitment to Habitat for Humanity's mission, and his never-ending encouragement of staff and volunteers, made him one of the organization's most beloved volunteers. His service to Habitat for Humanity Toronto was honoured through a dedication of 14 homes in his name following his board tenure.
While he was chair of Habitat for Humanity Toronto, his vision and determination propelled the organization to build many more houses a year than had previously been achieved. Nick was deeply committed to providing affordable housing for all members of our society. In addition, and over the years, Nick was Provincial Chair of St. Vincent de Paul, Chair of the Toronto Community Housing Corporation, a member of Dixon Hall Community Services, the Ontario Non Profit Housing Association, the Roof Tops Canada-Abri International Board, the Interfaith Social Assistance Reform Coalition, and long-time active member of Our Lady of Perpetual Help Parish.
Nick has been honoured with a number of recognitions. Notable among these is the Governor General's Caring Canadian Award in 2003 for significant, sustained and unpaid contributions to the community in Canada or abroad, and the Canadian Housing and Renewal Association International Award in 2013 for outstanding work to advance international collaboration and dialogue among affordable housing leaders around the world and for contributions to international professional exchanges. Please copy and paste the following link in your browser to view the video: www.youtube.com\watch?v=9Lj0vTMBiLo
To those hesitant to volunteer, Nick's advice is "Find a need. Ask what you can do to help. And do it."
Nick's life also included many pleasures which brought his family much joy: late-night dancing, unusual carbonated beverages, eclectic music, adventurous food, Babar, strawberries, pictures on the wall and travel stories, collecting elephants, scratch paper, Pooh sticks, sending Valentine's, longyis and zorries, postcards, tennis, travel guides, milk and coffee face, grass skiing, iced coffee, figure skates for hockey, opera on Saturday afternoon, sailing, map on the wall, and up-downs. Nick will be missed by all.
Visitation at Rosar-Morrison Funeral Home, 467 Sherbourne Street, Monday August 14, 2 – 4 pm and 7 – 9pm. A funeral mass will be held at St. Basil's Church, 50 St. Joseph Street, Tuesday August 15 at 9:30am In lieu of flowers and to continue Nick's spirit of community building, donations in memory of Nick Volk to the Dixon Hall Community Services Capital Fund are welcomed, please copy and paste the link in your browser to view and make donations: http://dixonhall.org/donate/
A celebration of Nick's life will take place at a later date.
See more
See Less
In Memory Of
Nicholas Volk
Help tell the story of your loved one's unique life. Leave a memory or share a photo below to show your support.