OBITUARY
Nina Madora Kinghorn Hamilton
January 14, 1918

–

September 3, 2010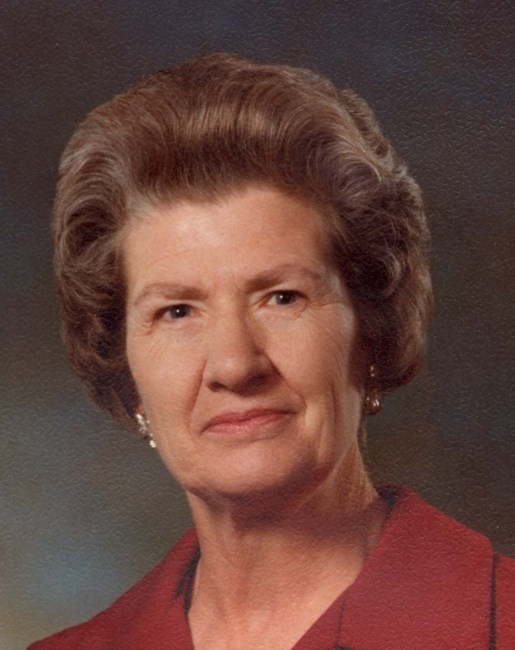 Today, 3 September 2010, the heart of our family quietly departed this life to re-join its head, from whom, due to his death on 3 May 2009, she was briefly separated, for the only time during their marriage of 69 years. Mother died while in the loving care of her five daughters in Logan, Utah, of causes incident to a brief final illness. She was happily and gratefully able to live independently until the last few weeks of her mortal life, in a home in Twin Falls which she very much cherished and loved.
Nina Madora Kinghorn was born 14 January 1918 to Thomas Brian and Laura Eakle Kinghorn in Menan, Idaho, the third of four siblings. Her childhood years were spent in Sugar City, where her father was a station agent and telegrapher for the Union Pacific Railroad. Mother studied piano beginning at an early age. Many perform music. She owned it. She became acquainted with our father in her high school years, but was pri- marily interested in pursuing musical training to become a concert pianist. While she was engaged in that training in Baltimore, she experienced one of the defining moments of her life when she decided that a marriage to Lloyd A. Hamilton was more important to her than the life of a performing artist. Our father, our family, and our community have been immeasurably blessed by that decision.
'Mother and Dad were married 2 April 1941 in the Salt Lake Temple. For a brief time before and subsequent to their marriage, Mother sang in the Mormon Tabernacle Choir. Not long after that, they returned to Sugar City to work in the family sheep business. In 1946 Dad began selling insurance, and in 1955, after two years in Preston, they moved to Twin Falls, where they established the Lloyd Hamilton Insurance Agency, which they sold in 1981. For the first few years in Twin Falls, Mother's piano teaching was a major help to the sustenance of our family, while Dad was getting the insurance business established. Mother continued teaching for many years, and many have experienced her saintly influence.
Like our father, Mother always did her utmost to love and serve her family, her fellow men, and our God. For a time, while all seven children were at home, she baked a dozen loaves of bread twice a week. Our clothing was always neat, clean, and impec- cably ironed; our home always nearly spotless. She quietly went about doing good whenever and wherever she saw a need. Perhaps no one will ever know of all the meals she took to shut-ins, or families where illness or death had visited. And she always served faithfully and well in whatever she was asked to do in the church. She was at Dad's side as the Matron of the Boise Temple, and on missions to the Atlanta Temple, India, and Sri Lanka. While Dad was as involved as he was in his business, the community, and his years as a stake president in the church, our home life, due to Mother's influence, was always a haven of love, peace, and joy. In addition to being the wonderful mother she was to all of us, she was a superb hostess to some of the most distinguished leadership of the church who stayed in our home while visiting for stake conferences. Ezra Taft Benson, Boyd K. Packer, Thomas S Monson, Joseph Fielding Smith, Spencer W. Kimball, Gordon B. Hinckley, and others experienced her hospitality and dined at her table.
Both Dad and Mother loved the temples and everything for which they stand. It was a blessing in their lives when the temple was built in Twin Falls, because their health had declined to the point where traveling to Boise was difficult. Dad faithfully participated until his death, and Mother was at the temple regularly, right up to a few days before her final illness.
The beauty of her music and her life, now stilled from among us, will be sorely missed. But her exemplary goodness and the memories with which we are blessed will be eternally treasured.
Paraphrasing one of the great men of our country's history, we would observe, "All we are or ever hope to be, we owe our angel mother." Mother was preceded in death by her parents, all her siblings, and her husband. Survivors include seven children; Sylvia Lynne Brown (Ross), Jeanne Nielson, Barry K. (Jacque), David L. (Bonnie), Camille Holladay (Lance), Lesli Bucher (Frank) and Melanie Hamilton (Robyn Gonzalez); 32 grandchildren, and 48 great-grandchildren.
We thank Allen Mortuary in Logan, Utah and White Mortuary for their kindly and caring service to our Mother. The service, conducted by White Mortuary and under the direction of Bishop Adam Hodges, will be held at the Twin Falls Stake Center, adjacent to the Temple on Eastland Drive at 11 :00 A. M. Friday, September 10,2010. Visitation for family and friends will begin at 9:30 A. M. Interment will be at 1:00 P. M. Saturday, September 11, at the Sugar City Cemetery. Services are under the direction of White Mortuary, Chapel by the Park, Twin Falls. Condolences may be left for the family by visiting www.whitemortuary.com.
See more
See Less
Past Services
Friday,
September 10, 2010
Funeral Service
In Memory Of
Nina Madora Kinghorn Hamilton
Help tell the story of your loved one's unique life. Leave a memory or share a photo below to show your support.