OBITUARY
Doug Gilbert : Wishing You Fair Winds and Following Seas
March 29, 1948

–

May 5, 2022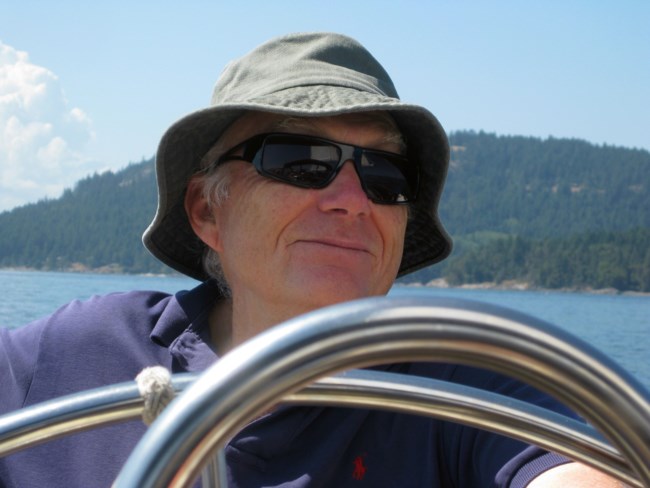 Douglas John Gilbert was born in March 1948 to Jack and Doris Gilbert of Oak Bay. Doug's love of boats began at an early age while spending his summers at his uncle's marina in Brentwood Bay, Gilbert's Marina. Coming from a long line of family who either worked, designed or built boats, it was no wonder that sailing and building sailboats became a lifelong passion for him. When it came to University he chose Architecture at UVic, but in his fourth year after the very first day, he decided a hitchhiking trip of Europe would be much more interesting. After a year-long trip which included Morocco, Iran, Turkey, Afghanistan and India he returned home. Since work was necessary, he got back to doing what he enjoyed most which was building boats. First helping a friend build fiberglass sailing dinghies and later building six wooden clinker dinghies with his father and a friend. Yearning for his own boat, Doug drafted a 32-foot gaff-rigged sailboat which was designed after the Columbia River fish boats. Painted green and bobbing on the water, he aptly christened her 'Leaf.' She was launched in 1976 at Pedder Bay Marina. In December, 1979 Doug invited Chris to accompany him on a cruise around the Gulf Islands. They departed after Christmas, became engaged on the trip, and were married two weeks later. Chris and Doug lived on Leaf at Pedder Bay until June 1980 when they embarked on a four-month honeymoon cruise getting as far as Bella Bella. After returning they wintered on Leaf anchored in Tod Inlet before selling her and moving back to Metchosin and their son Tod was born there. Selling Leaf enabled them to purchase a two-acre property in Metchosin and a backhoe for Doug's new business, Rocky Point Backhoe. Never having operated a backhoe was not a deterrent and he quickly earned a reputation for reliability and proficiency. Doug's woodworking skills shone again as he designed and constructed another 24 ft sailboat and then their unique home on Arden Road with Chris working along side him. Tod and Doug were a close father-son team to the end. Over the years they designed and built remote-controlled gliders and sailboats, rode trials motorcycles, raced competitive one-design sail boats and built countless projects together. Doug retired from his backhoe business after 15 years then became interested in digital photography and photo-based art, teaching himself photoshop and joining the Victoria Camera Club. He was a member of Metchosin's Stinking Fish tour for a number of years but his passion remained in the creation rather than the selling of his art. Doug faced all interests in life without fear and eager to learn. When he got into something, it was always "all the way", self-learning and whenever possible, created it in his shop. His passion for creating things was passed on to Tod, who discovered engineering and took on a career in manufacturing. His inspiration was passed on beyond his son, and his niece Kaia articulated it perfectly: "I thought about you and wondered what gifts I have been given from knowing you--what it has meant to have you as an example of a person in my life. "Don't be afraid." The words came to me in your voice, said in a casual, "it's easy" kind of way. You know, with a shrug of one shoulder. Don't be afraid to try things. Want to build a boat? Build one. Perch a house on a cliff? Do it. Take up tennis? Grab a racket. Become a model airplane savant? Go for it. Develop a wide-ranging artistic career for yourself after retirement? Why not? Sourdough? Sure, but you're going to have to design an exemplary wood oven to bake it in. Koi care? You got it. Coffee machining? Yup. Learning systematically and thoroughly about every subject that you find interesting? Of course. Just do it. No big deal. Don't be afraid. I remember you once brushing off this kind of compliment from me, saying about yourself that you were: "a jack of all trades; master of none." Calling your confidence to try new things bravery may sound overblown to you, but in my experience it is uncommon to meet people who trust themselves enough to let themselves learn over and over and over again. A lot of people are brave enough to try a couple of things when they are young, get decent at them, and then spend the rest of their lives avoiding the discomfort of not knowing what they are doing. What I see in you is someone who trusts themselves enough to become at least a minor master of whatever it is you decide to try. You are not afraid to try. You trust yourself to learn. Confidence, care, curiosity, and patience is clearly a solid formula for making things happen." Doug's work can be seen physically through the many projects he created, but his true legacy is the impact and influence he had on so many around him, inspiring them to take on new things without fear. "Stop thinking about it and just do it". Chris said, "everything Doug did, he became passionate about. He would delve into it and do as much as he could, become competent, then move on to the next new challenge." He had a voracious appetite for learning, designing and building projects.He taught himself photoshop and CAD on the computer and after watching Netflix programs about sourdough bread making, he built a proofing box for the dough and a special wheelbarrow to wheel 10 loaves at a time to the unique wood-fired oven that he designed with CAD and built at the back of Chris' garden. When granddaughters Hana and Darby arrived, his focus turned to making exquisitely-built pieces for them. In January, Doug was diagnosed with an aggressive lung cancer brought on by exposure to asbestos from his early fiberglass boat building years. True to his nature he wasted no time in self-pity. Chris said, "curiosity about how the brain works always intrigued him. He accepted and explored the whole process while continuing to work on his current project, determined to finish the espresso machine that had occupied him for the past year." With Tod's assistance, he reached his goal and was able to taste "the best coffee ever". The beans had been roasted in the coffee roaster that he had built and were brewed in his new espresso machine just days before he died. One of his final wishes was to host an outdoor pizza party and slide show of historic photos of Metchosin, so on April 23 a small party of friends joined the family for a very special evening. His collection of donated historical Metchosin photographs hang on the walls of the Metchosin Community House. Doug was predeceased by his parents and his sister Sharon. Doug died in his home, his masterpiece, on May 5, 2022, five weeks after his 74 birthday, with Chris and Tod at his side.
See more
See Less
Services
No services are scheduled at this time. Receive a notification when services are updated.
RECEIVE UPDATES
In Memory Of
Doug Gilbert : Wishing You Fair Winds and Following Seas
Help tell the story of your loved one's unique life. Leave a memory or share a photo or video below to show your support.