OBITUARY
Samuel Tinsing Mok
December 30, 1944

–

September 21, 2022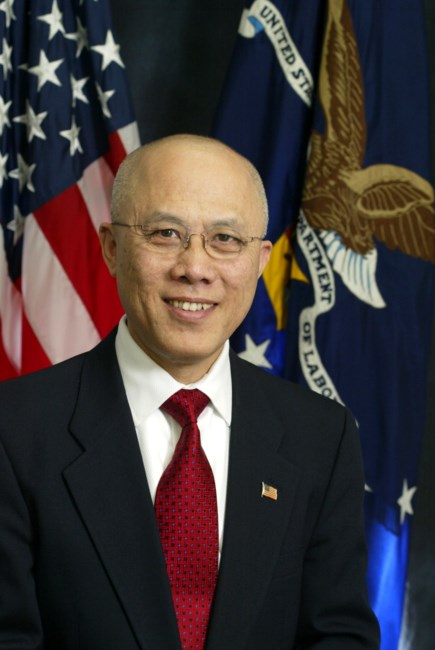 The Honorable Samuel Tin-sing Mok passed away on September 21st, 2022, at the age of 77 after a short but valiant battle with cancer. His wife Nancy was by his side and his family close by. Born in Shanghai, China, to Kwok Mok and Cora Mok, Mr. Mok was a lifelong student of history, a military officer, a public servant, an entrepreneur and, most importantly, a man devoted to his family. He was active in politics and widely considered a longtime leader and pioneer in the Asian American community. He tirelessly advocated for the Chinese and Asian American diaspora for decades, organizing and attending political events. He was an influential figure in Sino-American relations, fostering decades of understanding and goodwill. He worked full-time and never retired. Mr. Mok spent his early years in Hong Kong, where he attended and graduated from La Salle College, a private all-boys Jesuit school. He was an avid explorer, frequently hiking in the mountains of the New Territories while also traversing the corners and alleys of Shatin. Mr. Mok became a Queen's Scout (equivalent to an Eagle Scout) during his time in Hong Kong, a hard-earned triumph, and excelled in writing and literature. He was an avid reader and passed down his love of books to his children and grandchildren. In 1963, Mr. Mok moved with his family to New York, where he studied accounting and joined ROTC at Fordham University while also working a variety of jobs, ranging from a Chinatown waiter to being a stock runner. He fondly remembered his time in New York, where he met his wife and indulged in his love of cars with a series of long-finned models. After graduating from college, Mr. Mok began his private sector career as an auditor in Manhattan with Main & Hurdman (now KPMG) and as a Senior Auditor with Parnell Kerr & Foster. Soon thereafter, he was called to service in the U.S. Army, where he served in the 7th Psychological Operations Group in Tokyo and Okinawa, Japan, as a commissioned officer. His responsibilities entailed overseeing military intelligence reporting and analysis on China, Vietnam and North Korea. Mr. Mok completed his service as a Captain in Army Readiness Region 1 at the U.S. Military Academy at West Point. After resigning his Army commission, Mr. Mok became the director of accounting at Time-Life Books and subsequently the first controller and corporate treasurer of U.S. News & World Report. Mr. Mok decided to re-enter public service by joining the U.S. Department of State as a Senior Foreign Service officer in the Bureau of East Asian and Pacific Affairs. He then joined the senior management team of the Department of the Treasury where he became the Treasury's first Chief Financial Officer, appointed by President George H.W. Bush. At the time, Mr. Mok was one of the highest-ranking Asian Americans in the federal government. Mr. Mok also served as the Chief Financial Officer of the U.S. Department of Labor, appointed by President George W. Bush and confirmed by the Senate. Mr. Mok then established his own consulting firm, Condor Consulting, which he first established in collaboration with retired U.S. Sen. Birch Bayh. He provided strategic business information and facilitated the development of critical relationships between his clients and senior Asian embassy officials in Washington D.C. Mr. Mok was also frequently called upon to advise Asia-based clients on U.S. market entrance and business partnership strategies. A trailblazer for the Asian American community, Mr. Mok was not content with his own success, but committed to ensuring the success of the Asian American community as a whole. He served as a founding member of the D.C. Chapter of the Organization of Chinese Americans, founded the Federal Asian Pacific American Council, and became the first Asian American president of the Association of Government Accountants. Mr. Mok also went on to serve on countless boards and councils, including an appointment by President George H.W. Bush to serve on the National Advisory Council on Public Service. He was also proud of his work with the National China Garden Foundation in support of peaceful relations. In 2007, Mr. Mok received the Ellis Island Medal of Honor for his service to the United States and outstanding community service. He went out of his way to mentor many, remembering the challenges he faced himself as one of the first Asian Americans to work in the business world in the 1960's. Mr. Mok's tireless selflessness and dedication to others marked all aspects of his career. Mr. Mok will also be remembered for his devotion to his family. His foremost priority was making sure his family had a better life than he did, and was always available to listen with a kind or consoling word. Although he had a lengthy and full career, Mr. Mok without fail carved out time for all members of his family, but especially his grandchildren, living by his motto, "If someone cares about you, they will find time for you." His presence was constant in his entire family's lives. Despite his busy schedule, he never missed a grandchild's soccer game or important event. He also found time for his many friends and enjoyed staying close to them for several decades. He was a key figure in many groups and, with his great sense of humor and contagious positivity, often the life of the party. He loved country western music, traveling, and discovering great dishes from fine restaurants to hole-in-the-wall joints. Mr. Mok is survived by his wife Nancy, his children Angela and Arthur, his mother Coralia, his brothers Josiah and Andy, and six grandchildren: Ian, Jonah, Cate, Eliot, Chris and Aneirin. He will be deeply missed and remembered by countless other friends, family and colleagues over his decades of work, leadership, mentorship and service. Mr. Mok was buried with a military guard in attendance and military honors at Columbia Memorial Park (12005 Clarksville Pike, Clarksville, MD) at a private ceremony after the memorial service. A detail from the U.S. Army presented the American flag to his wife, gave thanks from a grateful nation, and played Taps. A reflection bench for visitors will be installed by the spring. From the Family: We are deeply grateful to the many family members, community leaders, friends and colleagues who visited and joined us during our father's visitation and memorial service to help celebrate his life. We also very much appreciate those who also shared their memories, photos and stories online, personally and via the memory wall, remembering all the wonderful, positive ways our father touched our lives. Stories and photos will happily be collected at the email address rememberingsamuelmok@gmail.com or through the postings here, at any time. All of these stories will be remembered affectionately, collected and made into a book commemorating our father, to give to our mother. Your communion with us has touched us profoundly. We are thankful for your fellowship with Sam and the time you spent with him in helping him achieve his desire to live a "technicolor" life. All of you made his life that much more colorful and we will be forever grateful for that. Your tremendous support of him, his work and activities throughout the years meant a lot to him and means a lot to us. We hope to continue and strengthen these friendships and bonds in honor of our father, and look forward to seeing you all in the future.
See more
See Less
Past Services
Thursday,
September 29, 2022
Visitation
Friday,
September 30, 2022
Funeral Service
Friday,
September 30, 2022
Interment will be private
In Memory Of
Samuel Tinsing Mok
Help tell the story of your loved one's unique life. Leave a memory or share a photo or video below to show your support.