OBITUARY
David Lawrence Beckwith
6 July, 1953

–

17 September, 2019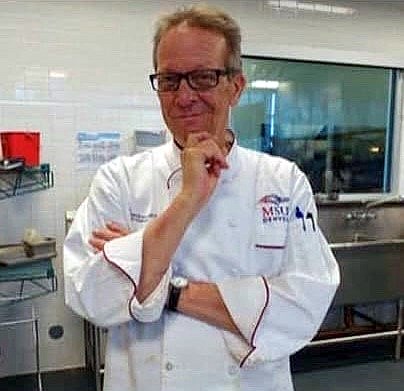 David Lawrence Beckwith- chef, dancer, educator, beloved friend, brother, and uncle, passed away peacefully in his sleep surrounded by loved ones at Lutheran Memorial Hospital in Wheat Ridge, Colorado on September 17, 2019.
David was born on July 6, 1953 in Quantico, Virginia to Roger and Loretta Beckwith. He was the second eldest of eight siblings. He displayed a love of the arts at an early age, and it was no surprise that he later went on to study theater and dance, and eventually the culinary arts. He first studied at Tarkio College in Missouri where he was a member of the Mule Barn Summer Company theater productions, and then went on to achieve his B.A. in English at the University of Iowa. Later he would go on to obtain is Masters in Education at Argosy University in Denver, Colorado.
After college he moved to Chicago, Illinois where he was a company dancer with the Joel Hall Dance Company. It was also in Chicago that he kickstarted his culinary career with the famous "Lettuce Entertain You" restaurant group. On May 6, 1978, while living in Chicago, he met his partner Ric Myroth at a local Boystown hangout, the Closet. The pair quickly hit it off and the rest is history. They moved to San Francisco, California in August of 1978. It was in California that David gained wide notoriety in the culinary world and would eventually be come to known simply as "Chef DB." Notable restaurants where he worked include MacArthur Park (1978-1983), Rio Grill in Carmel (1983-1985), Central 159 in Pacific Grove (Chef/owner 1985-1997), and Il Fornaio in Carmel (1997-2000). While working as a restaurateur and chef, he was published in many magazines and newspapers including the New York Times, Bon Appetit, and Gourmet magazine. In addition, many of his recipes were published in recipe books such as The Art of Monterey Cuisine, Flavors and Memories of America's Hometown-Slow Food, and A Series of American Cookery. He gained recognition as the original chef at Earthbound Farms with his salad dressing recipes printed on their packaging. He collaborated with many famous chefs at the Robert Mondavi Winery Cooking School where he met Julia Child. The two chefs became friends and he even had the privilege of cooking for her on her birthday.
It was his time at Il Fornaio that brought him to Denver, Colorado where he ultimately decided to give back to the culinary arts as an educator. In Denver he was a chef at the Starkey Institute where he trained many of the butlers that go on to work for the US government. This offered him the opportunity to travel to Washington D.C. where he taught at the Pentagon. One of his butlers went on to work in the service of the Vice President of the United States. David also taught at the Art Institute of Denver, and then eventually Metro State University (2014-2019), teaching such coursework as Global Cuisine, Cooking with Beer and Wine, and Food Science. His passion for food and art were evident as soon as one entered his academic office. A perfect potpie served as his computer desktop image, dozens of cookbooks lined the shelves, and every wall and cabinet was packed with sculptures, photographs and prints of perfectly prepared food. These items were an outward representation of the charismatic warmth that everyone who met David came to know as core traits of his personality.
Being a chef and educator were only two of the many facets of David's life. He was an avid sports fan, cheering on the Colorado Rockies, Denver Broncos, and the Iowa Hawkeyes. He loved to travel, venturing to his favorite destination, Italy, numerous times. David was an animal lover, caring for many rescued pets over the years, most recently Xena, an energetic Huskie. He supported a wide variety of charities throughout his lifetime, but was most known for his role as the Chairman of the "Feast for AIDS" in Monterey for ten years, raising hundreds of thousands of dollars for the Monterey AIDS project. In recent years he supported "We Don't Waste" in Denver, an organization that reclaims and redistributes unused quality food to Coloradans in need.
David was preceded in death by his father (Roger), mother (Loretta), brothers (Steven and Clayton), and sister (Sue). He is survived and so very missed by his partner (Ric), siblings (Denise, Gail, Connie, and Glenn), his nieces and nephews, countless former students, and many loving friends.
See more
See Less
In Memory Of
David Lawrence Beckwith
Help tell the story of your loved one's unique life. Leave a memory or share a photo below to show your support.