OBITUARIO
Joan L. Kenslow
7 julio , 1932

–

15 septiembre , 2022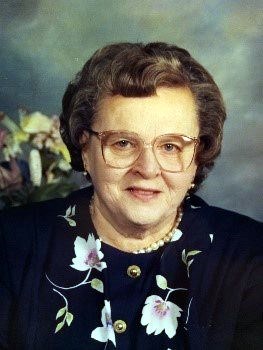 Joan L. Kenslow left this earth to be with her Heavenly Savior Jesus Christ on Thursday, September 15, 2022, at home, surrounded by her daughters, Patty Kenslow, and Diana Conner, along with her Senior Pastor Alex Oliver. She had just turned 90 years old in July. Joan was born to her parents, Elmer and Gladys (Shutt) Onions, as the oldest of ten children on July 7, 1932, in Kansas City, Kansas. She grew up in the Argentine, Kansas, area where she attended school. She began working at Myers Ice Cream Store as a teenager, and it was there that she met the love of her life, Ralph "Edwin" Kenslow. They were married on May 5, 1950. Edwin would eventually be drafted into the Army during the Korean War several years later. In the interim, he worked as a cabinet maker and installer for Weaver Cabinet Company. Joan frequently helped out at the cabinet shop alongside him. Three years after they were married, Edwin was in the Army and was stationed in Paris France as a bodyguard to General Gunther during the Korean War. A short time after he left, Joan gave birth to their first child, a son, Edwin Dale Kenslow. After Edwin returned from France, they had four more children, Steven Lee Kenslow, Patricia Ann Kenslow, Diana Marie Kenslow, and Robert Allen Kenslow. Shortly after their last son was born, they moved to Belton, Missouri, where they raised their children and remained until their deaths. Edwin passed away in October, 1989. Joan was a homemaker most of her life. She loved doing crafts, including her Raggedy Ann & Andy dolls, that she made by special order. One of the last sets she made, was shipped to Germany. Prior to his death in 1989, she worked with her husband to make Cabbage Patch doll furniture and dolls. She was extremely talented with her crafts, and loved meeting new people at craft shows and just those who heard of her craft work and her husband's furniture and doll furniture. They both worked together on their projects until his death. She then worked as a bus aid for Crabtree Harmon Bus Company for the Belton School District for several years. When she left there, she did volunteer work as the contact person for the OATS Bus Company for several years, working with senior adults to set up weekly bus schedules for shopping, lunch, and the occasional out of town daily trips. She received an award for "Contact Person of the Year" for her outstanding work with this group. She also enjoyed doing craft projects with her daughter, Patty, for those attending the Senior Center in Belton. They would do a special craft project for everyone attending for every special holiday or occasion. Joan was a very loving, outgoing person who enjoyed being involved with people, especially children. She served on the Church Board, and taught Sunday School and Vacation Bible School at her previous church, New Horizons Church of the Nazarene, in Belton, Missouri; and also helped teach children's church and Vacation Bible School at her current church, New Vision Church of the Nazarene in Raymore, Missouri. But her favorite time was spent enjoying her grandchildren, and great-grandchildren. She would attend everything they were active in, and loved spending that time with them. If she wasn't with them, she would be heard bragging to others about them. She also enjoyed spending time with her daughters, and when her granddaughter, Rebecca "Becky" was younger, traveling on several vacations, and to all of Becky's dance competitions. All except her dance nationals in Florida, because they could not get her on a plane. They took many trips together, as well as many dinners throughout the week. Saturday was lunch at Mazzio's in Harrisonville, Sunday was many times Sneed's Barbecue in Belton, and then there was Tuesday "Puffy Taco" night at Jose Peppers in Belton. Patty and Diana loved traveling and spending time with their mom and are already experiencing that great loss just going out to dinner. She was fun to be with, and they loved taking trips with her and doing silly things, because she couldn't spank or discipline them . . . They are adults. But they loved making her smile and laugh, and just having those special moments with her. Joan was preceded in death by her parents, Elmer & Gladys (Shutt) Onions; brothers, Robert Onions, Thomas Onions, John Onions, and Richard Onions; sisters, Laura Gochenour and Elaine Petty; her husband, Ralph "Edwin" Kenslow; all three sons, Edwin "Ed" Kenslow, Steve Kenslow, and Robert "Bob" Kenslow, as well as Diana's first husband, (whom Edwin and Joan called their 4th son), Edward "Eddie" Howerton; and a great-grandson, Harley Kenslow. She is survived by her two daughters, Patricia "Patty" Kenslow, and Diana (and husband Mike) Conner; as well as 10 grandchildren, 11 great-grandchildren, and one great-great-grandson. Also, two daughters-in-law, Patricia (Williams) Kenslow, (Steve's wife), and Lisa (DeMar) Kenslow, (Bob's wife). Joan is also survived by three sisters, Janet Robinson, Barbara Lusher, and Debra Copenhaver. She was an awesome Mama, Grandma, Grand-MawMaw, Great-Grand-MawMaw, Daughter, Sister, and Friend, who is already greatly missed. Her daughters, Patty and Diana, feel that, despite their tremendous loss, they were so blessed God chose her to be their Mama. Arrangements will be cremation with a "Celebration of Life" service at her church, New Vision Church of the Nazarene, 100 S. Sunrise Drive, Raymore, Missouri, 64083, on Saturday, January 21, 2023, at noon. Her service is being moved back until her great-grandson, Michael Edmonds, graduates and returns home from the Army National Guard Boot Camp & Military Police Training in four months. Private burial following her service at a later date next to her husband, in the Belton, Missouri Cemetery. The family requests, in lieu of flowers, that donations be made to Nazarene Compassionate Ministries – Missions, in care of her church, New Vision Church of the Nazarene, 100 S. Sunrise Drive, Raymore, Missouri, 64083. In lieu of flowers, contributions in Joan's memory may be made to Nazarene Compassionate Ministries Missions, 100 Sunrise Drive, Raymore, Missouri 64083 US, ncm.org. Fond memories and expressions of sympathy may be shared at www.mcgilleygeorgebelton.com for the Kenslow family.
VER MÁS
VER MENOS
Servicios
Celebration of Life
12:00 pm
New Vision Church of the Nazarene
En Memoria De
Joan L. Kenslow
Ayude a contar la historia de vida única de su ser querido. Deje un recuerdo o comparta una foto o video a continuación para mostrar su apoyo.