OBITUARIO
Betty Violet Chamberlain
30 julio , 1942

–

7 junio , 2020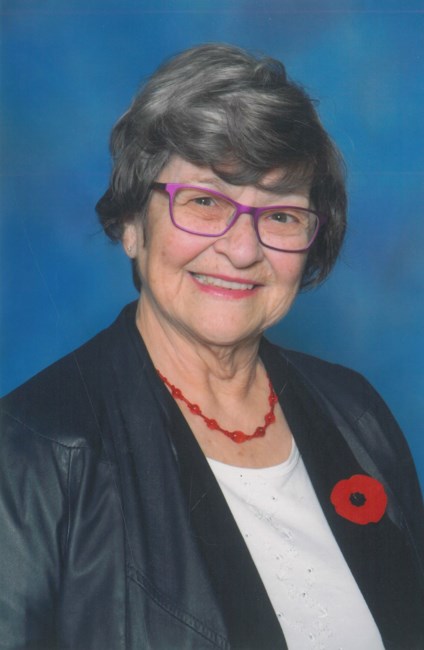 Betty Chamberlain was born in Maidstone, SK on July 30, 1942. Mom could read fluently by the age of 4 and vocabulary was always an intriguing subject to her. She attended school at Maidstone Elementary, then onto the Maidstone High School, graduating in 1960. In high school she got voted the Queen of Smiles (Grade 9, after that she always smiled alot more she said). She attended St. Paul's Hospital in Saskatoon and received her LPN in December 1961. She started work at the Lloydminster Hospital in January 1, 1962. Mom met Neil Procter, her "starter hubby" when she opened a bank account at the Bank of Nova Scotia in Lloydminster, AB. They were married in August 1962. I (Sonya) was born June 1963 and my sister, Laurie, October 1964. We moved to Edmonton in 1966 and Mom worked at the Royal Alec hospital. She volunteered as the President of Rosalyn Playschool in 1968. In 1973, we moved to Lethbridge where she was an LPN at Haig Clinic and started her university classes, as she had always wanted to be a teacher. In 1975 we moved to Slave Lake where Mom was a teaching assistant and continued with correspondence university courses. In 1976, we moved back to Lloydminster where Mom managed the day care. She also enjoyed giving back to the community through the Service clubs, Jacettes, Kinettes, and K-Ettes. Mom also found time to volunteer with Allied Arts Council, United Way and the Alberta Winter Games. She was also appointed by Minister of Education of Saskatchewan to be a Board member on the Provincial Child Care Worker Program at the Kelsey Institute of Saskatoon. Also, a member of the Board at Vermillion Lakeland College Day Care Worker program, all the while continuing with her university courses. In 1986, Mom attended U of C full time, when they moved to Canmore. She finished her Bachelor of Education Degree in 1988 from the U of C at 44 years old. Mom always said she was a lifelong learner. In 1989, she became a Nana and also moved to Vancouver to start teaching. She also earned her English as a Second Language after Degree Certificate. Mom met Don, her second husband in Vancouver and they married in 1998. They enjoyed many camping adventures throughout beautiful B.C. and Washington State. After Don passed away Mom retired from teaching and moved to Calgary in 2004. Mom lived in a 60 plus building for 17 years and enjoyed many activities there including her volunteer positions of: Condo Board Member; Lunch Counter; Crafts & other activities; Bartender (weekly hosting of the happy hour every Friday evening), Red Hatters and Crown Jewels. Mom writes: "What I enjoyed most in this life is family; figure skating ( both live & on tv); dancing( she had a group of gals in high school, in Vancouver & in her building- her dancing girls that she loved to dance with); friendships( she enjoyed many cherished & life long friendships); camping; downhill skiing; hiking; crafts ( knitting, crocheting, embroidery, macrame, quilling, cardmaking, rug hooking, basket weaving, sewing); pottery; weaving; laughing; watching rodeo(especially bullriding & the Chucks);being a beta game tester for EA Sports; reading and teaching her students how to read". She really enjoyed spending one-on-one time with her grandkids as they got to have sleepovers and Nana would get their favourite foods and line up fun activities. Betty left behind to mourn her passing and celebrate her eclectic life her daughters Sonya Procter, Laurie (Rob) Beatt; grandchildren Sarai (Tyler) Hodges, Skyler Sonnenberg, Slade Sonnenberg, Andrew Beatt, Katie Beatt; great-grandchildren Charlie Hodges and Emmett Hodges; brother Richard (Sharon) Schempp; sister Pearl Obelman; and numerous nieces, nephews, cousins and many cherished friends. She was predeceased by grandson Scott Beatt, husband Don Chamberlain, sister Fran Rusnell, nephew Stephen Rusnell, brother-in-law Clarence Obelman, mother Violet Copeland and father Peter Schempp.
In lieu of flowers, the family would appreciate donations made in Betty's memory directly to the Canadian Cancer Society.
VER MÁS
VER MENOS
En Memoria De
Betty Violet Chamberlain
Ayude a contar la historia de la vida única de su ser querido. Deja un recuerdo o comparte una foto debajo para mostrar tu apoyo.