OBITUARIO
Mohamed "Mo" El-Aref El-Hawary
3 febrero , 1943

–

26 julio , 2019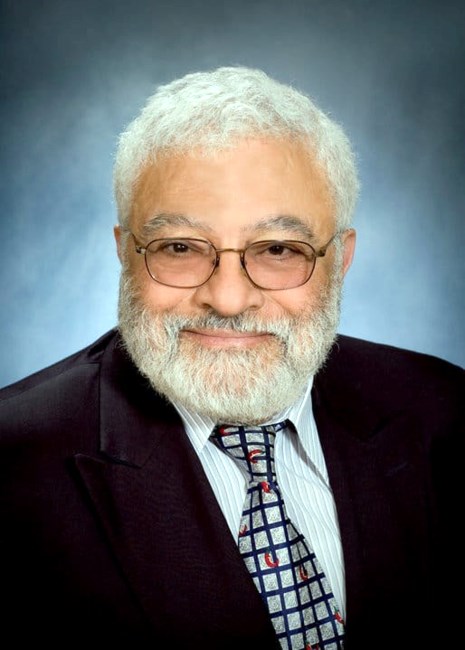 Mohamed "Mo" El-Aref El-Hawary, age 76, of Halifax passed away on Friday July 26, 2019 at the Halifax Infirmary QE II Hospital in Halifax, Nova Scotia, Canada. He was surrounded by his wife, children, and grandchildren. Born in Sohag, Egypt, he was predeceased by his parents Mahmoud and Amina El-Hawary of Alexandria, Egypt. He is survived by his wife Ferial (El-Bibany) El-Hawary, daughter Elizabeth "Bette" El-Hawary, and Rany "Ron" (Tricia Lane) El-Hawary, all of Halifax; son Robert "Bob" El-Hawary, London, U.K.; sisters Mervat El-Hawary, Mona El-Hawary, Mawaheb (Heba) El-Hawary, all of Alexandria, Egypt; and grandchildren Alexa, Ben, Grace, Kegan, Ryan, Eoin, Duncan, and Liam. He is also survived by his former daughters-in-law, Sarah Dunne of Galway, Ireland and Amanda MacDonald of Halifax. Dr. El-Hawary was a Professor of Electrical and Computer Engineering at Dalhousie University in Halifax, NS, Canada. He had a B.Sc. in Electrical Engineering, Distinction and First Class Honors, University of Alexandria, Egypt, 1965, and a Ph.D. in Electrical Engineering, University of Alberta, Edmonton, 1972, where, from 1970-72, he was an Izaak Walton Killam Memorial Fellow. He was Associate Professor of Electrical Engineering at the Federal University of Rio de Janeiro, Brazil for two years, and in 1974 he joined the Faculty of Engineering at Memorial University of Newfoundland, becoming Chair of the Electrical Engineering Program in 1976. In 1981, he joined the Technical University of Nova Scotia (TUNS) as Professor of Electrical Engineering. In 1997, TUNS was amalgamated with Dalhousie University. Dr. El-Hawary was Associate Dean of Engineering at Dalhousie between 1995 and 2007, Director of International and External Relations for the Faculty of Engineering 2008-2009, and Chair of the Senate of Dalhousie University 2001-2007. He cherished having had the opportunity to educate, mentor and touch the lives and careers of countless students in the field of electrical engineering over his long and distinguished career. Mo authored over ten textbooks and almost 200 full journal papers. He was Institute of Electrical and Electronics Engineering (IEEE) Press Power Engineering Series Editor, Founding Editor in Chief of the IEEE Systems Man and Cybernetics (SMC) Magazine, Power Letters of PES. He was associate editor for the three major Electric Machines and Power Systems' Journals, and Editor, Electrical Power Engineering, McGraw-Hill Encyclopedia of Science and Technology. He was a Fellow of IEEE, Canadian Academy of Engineering, Engineers Canada and the Engineering Institute of Canada. He was a Distinguished Lecturer of the IEEE Power and Energy Society (PES) and IEEE/SMC. He served as a member of the Board of Directors and Secretary of IEEE, and as President of IEEE Canada. He served on the IEEE Publication Services and Products Board, Fellows Committee, IEEE Press Board Chairman, Power Engineering Society (PES): System Operations Committee Chair and, member of HKN Board, and Vice President, Development, IEEE Canada Foundation. He has been recipient of IEEE Canada, W. S. Read Service Award, 2010. In 1999 IEEE awarded him the EAB Meritorious Achievement, Power Engineering Educator of the Year, and IEEE Canada General A.G.L McNaughton Gold Medal. Grampy Mo, as he is known to his family, was a great lover of animals, classical music, politics, traveling, and taking "selfies". He was a devoted father, grandfather, brother and friend. He especially enjoyed being with family and friends and making them all laugh and smile in Canada and in travels around the world. He enjoyed spending as much time as possible with the love of his life (Nanny Fifi) with whom he has shared adventures in exotic locations all around the world. Their favorite place is their cottage at White Point Beach Nova Scotia where they will eventually lie together for eternity. Visitation will be at JA Snow Funeral Home (339 Lacewood Drive, Halifax) between 5:00-8:00pm on Thursday August 1st, 2019. A service will be at JA Snow Funeral Home at 10:00 am on Friday August 2nd, 2019 with Janet Hatt officiating. Burial to follow at White Point Cemetery in White Point, Nova Scotia. A service will also take place on Thursday August 1st, 2019 between 7:00-10:00pm EET at El Qaed Ibrahim Mosque, Alexandria, Egypt. Our family would like to thank all the doctors and nurses that have taken care of Mo over the years, especially during his last day with us. In lieu of flowers donations may be made to Juvenile Diabetes Research Foundation (JDRF) https://jdrfca.donordrive.com/campaign/In-Memory-of-Dr--Mo-El-Hawary. Online condolences may be made at: www.jasnowfuneralhome.com.
VER MÁS
VER MENOS
En Memoria De
Mohamed "Mo" El-Aref El-Hawary
Ayude a contar la historia de vida única de su ser querido. Deje un recuerdo o comparta una foto o video a continuación para mostrar su apoyo.