OBITUARIO
Celine Bouchard
22 diciembre , 1944

–

24 noviembre , 2021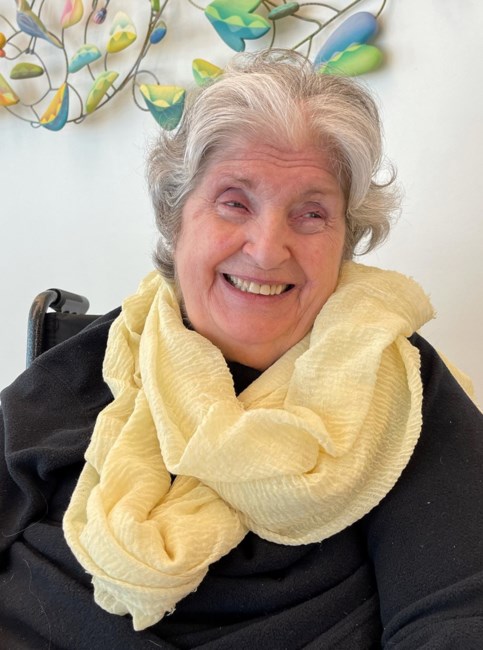 Celine Therese Bouchard - Born December 22, 1944 passed away November 24, 2021 peacefully in her daughters arms surrounded by family, love and audible Hail Mary prayers as she joined her husband Thomas Philip Allen of 50 years, sisters Pierette Moreau; Therese Bernier, her parents Joseph Louis Bouchard; mother Lucien Pelchat and of course Jesus. They most certainly were surrounding her as she took her last breaths ready to introduce her to life outside of the broken body she bared for too many years and oddly said she loved as she was used to it. The room felt like a warm hug.
Celine was born and raised in Lauzon, Quebec into a family of 12 she cherished to her core. She was the 8th child and known as the peace-keeper always ready with a listening ear and plenty of advise to make sure there was accord in the family. This healer trait and compassion carried on till the end.
A stunner at 5'10 Celine broke hearts of suiters in her dating years but made the heart full of her one true love...her husband. They met at what was once THE night club in the world famous Chateau Frontenac on the Saint Laurence River towering within the ancient walled city of Quebec. Smitten by her charm, poise, and class Thomas Allen wasted no time in asking her to wed which took place in the Basilica of Saint Anne de Beaupre that they often visited each trip to Quebec.
Following her Military career husband around the world like a great wife she spoke often of all the wonderful cultures, places, and culinary experiences they encountered as a family unit when stationed around the world.
Once finally settled in California Celine attained her AA in legal secretarial and spoke proudly of working for the presidents two major banking institutions which later carried her into the position of paralegal/office manager of her husbands own Disability Law Office in Hollywood, Florida for 25 successful years. Celine was showered in love and compliments continuously by her husband even in their later years often referred to as his "Katherine Deneuve" and "the bell of the ball." It was as if they both saw each other aesthetically in their 20's always. There was no aging. Their shared memories were impenetrable.
Celine is survived by her daughter Paryse Lambert-Watson(Michael), grandsons Maximilian Lambert and Gabriel Lambert as well as five sisters and four brothers.
A most special thank you to Jackie Grzebin that met mom through a senior program back in 2017 and developed a loving bond through the years that brought such joy, companionship, sneaky purchases, laughter whenever she needed and someone I will always consider a lifelong sister.
Fond memories and expressions of sympathy may be shared at www.hgriversidefuneralhome.com for the Bouchard family.
VER MÁS
VER MENOS
Servicios
No hay servicios programados en este momento. Reciba una notificación cuando se actualicen los servicios.
RECIBIR ACTUALIZACIONES
En Memoria De
Celine Bouchard
Ayude a contar la historia de la vida única de su ser querido. Deja un recuerdo o comparte una foto debajo para mostrar tu apoyo.