OBITUARIO
Gerry Mackin
7 marzo , 1946

–

1 mayo , 2020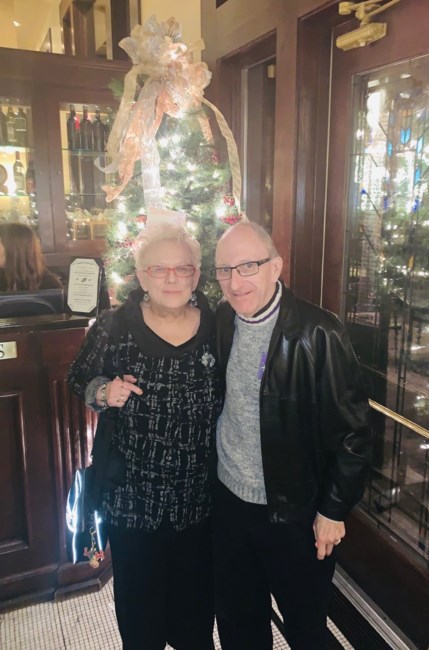 F. GERALD MACKIN
Francis Gerald Mackin (Gerry), only child of the late Frank G. Mackin and Edith Woolsey Mackin, both of Hancock, New York and a grandson of the late Dr. Lester E. Woolsey, also of Hancock, New York died on May 1, 2020 at Nathan Adelson Hospice in Las Vegas, NV after a year's battle with cancer.
Gerry was born on March 7, 1946 in Binghamton, NY and grew up in Hancock, NY attending Hancock Central School through the eighth grade. Gerry was a participant in the Cub Scouts, Boy Scouts (a member of the Order of the Arrow) and local baseball at the Little League and Junior League level. After eighth grade, Gerry was sent off to all-boys boarding school at Don Bosco Prep in Ramsey, New Jersey (one of 70 boarding students in a high school of 700 students). Gerry did well at Bosco. He was a member of the National Honor Society and was a four-year member of the marching band participating in nine major parades up Fifth Avenue in New York City (4 St. Patrick's Day Parades and 5 Pulaski Day Parades) as well as numerous other band activities including annual pageants, firemen's parades and half-time shows at all football games.
Gerry graduated in 1964 and earned Advanced Placement and College Credit for a full year of American History through the Advanced Placement Test of the Educational Testing Service and enrolled at Northwestern University in Evanston, Illinois. With those credits, he added two summer sessions to graduate in three years with a BA in History in 1967. While at Northwestern, Gerry was active in the Men's Residence Halls Association and its board of representatives and also was active in the Northwestern Young Democrats, representing it one year at the Cook County Young Democrats Convention in Chicago.
Gerry enrolled at DePaul University College of Law in Chicago and spent one year there until his draft education deferment ran out, after which he enlisted in the US Army, was trained at Fort Dix, NJ and Fort Lee, VA and then shipped off to Vietnam where he was stationed with the First Platoon of the 32nd Medical Depot at Long Binh, about 30 miles outside Saigon. Gerry served his full year assignment and one 90 day voluntary extension there until he was transferred back to the States to finish his enlistment at Fort Bragg, NC where he was an Officer Records Clerk with the 573rd Personnel Service Company, part of the 12th Support Brigade and the 18th Airborne Corps. Gerry was released from active duty in June 1971 and ultimately Honorably Discharged in 1974. While in the Army, Gerry achieved the rank of Specialist 5 and was awarded the following decorations: National Defense Service Medal, Army Good Conduct Medal, Vietnam Campaign Medal, Vietnam Service Medal with 4 bronze service stars, and the Bronze Star for Meritorious Service in Vietnam (the highest non-combat award that can be awarded to an enlisted man). Gerry was also awarded the Meritorious Unit Citation with Oak Leaf Cluster for his service with the 32nd Medical Depot. Gerry was later awarded the New York State Conspicuous Service Cross for his service record in Vietnam.
After his Army service, Gerry enrolled at the University of Wisconsin Law School in Madison, Wisconsin where he was active in his Law Fraternity, Phi Alpha Delta (having been initiated during his year at DePaul, and served in various officer capacities therein and was also active on the Law Review where his Case Note on Commercial Law was published and later he was elected to serve as one of the two Managing Editors of that Law Review in his third year. It was during this time that Gerry met Maureen Ann Lemanski, the love of his life, and they were married in Madison, Wisconsin on May 19, 1973. Gerry graduated Cum Laude in 1974 and then enrolled in the Graduate Tax Program at New York University Law School (NYU) and earned an LL.M (in Taxation) there in 1975. While a student at NYU, Gerry worked part-time for the Journal of Taxation.
Gerry was admitted to the New York State Bar in 1975 in the Second Department (Brooklyn) and to practice before the United States Tax Court. After that, Gerry returned to his hometown (Hancock, NY) with Maureen to open a private law practice that he conducted there full-time for the next 25+ years as a one attorney and one secretary office. His practice was varied including Real Estate Transactions, Title Insurance agent, Wills and Estates, Workers Compensation, Criminal Defense, Litigation, Municipal Law, Telecommunications Leases and Cell Towers, banking mergers and proxy contests, and taxation. Gerry was also appointed Town Attorney for the Town of Hancock in January 1976, a position that he held for 12 of the next 13 years. Gerry was active in Hancock in the Hancock Chamber of Commerce, the Hancock Rotary Club (25 year member, past President, Paul Harris Fellow and Honorary Member at his death), Town of Hancock and Delaware County Democratic Party and St. Paul's Roman Catholic Church. Gerry also served on the Board of Directors of the Delaware County Chamber of Commerce until his election to the County Board of Supervisors.
In politics, Gerry served as the Hancock Democratic Party Chair for several years, and at the County and State level, Gerry represented the County as its male representative on the NYS Democratic Committee for 10 years. Gerry ran unsuccessfully for Delaware County District Attorney in 1976 and in 1983. Gerry ran unsuccessfully for Town of Hancock Supervisor in 1986. Gerry again ran for Town Supervisor in 1989 and was elected to the first of six two-year terms (twice running unopposed), all this in a very Republican Township. Gerry resigned the Supervisor position in May 2001 and was appointed a Deputy County Attorney and Social Services Attorney as a full-time position, serving until his retirement in December 2007. In this capacity, he participated in over 1000 trials and hearings in Family Court in child abuse and child neglect cases and represented the County in many adult-protective cases (guardianships). During this time, Gerry also served on the Upper Delaware Council representing the Town of Hancock and Delaware County for five years, the last, 2007, as Council Chairman.
Upon retiring to Nevada in December 2007, Gerry was active in the Vegas Valley, serving on the Sun City Summerlin Legal Services Committee from 2008 until his death. Gerry was also active in local politics, having run unsuccessfully for the Nevada Assembly in District 4 in 2010 and in District 37 in 2014. Gerry was appointed to the Clark County Social Services Citizens Advisory Committee for a one-year term on June 21, 2016 and then appointed to a full three-year term on September 12, 2017, a position he held until his death. Gerry was also interested in promoting fairness and honesty in the operation of HOA's. He served as Treasurer of the Nevada Homeowners Alliance PAC. Gerry was also an active member of the Sun City Duplicate Bridge Club and served a term as its Treasurer until his illness prevented further service. Gerry was also a member of the American Contract Bridge League and enjoyed playing with his partner and long-time friend, Bob Robey, in various Sectional, Regional and National Tournaments. Gerry was also active with the Northwestern University Alumni Association in its Las Vegas Club and served one term as one of its representatives to the Big Ten Club of Las Vegas.
Gerry was married on May 19, 1973 to Maureen Ann Lemanski, a now retired public school teacher and former President of the New York State Council of the Social Studies, and they shared many happy experiences. Maureen survives him. He is also survived by one daughter, Kathleen M. McVay and her husband, Duncan McVay, and their two children, Maureen's and Gerry's grandchildren, Cameron McVay and Emily McVay, who all live in Lewis Center, Ohio.
Gerry and Maureen were interested in travel, having used their timeshares for much of their travel to foreign countries such as Spain, the Greek Island of Rhodes, and many trips in the Caribbean, particularly St. Martin and Guadeloupe. He and Maureen also traveled to Poland and China as part of tours and spent weeks at various resorts in Jamaica and in Mexico over the years.
Gerry was also a member of various Veterans Groups such as a 43-year member of Hancock American Legion Post 289, a life-member of Vietnam Veterans of America Post No. 17 in Las Vegas, and a member of the Catholic War Veterans Post 1947 in Las Vegas. Gerry was also a proud member of the American Federation of State, County, and Municipal Employees, Subchapter 988, an affiliate of the AFL-CIO, and a long-standing Brother of Phi Alpha Delta Law Fraternity, initiated in Story Chapter at DePaul University College of Law in Chicago and serving in Ryan Chapter at the University of Wisconsin Law School in Madison.
Gerry was also proud to be an Ohio State "Dad", he and Maureen's daughter, Kathleen, being the "Grad" and Gerry loyally followed Ohio State football until his death and he and Maureen frequently travelled to Bowl Games to see the Buckeyes play. Gerry was also a parishioner at St. Elizabeth Ann Seton Roman Catholic Church in Las Vegas. Gerry was grateful to all who looked out for him and gave him encouragement during his illness. A Memorial Mass will tentatively be held at St. Elizabeth Ann Seton next month. Interment with other family members will take place at a later time in the "Woolsey" room at the Old Colonial Mausoleum in Uniondale, PA.
Donations in his memory may be made to the Huntsman Cancer Institute, 2000 Circle of Hope Drive #1950, Salt Lake City, UT 84112
Fond memories and expressions of sympathy may be shared at www.palmcheyenne.com for the Mackin family.
VER MÁS
VER MENOS
Servicios
No hay servicios programados en este momento. Reciba una notificación cuando se actualicen los servicios.
RECIBIR ACTUALIZACIONES
En Memoria De
Gerry Mackin
Ayude a contar la historia de la vida única de su ser querido. Deja un recuerdo o comparte una foto debajo para mostrar tu apoyo.