OBITUARIO
Joyce Marlene Curschman
16 diciembre , 1933

–

10 noviembre , 2021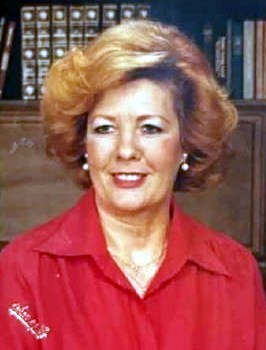 Joyce Curschman arrived in Las Vegas in July 1963 and spent the next 58 years raising her sons, working to make a home, and celebrating with good friends. Joyce will forever be remembered as the supportive mom, cheering on her sons and grandson in whatever they did; as the cherished friend, always ready for a fun night out; and as an independent woman never afraid of hard work.
Joyce Marlene Curschman was born on December 16, 1933 in Garfield Heights, Ohio to Ansel Jack Ebersole and Grace Stevens Ebersole. She joined older sister Carol (Hoagland) and older brother William (Bill) Ebersole. Garfield Heights in the 1930s, 1940s and 1950s was a small enclave just outside Cleveland, Ohio. Growing up, Joyce was always surrounded by family, including numerous aunts and uncles, (she had 28 aunts/uncles and 20 cousins!) for holidays and special events – including Sunday night dinners. Although Joyce lost her father at a young age, her stepfather (Walter Merchant) was a loving and supportive influence later in her life.
Joyce took a job at Grays Drug Store while in high school, beginning six decades working in a variety of businesses and jobs. After graduating from Garfield Heights High School in 1952, she began working as a switchboard operator for Reliance Electric in Cleveland. She met and married Henry Curschman in July 1954, settling in East Cleveland and later in Maple Heights, Ohio when Hank left the Navy. In 1955 the Curschman's welcomed their first son, David Henry Curschman; then added a second son, Mark Ansel Curschman, in 1957.
Joyce's boys were the center of her world and Maple Heights, like Garfield Heights, kept Joyce close to her family and friends. After six years, she went back to work for the East Ohio Gas Company, staying until 1963 when her family began a new journey. In 1963 that journey took the Curschmans to Las Vegas, Nevada, where the family eventually made a home on Bristol Way. Joyce loved being a mom, watching her boys as they grew-up and participated in Little League, Pop Warner, and high school sports. An avid sports fan, Joyce was in the stands for every game, always finding time to be there, and her home became a place that welcomed her boys' friends and teammates.
While family was the center of Joyce's life, she also loved to work. In July 1968, Joyce took a position with Crystal Clear Pools, the first of many jobs Joyce held in Las Vegas. She worked for Nevada Beverage, staying until 1979 when she briefly returned to Cleveland, reconnecting with family and friends. Back in Las Vegas in 1980, Joyce took positions with Pepsi Cola Company and with Woodland Properties (1980-1987). She enjoyed connecting with colleagues and developed lifelong friendships with coworkers. She loved meeting people, making new friends, and becoming a part of her friend's lives. She was quick to forgive, always available to help others, and ever ready for her latest adventure with her close cohort of pals.
Instead of retiring as she approached 60, Joyce found new ways to work and contribute to her community. She took a job as phone operator for Prime Cable from 1989 until 1992. Then in 1992, Joyce opened her own cleaning service, working for others for five years. Still not inclined to retire, Joyce took a hostess position with Marie Calendars leaving the company in 2005 at age 72. Her final position with the Macaroni Grill ended in 2010 when Joyce was 76 years old. Now, she had finally decided to retire! Joyce was blessed with so many dear friends. Her life's adventures included lifelong friends from Cleveland, girlfriends from her early days in Las Vegas, and co-workers who came into her life and never left. These cherished friends brought such love and companionship to her life over the years. Her life was full.
Joyce Curschman passed on November 10, 2021. She is survived by her sons, David (Stacey) and Mark, as well as by her grandson, Neil. A private graveside service will be held in January. Remembrances can be made through Palm Mortuary, Las Vegas, Nevada.
VER MÁS
VER MENOS
Servicios
No hay servicios programados en este momento. Reciba una notificación cuando se actualicen los servicios.
RECIBIR ACTUALIZACIONES
En Memoria De
Joyce Marlene Curschman
Ayude a contar la historia de la vida única de su ser querido. Deja un recuerdo o comparte una foto debajo para mostrar tu apoyo.