OBITUARIO
Ambrose Alfonsi, M.D.
10 abril , 1926

–

21 septiembre , 2022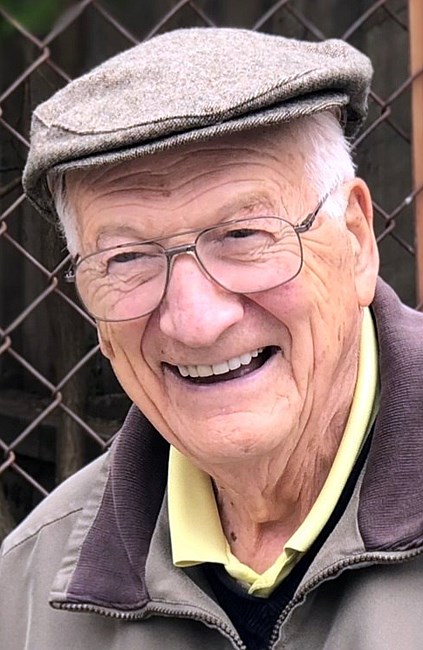 Ambrose Alfonsi, M.D. passed away on September 21, 2022, surrounded by his beloved and devoted wife of 71 years, Betty Alfonsi, along with his loving family. Ambrose was greeted at the gates of heaven by those who passed before him - his parents, Nettie and Paul Alfonsi, his brothers John and Paul Alfonsi, Betty's parents Hazel and Barden Nelson, and his beautiful little granddaughter, Emma Elizabeth Flynn. Ambrose was a devoted husband to Betty who, as anyone who knows them can attest, was the light and love of his life. He adored her more than words can say and the two of them were inseparable - especially in their later years. Their 71-year marriage was a true love story which has been an inspiration for anyone who has spent time with them. One of his favorite sayings was "whatever Mother wants" and he truly meant that. All he ever wanted in life was for her to be happy. Dad always said that he was the luckiest man alive and how grateful he was to our mom for her endless love, devotion, and compassion. In a journal Dad wrote not long ago he said, "Betty was the best thing that ever happened to me". Dad - we all know that's the truth! Ambrose is the proud father of Susan Berg of Norwood, Colorado (husband Eric); Paul Alfonsi of Guilford, (wife Mary Hart) and their children Kara (husband Ryan) and Laura (husband Ben); Karen Donovan (husband Richard) of Jericho, Vermont, and their children Andrew (wife Emily) and Emily; and Lynn Flynn (husband Peter) of West Suffield, and their children Samuel Ambrose, Molly, Emma, and Lucy. He also treasured his great grandchildren Kaedyn, Zell, Reese, Oliver Ambrose, Malakai, Tessla, Owen, and Isabella. Whether it be on one of the many vacations he took the entire family on, sports games he watched and supported, holidays we all spent together, or many weekends spent at the family Beach House in Old Saybrook, we have so much to be thankful for. We are also forever grateful to Grandpa Ambie/Gramps and Grandma Bet for encouraging, supporting, and funding them in all their educational pursuits. He was able to see each of his grandchildren attend college – something very important to him – and grateful to to spend so much time with his great grandchildren - their spirits, laughter and love brought him so much joy. Ambrose was born in the Bronx in 1926 to Nettie and Paul Alfonsi, their oldest son and pride and joy. He grew up in a bilingual household and very proud of his Italian heritage. Nettie and Paul knew Ambrose had special gifts when he was young and always encouraged him to study hard. By the time he was in high school, he was at the top of his class and a phenomenal baseball player. He attended City College where he excelled and later enrolled in the V-12 program at Colgate University where he tackled pre-med and played baseball all four years. During the 1940's, Dad played baseball alongside legends like Sam Mele, Eddie Yost, and Ralph Branca. He was recruited by the minor league farm team of the Boston Red Sox but decided to follow his calling and pursue his medical degree at Albany Medical College. Thank goodness he made that decision because it was on a blind date, at a square dance at Albany Med, when he first met Betty. Unsure of the blind date, he went to check her out before hand at the office she was working at. Needless to say, he went on the date and the rest is history. They married on Betty's family farm in West Pawlet, Vermont. Dad began an internship in New York and then was enlisted in the Navy where he was the doctor on a naval ship. It was here when he performed his first appendectomy at sea when he wasn't quite a surgeon yet. Thankfully it was a successful procedure. They moved to New Haven for his residency where they started their family before accepting a position as a surgeon at Bradley Memorial Hospital, first specialist in Southington and where he stayed for the duration of his career- spanning 45 years. Dad worked long hours at Bradley, but our mom always made sure we had dinner together as a family regardless of what time he came home. When he first started seeing patients, he had a small office over the Riccio building in downtown Southington and, as his practice grew, he moved his office to the little red house on Berlin Avenue. When his parent's old neighborhood in the South Bronx became dangerous in the 1960's, Dad moved his parents to Southington to be close to our family. It was a hard move for them at first, being so used to the city, but they loved seeing the patients come in and out of Dad's office all day long and felt an enormous sense of pride for their son and his work. Grandma would often make pizzas and deliver them to whoever was in the office. Gramps had a huge garden and would give people tomatoes and basil on their way out. One of Ambrose's greatest accomplishments was his involvement in the development of Bradley Memorial Hospital. As part of the hospital expansion, they added a Medical Arts Building where he eventually moved his practice and remained until his retirement. Dad served as Chief of Staff and Chief of Surgery at Bradley. He was a member of the Rotary Club, Lions Club, UNICO, the Sons of Italy, served as president of the Southington Chamber of Commerce, was a founder of the Southington Industrial Foundation, Chairman of the Red Cross, and member of the Southington Arts and Crafts Association. "Doc" and Betty were two of the original founders of Mary Our Queen Church in Southington. He was on the Hartford County Medical Association Board of Directors, a member of the American College of Surgeons since 1963 and a delegate to the Connecticut State Medical Society from 1985-1999. He was a Clinical Professor of Surgery at the University of Connecticut for thirty-five years – something he loved doing and continued after his retirement. He would often bring "munchkins" to his group of medical students on Saturday mornings. His photo hangs in the hallway of Bradley Memorial Hospital where he is part of their "Wall of Fame". Combining his entrepreneurial flare and love for movies, he and Betty purchased the Showcase Cinema in downtown Southington in 1968. They ran it as a family for many years. Sue, Paul, and Karen worked the snack shack and sold tickets on many weekends when they were young. They also owned apartment buildings in Bristol and in Southington above the movie theater. At home, you could always see Dad sitting at the kitchen table reading his many newspapers or medical journals, doing a crossword puzzle, feeding his fish, or watching his news shows and sports on TV. He rarely missed a Yankee game, a golf event, or the Giants or Patriots play. He was pretty much a New York sport fan through and through. Dad was also an avid golfer. He golfed every Sunday with the "Brothers Bill" for years and, after he retired, he golfed every day at noon with the "Champagne Boys" at the Southington Country Club. Over the years members of the group changed but he always enjoyed riding in the cart, making quarter bets, spending time with the guys, and always in pursuit of "the secret to a better swing" – which he said he finally discovered, though too late in his golfing career! Dad played golf daily until he was 93! One of his greatest joys of life, besides his family, was being a doctor. Dad loved all aspects of it, and never once did we hear him complain - even when the phone rang at all hours of the night. Wherever we were, if someone needed medical attention, Dad was there to help. He was also a pioneer in Connecticut, performing one of the first laparoscopic gallbladder surgeries. He had trained for the procedure in Georgia on pigs and couldn't wait to come back and put his skills to use. Once on an airplane, a passenger was choking. This was years before the Heimlich maneuver was invented. Dad rushed to help and gave him a life-saving tracheotomy with the only instruments on board the plane - the tube from a disposable pen and a plastic knife. He often did house calls, saw people whenever they needed to see him, and, when people couldn't afford to pay him, they would offer him gifts or baked goods. This is how two chickens and a bunny ended up living in the backyard of our family home. These unspoken acts of kindness and generosity were just who our dad was. He was there for anyone anytime. Today our family has lost so much, but we are forever grateful and blessed to have had such an amazing person in our lives for 96 years. The entire Alfonsi family would like to thank the Franciscan Home healthcare workers for their loving and supportive care these past few months especially Sister Catherine Mary, Barbara, Colleen, Ty, and Jan. A very special thank you to Agatha Nadolny who was a wonderful caregiver who made it possible for Ambrose to stay in the comfort of his home surrounded by his family these past few months. Finally, a special thanks to Dad for getting a puppy for our mom during his last months. Nettie B has been a blessing to our family during this difficult time. Calling hours for Ambrose will be held on Tuesday, September 27, 2022, from 4-7 p.m. at the DellaVecchia Funeral Home, 211 North Main St., Southington. A mass of Christian Burial will be celebrated on Wednesday, September 28, 2022, at 10:00 a.m. at Mary Our Queen Church, 248 Savage Street in Plantsville. Burial with military honors will follow at St. Thomas Cemetery, Southington. For online condolences and directions please visit, www.dellavecchiasouthington.com . In lieu of flowers, any donations can be made to Southington Community Services, 91 Norton St., Plantsville, CT 06479.
VER MÁS
VER MENOS
Servicios Previos
martes,
27 septiembre, 2022
Calling Hours
miércoles,
28 septiembre, 2022
Mass of Christian Burial
miércoles,
28 septiembre, 2022
Burial with Military Honors
En Memoria De
Ambrose Alfonsi, M.D.
Ayude a contar la historia de vida única de su ser querido. Deje un recuerdo o comparta una foto o video a continuación para mostrar su apoyo.