Avis de décès
Dr. K.R. Rao
27 août 1931

–

15 janvier 2021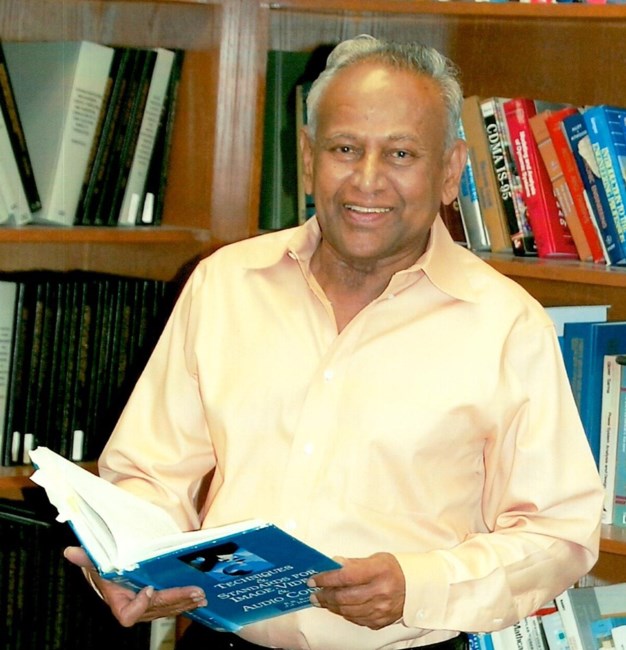 Dr. K R. (Mohan) Rao passed away on January 15,2021 at the age of 89, in his hometown of Arlington, Tx. He is survived by his wife of 66 years (Karuna), his son (Ramesh), his daughter (Rekha), their respective spouses, 5 grandchildren, 2 great grandchildren & Rekha's stepchildren and families. Dr. Rao was born in Madras, India in 1931 and was the oldest of 11 children. He married Karuna in 1955 and journeyed to the United States in 1957 as a Fulbright Scholar. In 1966, they were the first Indian family to move to Arlington. They spent their lives centered around campus activities, entertaining his many international students and traveling the globe as he shared his incredible knowledge. Dr. Rao always wore a smile and had a good word for everyone. He enjoyed July 4th parades, family gatherings, cold beer, another match of tennis and many a pizza party. He lived all of his years doing exactly what he loved in the world of academia. Dr. Rao was a life-time scholar and educator earning a B.S. in Electrical Engineering in 1952 from the University of Madras, followed by a Masters in Electrical Engineering in 1959 and a Masters in Nuclear Engineering in 1960, both from the University of Florida. He then earned a PHD in Electrical Engineering at the University of New Mexico in 1966 and immediately joined the teaching staff in the Electrical Engineering Department at Arlington State College which is now the University of Texas at Arlington (UTA). In 1974, Dr. Rao was credited with co-inventing Discrete Cosign Transform (DCT) that is the heart of digital signal processing and communications which is still used in wired and wireless technology today. He was a member of Academy of Distinguished Research Scholars, one of the highest research honors at UTA. Over his 54-yr tenure at UTA and an Honored IEEE Fellow, Dr. Rao gave many keynote speeches, wrote multiple research papers, authored or coauthored over 20 books in the field of digital signal processing and image processing which are pillars of modern technology that we enjoy every day. He also conducted multiple workshops/seminars in addition to visiting professorships at universities all over the world. His passion was also to recruit and develop graduate students from around the globe. He mentored and supervised 113 Masters and 39 PHD students to their graduation which is an academic milestone. His graduate students are well placed with successful careers because of his efforts. He continued to maintain genuine interest and kept in contact with them thru the years. Dr. Rao was a simple person with a huge positive influence on many students. He demonstrated incredible care and strong commitment to improve students' technical skills, which made him one of the most sought-after teachers at UTA. Many of the faculty looked to him as a role-model. He had been very active and continued to work out at the end of the day in the university gymnasium throughout his teaching career. This has been a great motivation and inspiration for many students. Even at 89 years old, Dr. Rao had an incredible work ethic, never retired and was still a full-term professor until his passing. While he was a visionary and a brilliant man, he was also humble, never boasting about his accomplishments and was always approachable. No matter whom he was talking to whether professional or personal, he was genuinely interested in the conversation and always asked a lot of questions. He will forever be a legend and the world is a little emptier without him. Dr. Rao will always be missed but never forgotten! Please access his profile on Wikipedia for additional information on Dr Rao. https://en.wikipedia.org/wiki/K._R._Rao In lieu of flowers, Dr. Rao's family is requesting contributions be made to Dr. Rao's Electrical Engineering Graduate Fellowship at the University of Texas at Arlington. In 2013, Dr. Rao established this fellowship for the purpose of the Department of Electrical Engineering to award scholarships to Electrical Engineering graduate students with an F1 Visa Status. To make a gift to Dr. Rao's fellowship in his memory, click here to give online. (https://www.give.uta.edu/KR-Rao-Tribute) Due to COVID-19, a limited private service is scheduled. This will be followed by a Celebration of Life post COVID-19 restrictions. The private service on Friday, January 29 will include an Indian Prayer Service from 9:00 a.m. to 10:00 a.m. followed by a Traditional service from 10:00 a.m. to 11:00 a.m. CST and can be viewed livestream at https://www.facebook.com/292871084534209.
VOIR PLUS
VOIR MOINS
Services Précédents
vendredi,
29 janvier, 2021
Indian Prayer Service
vendredi,
29 janvier, 2021
Traditional Service
En mémoire de
Dr. K.R. Rao
Aidez à raconter l'histoire de la vie unique de votre bien-aimé. Laissez un souvenir ou partagez une photo ou une vidéo ci-dessous pour montrer votre soutien.