Avis de décès
Dudley Boyd CHELTON
17 juillet 1928

–

8 mai 2022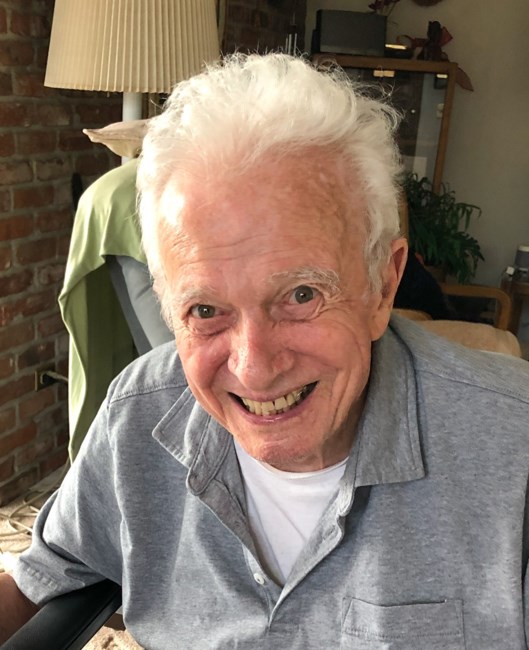 Dudley Chelton passed away on May 8, 2022 (Mother's Day) at the age of 93 from natural causes. He was born in Baltimore, MD on July 17, 1928. He married Jean Nadine Hays on May 31, 1947. They were married for nearly 73 years until Jean died on April 21, 2020. It is fitting that they got back together again on Mother's Day. Dudley lived a full life with integrity and respect for others. He will be remembered for his smile, his generosity, and his sense of humor, which he retained to the very end. He hated to toot his own horn, but it was hard even for him to deny he had a distinguished and interesting career. He graduated from Ohio State University in 1948 with a Bachelor's degree and received a Master's degree in Mechanical Engineering in 1949 from the Massachusetts Institute of Technology. While taking additional graduate courses, he was recruited to work at the Los Alamos Scientific Laboratory in New Mexico. He joined the National Bureau of Standards (later renamed the National Institute of Standards and Technology, NIST) in Boulder in 1951 where he worked until retirement in 1977. He was highly respected nationally and internationally for his work in cryogenic engineering and he served as Chief of the Cryogenics Division from 1968 to 1974. Dudley's first job out of graduate school was working from 1951 to 1955 on the development of a hydrogen bomb. He was on Eniwetok Atoll when the infamous Castle Bravo bomb was detonated in March 1954 on Bikini Atoll, 200 miles to the east. The bomb he had been working on was scheduled to be detonated soon after that, but everyone on Eniwetok was sent home with no explanation. From 1955 to 1959, he worked with physicist Luis Alverez on construction of a bubble chamber for detection of theorized subatomic particles. Dr. Alverez was awarded the Nobel Prize in 1960 for his work using that bubble chamber. On the occasion of Dudley's retirement in 1977, Dr. Alverez wrote a personal letter thanking him for his key contributions to the construction of the bubble chamber. From 1960 to 1972, Dudley worked on the cryogenic systems on the NASA manned spaceflight missions. He was a member of the review team that investigated the cause of the problem that aborted the Apollo 13 mission on its way to the moon in April 1970. His participation in that investigation earned him an invitation to the launch of Apollo 14 in January 1971. During this same time period, Dudley worked with Japanese scientists and engineers on the development of a high-speed train levitated by extremely powerful cryogenically cooled superconducting magnets, and capable of traveling with speeds approaching 400 mph. Dudley and Jean were invited to Japan to see the first successful run of the train on a test track in 1972. After retiring from "the Bureau," Dudley partnered with a long-time friend and work colleague to start a consulting company to oversee the safety of existing and proposed storage tanks for the liquified natural gas that is used to heat residential homes and businesses. The safety inspection sites ranged from Prudhoe Bay in Alaska to several locations in the Pacific Northwest, to San Diego in the southwest, to Georgia in the southeast, to Maine in the northeast, to Duluth in the upper Midwest. He liked to recall with a smile how the managers of the LNG storage facilities did not always welcome his safety inspections. Outside of work, Dudley took the family on many camping trips in the high country of Colorado and in the red rock canyons of Utah. He loved hiking to Anasazi cliff dwellings and rock art in southeastern Utah. He and Jean explored jeep roads throughout Colorado and Utah on their motorcycles for more than 30 years until they were in their late 70s. They also enjoyed hiking to the summits of high-mountain peaks, including numerous "Fourteeners," some of which Dudley hiked solo. No story of Dudley would be complete without mention of his two favorite foods: buttered and salted corn-on-the-cob, and ice cream – half vanilla and half chocolate. Or was it half chocolate and half vanilla? Only he could tell the difference. The last things he ate before passing were small tastes of his favorite vanilla and chocolate ice cream from Sweet Cow ice creamery. Another of Dudley's quirks was that he loved pigs since he was a child and his father raised pigs. He was sometimes allowed to keep the runt of a litter as a pet. He gave them clever names like Boar Scarloff, Pigmalion, and Lord of the Flies. His pigs were companions when he went bird hunting and he taught them to be retrievers. Much to his mother's consternation, he sometimes snuck his pet pigs into his bedroom at night. Dudley is survived by his brother, Louis Guy Chelton in Atlanta, GA, his two children (daughter Cindy Bowman in San Diego, CA and son Dudley Jr. in Corvallis, OR) and three grandchildren (Kiel Bowman, and Brie and Lindsay Chelton). Fond memories and expressions of sympathy may be shared at www.cristmortuary.com for the CHELTON family.
VOIR PLUS
VOIR MOINS
Prestations de Service
Aucun service public n'est prévu en ce moment. Recevez un avis lorsque des services sont mis à jour.
recevoir des avis
En mémoire de
Dudley Boyd CHELTON
Aidez à raconter l'histoire de la vie unique de votre bien-aimé. Laissez un souvenir ou partagez une photo ou une vidéo ci-dessous pour montrer votre soutien.