Avis de décès
Dean Stuart Holmes
29 juin 1953

–

17 décembre 2021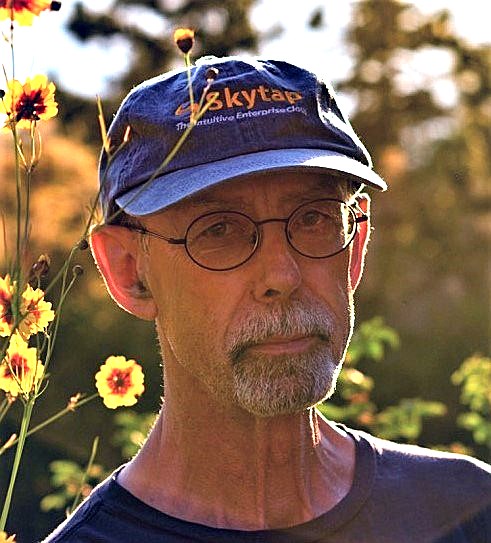 A body humbled back to earth. For cause of death he writes in "Birth." - Zen Coroner, by Dean Holmes Dean Holmes, a loving father and husband known for his sharp wit, good humor, and fondness for a good book, passed away from frontotemporal dementia on Friday, December 17th, 2021. He was 68 years old. Born in Barton, Vt. to Roscoe and Thelma (Bowen) Holmes on June 29, 1953, Dean had a rich and rewarding life. Despite the early hardships of poverty and a home with no indoor plumbing, a young Dean found comfort in reading, cross-country track, theatre, and friends. He graduated from his high school, Lyndon Institute, as valedictorian, and through scholarship and perseverance, attended and graduated from Wesleyan University, where he was named a Connecticut Collegiate Poet. At both schools, he made strong friendships that would endure for the rest of his life. In 1976, with a literature degree in hand, he moved to Princeton, NJ and landed a job as an editor at Academic American Encyclopedia. In the decade that followed, he continued to work in publishing, next as an editor at Funk & Wagnalls in New York City. While in New York, he met his wife of 35 years, Lisa Irwin. They dated as he pursued further work at Stinehour Press in Lunenburg, Vermont; and at an engineering publisher in Atlanta, GA. In 1986, Dean accepted a job at Microsoft Press and swiftly married Lisa in a backyard ceremony with friends and loved ones. The entire wedding was planned in two weeks. With their two cats, Tuffguy and Little Sister, they moved to Seattle, WA. In 1987, they decided they were ready to be parents; their son, Dylan Holmes, was born that November. They had no idea what they were in for. One day in 1995, Dean realized that he couldn't remember the last time he had taken a full weekend off from work. He promptly gave his two-week notice to Microsoft, and decided to take a six-month vacation before looking for new work. He ended up enjoying it so much that he never worked again, retiring at the age of 42. Dean thrived as a "house-husband," often joking that "a man's work is never done" as he folded laundry, parented, cooked meals, or walked the dogs. But he found ample time to pursue his favorite hobbies: playing folk songs on his guitar, skiing, golfing, playing tennis, volunteering, and going to Mariners games. But nothing rivaled his passion for the written word. He read voraciously, and particularly loved mystery novels and postmodern literature, and teamed up with Lisa to send an annual reading recommendation list to friends and family. He attended the same book club every month for nearly 20 years. He also resumed writing poetry and took to carrying around a small black notebook to jot down poem ideas whenever they struck. He self-published his first book of poetry in 2004 and followed it with an additional four books of limericks in his remaining years. In 1996 Dean and Lisa bought a cabin on Whidbey Island for breaks from the city. He increasingly grew to love the island life and talked Lisa into moving there full-time in 2008. Throughout, Dean was a loving husband and father, generous with his time and always willing to try something new, whether it was watching anime with Dylan (he loved Cowboy Bebop) or traveling to new places with Lisa. His love of humor and wordplay was infectious and helped put others at ease. His calm demeanor and thoughtfulness made him an invaluable source of advice and perspective, particularly for Dylan. After Dean's diagnosis with dementia, he and Lisa started spending winters on St. Simons, GA, which was ultimately his final earthly home. He is missed deeply by his family and his many friends. Dean is survived by his wife, Lisa Irwin and his son, Dylan Holmes; the family dog, Rolo; his siblings Amaryllis Sheltra of Indiantown, FL, Bernard Holmes of Lyndonville, VT, and Reginald Holmes of Sutton, VT; his sisters-in-law Leslie Irwin of St Simons, GA and Jill Irwin of Fernandina Beach, FL; his niece Whitney Bulterman of Santa Cruz, CA, and many other nieces, nephews, and dear friends. He is preceded in death by his parents, siblings Roscoe Holmes and Joyce Holmes, and numerous cats (Tuffguy & Little Sister) and dogs (Jasper, Charlie, Rolly, and Buffy). A celebration of life will be planned at a later date.
VOIR PLUS
VOIR MOINS
Prestations de Service
Aucun service public n'est prévu en ce moment. Recevez un avis lorsque des services sont mis à jour.
recevoir des avis
En mémoire de
Dean Stuart Holmes
Aidez à raconter l'histoire de la vie unique de votre bien-aimé. Laissez un souvenir ou partagez une photo ou une vidéo ci-dessous pour montrer votre soutien.